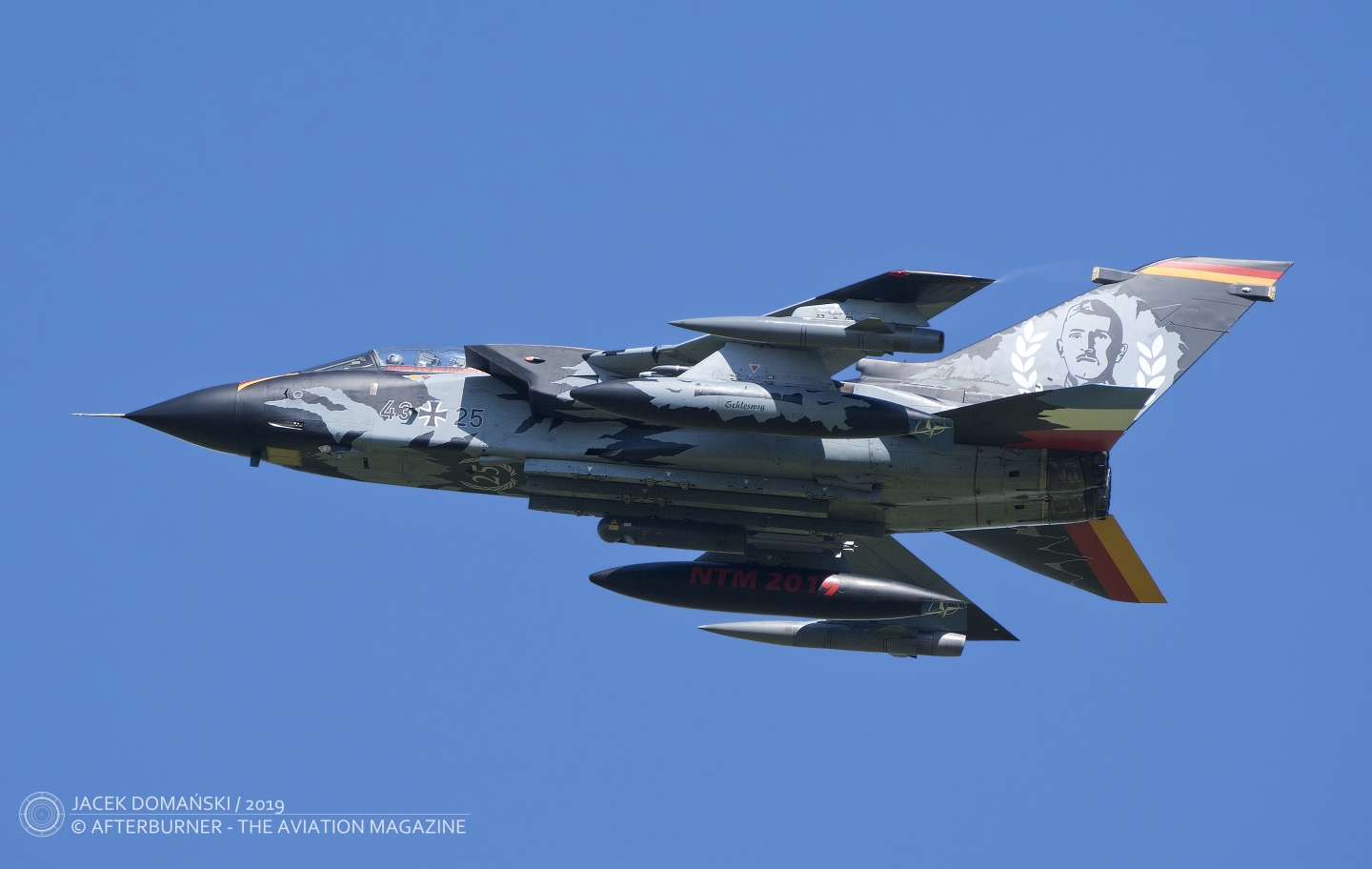 Maiden flight of Panavia Tornado.
The idea of creating a new Multi Role Combat Aircraft (MRCA), to replace the European F-104 fleet, was born in the late 1960s. Initially, the aeroplane had to be developed in a multinational project supported by four countries – United Kingdom, Italy, Germany and the Netherlands, but the latter soon withdrawn from that partnership (considering the developed aircraft too sophisticated and expensive).
The three remaining countries continued with the works, carried out by Panavia GmbH company – an entity created by partner nations to develop and then manufacture the new aeroplane, on the basis of sharing works between the aviation companies from all three countries. The same co-operational standard was used for developing an engine and other equipment for the new MRCA.
An interesting fact is, that at the beginning, the new aircraft had to be produced in a single-seat and two-seat variant, depending on the operational purposes. And only during the development it was decided to unify the fuselage and production process, by focusing solely on the two-seat version. Initially, the new European combat aircraft was named ´Panther´. The name ´Tornado´ came up later, during the final stage of the development.
On 14th August 1974, the first prototype of Tornado took-off from the German air base at Manching. Two years later, the first order for the new MRCA was placed and on 10th July 1979 the first serial manufactured Tornado performed its maiden flight. The production, similarly as the development, was split between the three partners – UK and Germany had 42,5% shares in the production process and Italy received the remaining 15%.
Between 1979 and 1998 a total number of 990 Tornados was produced. The aircraft was manufactured in three variants: interdictor/strike (IDS), electronic combat/reconnaissance (ECR) and the air defence variant (ADV). Despite several sales attempts, Tornado was practically operated only by the air forces of the partner countries. The only exception is the Royal Saudi Air Force, that ordered IDS and ADV variants in two batches (1985 and 1993).
Although the Tornados entered into service in the last decade of the Cold War, they still managed to become one of the aviation icons of the era. Mostly because of the purpose of their development. And after several upgrades, the fleet of Tornados is still operated by Germany, Italy and Saudi Arabia (although it suffered from the air force reductions performed in the European countries after the Cold War). They have also an impressive combat history, participating in almost all main conflicts since 1990s.
The United Kingdom was the first country that decided to retire its entire Tornado fleet. On 1st April 2019, the aircraft was officially withdrawn from the active service in the Royal Air Force.