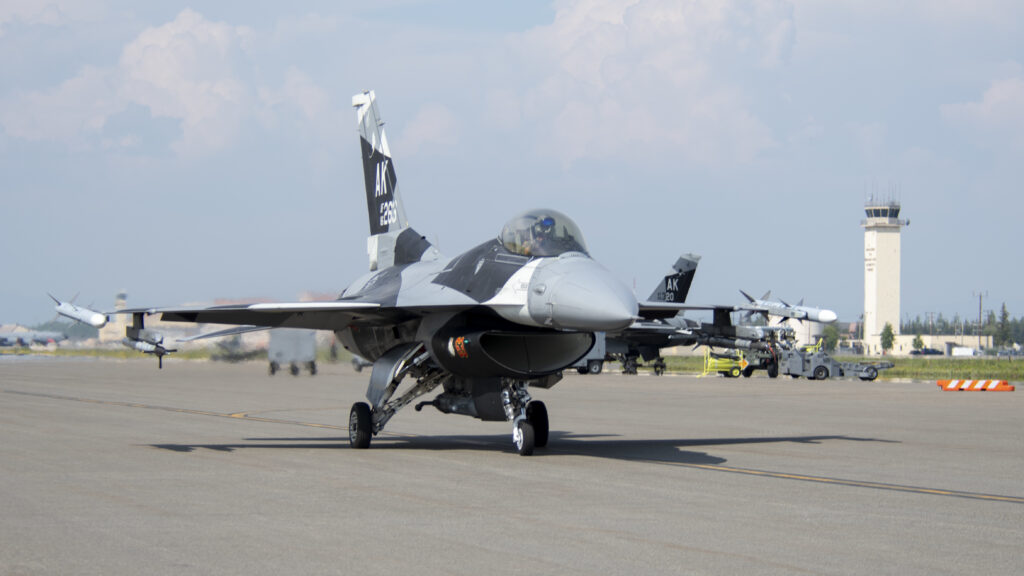 On 9th June 2022, the current edition of joint exercise Red Flag – Alaska was officially launched at the Joint Pacific Alaska Range Complex. The training, organized on regular basis since 1992, is a large-scale combined exercise for the air forces and includes live-fly offensive interdiction and interception operations, as well as close air support tasks in a simulated combat environment. The series of Red Flag – Alaska is held by Pacific Air Forces and current edition will last until 24th of June.
The story of realistic, large-scale exercise for the air force is dated back to the mid-1970s. Its first edition, at that time named Cope Thunder, was held in 1976 at Clark Air Base in Philippines. The main goal of the training was to provide the fighter pilots a possibility of being so close to real warfare as only possible. From the very beginning, Pacific Air Force put special emphasis on combat environment of the exercise in order to develop desired behaviour of flying crews and therefore increase their chance to survive in operations against real enemy.
In 1992, after eruption of Mount Pinatubo volcano, Clark air force base was closed and the exercise moved to Eielson Air Base, Alaska. In 2006, the exercise was officially re-named to Red Flag – Alaska.
A usual scenario of combat missions flown within the exercise is played between ´Red´ and ´Blue´ forces, with ´White´ team acting as neutral observer and controlling authority. The ´Red´ team, commonly known as ´aggressors´, is representing potential hostile nation with all its capabilities – fighter squadrons, anti-air defence and ground control units. The ´Blue´ team includes the full allied air force, together with their supporting units.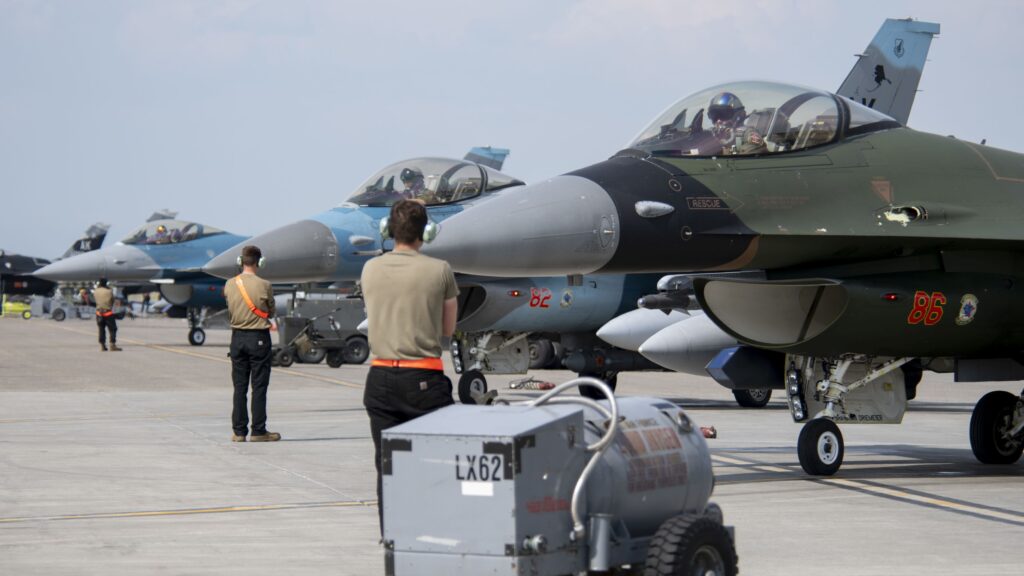 Usually, all branches of the US armed forces are attending the exercise, as well as air forces and supporting units from the allied countries. Since its establishment, Red Flag – Alaska was held with participation of armed forces, i.e., from Australia, France, Germany, Mongolia, Norway, India, Poland, Sweden or Turkey – pointing out just a few. And, obviously, they are the ´Blue´ force.
The role of hostile air force is assigned to special USAF unit – the 18th Aggressor Squadron. Being based at Eielson air base, the squadron is a part of the 354th Fighter Wing of Pacific Air Forces. The 18th Squadron has a long combat history as it was established back in 1940, participating in World War II operations or Operation Southern Watch in 1998.
On 24th August 2007, the 18th Squadron was converted into the specialized aggressor unit. Similarly to such squadrons already operating at Nellis air base, Nevada, the 18th Aggressor Squadron was assigned the role of using tactics and operations of potentially hostile air forces to allow the ´Blue´ forces to fly against as real opposition as only possible. As mentioned at the official web site of the Eielson air base – ´the Aggressors' job is to know, teach and replicate the threat better than any other squadron´.
The 18th Squadron flies with F-16 Fighting Falcon fighter aircraft, painted in a special camouflage pattern to resemble aeroplanes of potential hostile air force.
According to official releases of Pacific Air Forces, more than 70 aircraft from 22 units are participating in the current edition of the exercise, together with 1,600 personnel from the United States and the Republic of Singapore Air Force. As usual, the aircraft participating in Red Flag – Alaska are being based at Eielson and Joint Base Elmendorf-Richardson.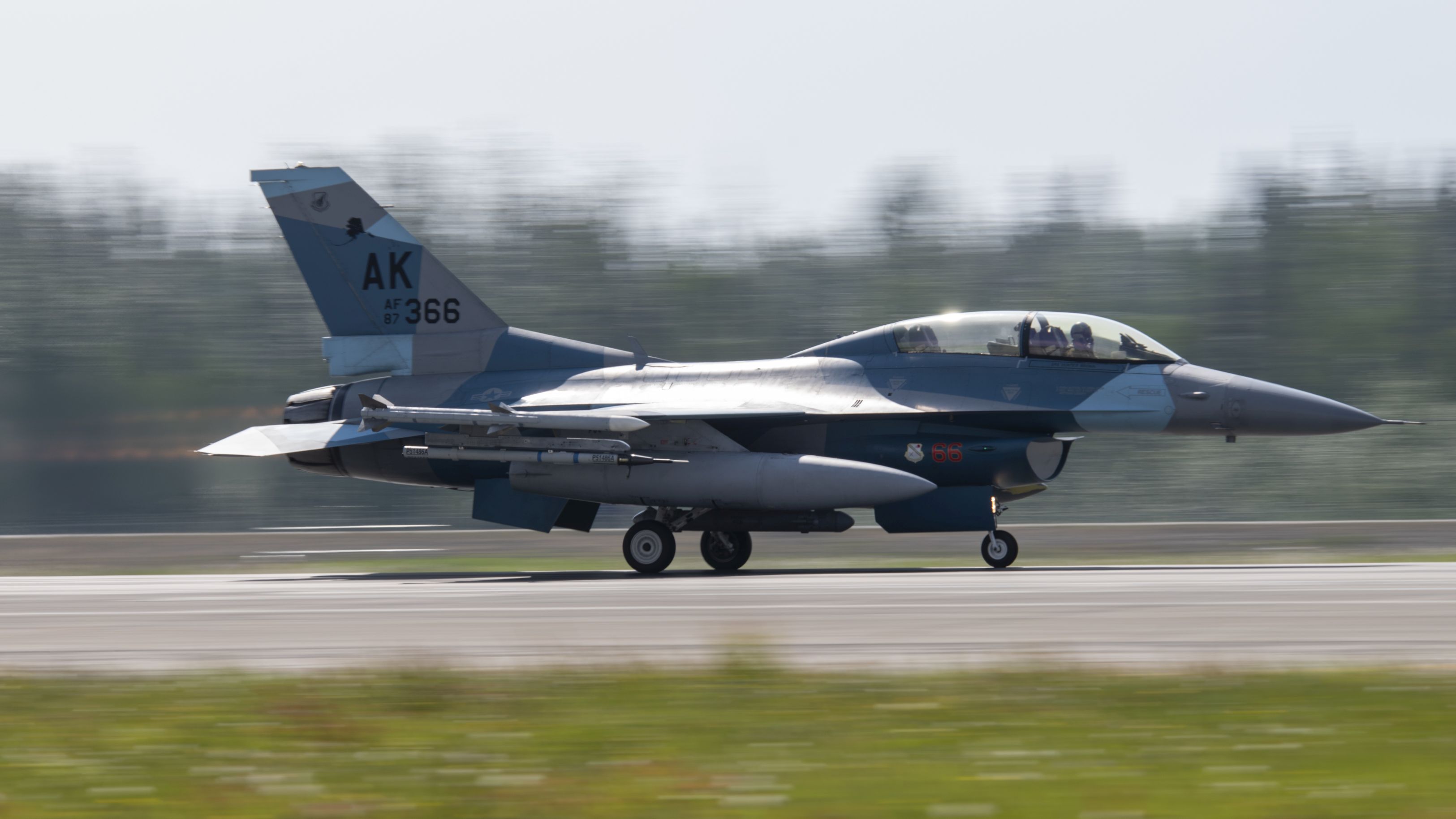 Cover photo: 18th AGRS F-16 Fighting Falcon taxies for take-off prior to a training sortie as part of the Red Flag 22-2 exercise at Eielson Air Force Base, Alaska, June 16, 2022 (USAF photo by Staff Sgt. Ryan Lackey).
All photos © U.S. Department of Defence (DoD). DoD information materials were used, in compliance with Public Domain licence. The appearance of U.S. Department of Defense visual information does not imply or constitute DoD endorsement.