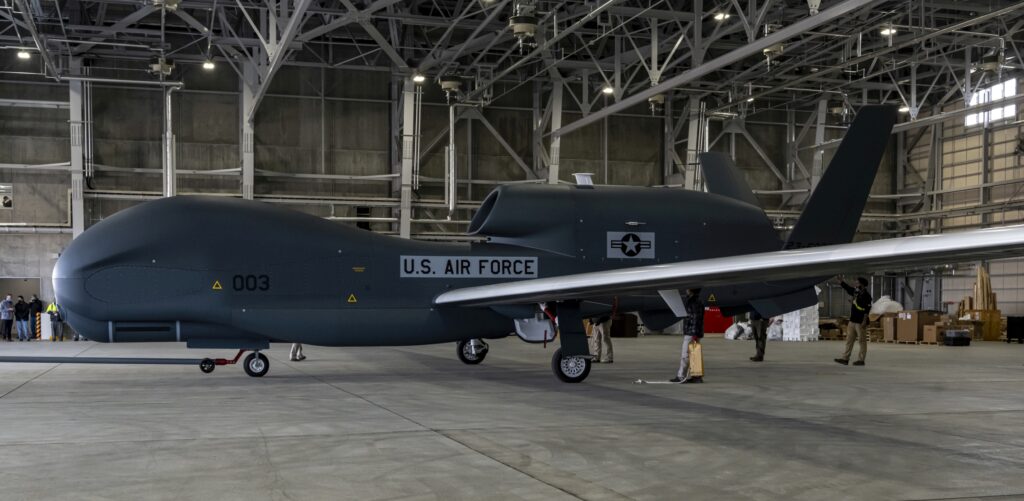 On 12th March 2022, the first Northrop Grumman RQ-4 Global Hawk unmanned surveillance aircraft intended for the Japanese Self-Defence Forces (JSDF) has landed at Misawa air force base. That UAV is the first out of three aircraft of that type ordered by the JSDF back in 2015.
Almost a decade ago, due to still increasing tensions in the region, caused mostly by recent military activity of the Chinese armed forces and unstable situation in the North Korea, the Japanese government had recognized the need of increasing intelligence and surveillance capabilities of the JSDF. It included acquirement of heavy, high-altitude UAVs that were requested from the USA, within the Foreign Military Sales programme.
The Japanese request was officially approved by the US Department of State in 2015 and a bilateral agreement between the US and Japanese government was signed. It covered the delivery of three High-Altitude Long Endurance (HALE) unmanned aircraft, together with post-sales assistance package and spare parts. According to the US Department of Defense, the value of that contract reached almost 500 million USD.
The Northrop Grumman, being a manufacturer of the RQ-4 Global Hawk UAV was entrusted with performance of that contract. In April of 2021, the first of the requested RQ-4 aircraft performed its maiden flight in the USA. According to the manufacturer, production and delivery of all three Global Hawks should be finalized until the end of 2023.
All three Japanese RQ-4 UAVs will be based at Misawa (Honshu island), which is a joint base of the JSDF and the USAF. The base is already somehow familiar with that type of aircraft, as American Global Hawks are from time to time operating from that location, performing surveillance missions near Taiwan and further in the region.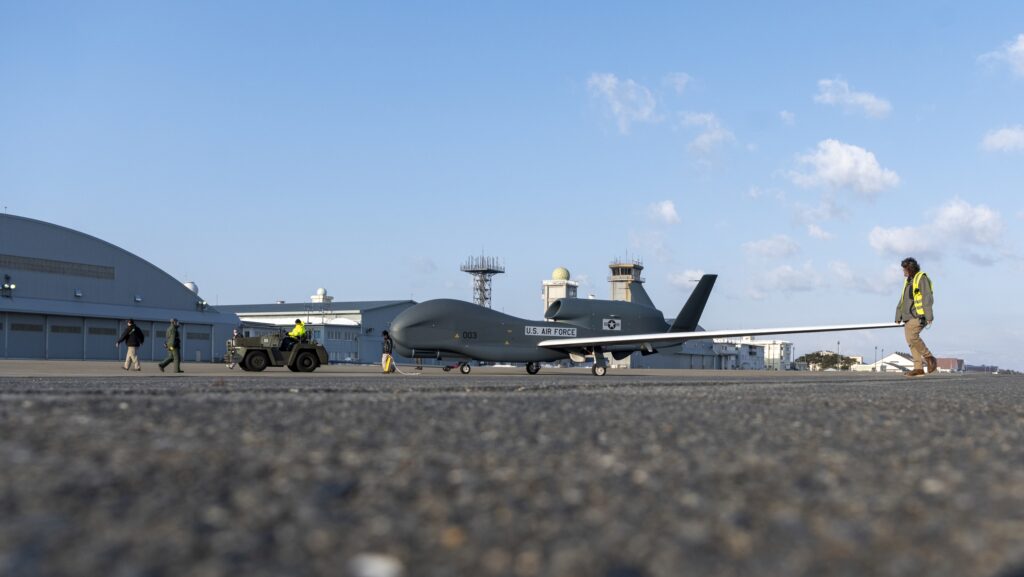 Without any doubts, those three RQ-4 UAVs will significantly enhance surveillance, intelligence and reconnaissance capabilities of the JSDF. Nevertheless, they are intended to be only one of many elements of Japanese early-warning system, being re-established nowadays. It also includes other surveillance aircraft, ships and satellite reconnaissance.
The RQ-4 Global Hawk is a HALE surveillance and reconnaissance unmanned aircraft that performed its maiden flight in February of 1998. According to the manufacturer, its electronic sensors can cover an area of approximately 100,000 km² per day, collecting an entire spectrum of intelligence data and information.
The UAV is remotely controlled by three-person ground crew. Its range reaches almost 23,000 kilometres and its declared endurance exceeds thirty two hours of flight. The RQ-4 can fly with a speed up to 630 kph and at altitude up to 60,000 feet. That UAV is powered by Rolls-Royce turbofan engine of the AE 3007 family – the same being used with Cessna Citation X or Embraer ERJ series.
Apart from the JSDF, the RQ-4 UAVs are in active service with the USAF, NATO and South Korea. The naval variant of that aircraft, designated MQ-4C Triton, is used by the US Navy and the Royal Australian Air Force.
The naval variant of the aircraft was also offered to Germany but finally the purchase was cancelled due to expected time of receiving European safety certifications allowing the Triton to operate over inhabited areas in Europe. Nevertheless, recent developments and changes in global political situation will certainly lead to intensify interests in purchasing that HALE surveillance aircraft by other NATO countries.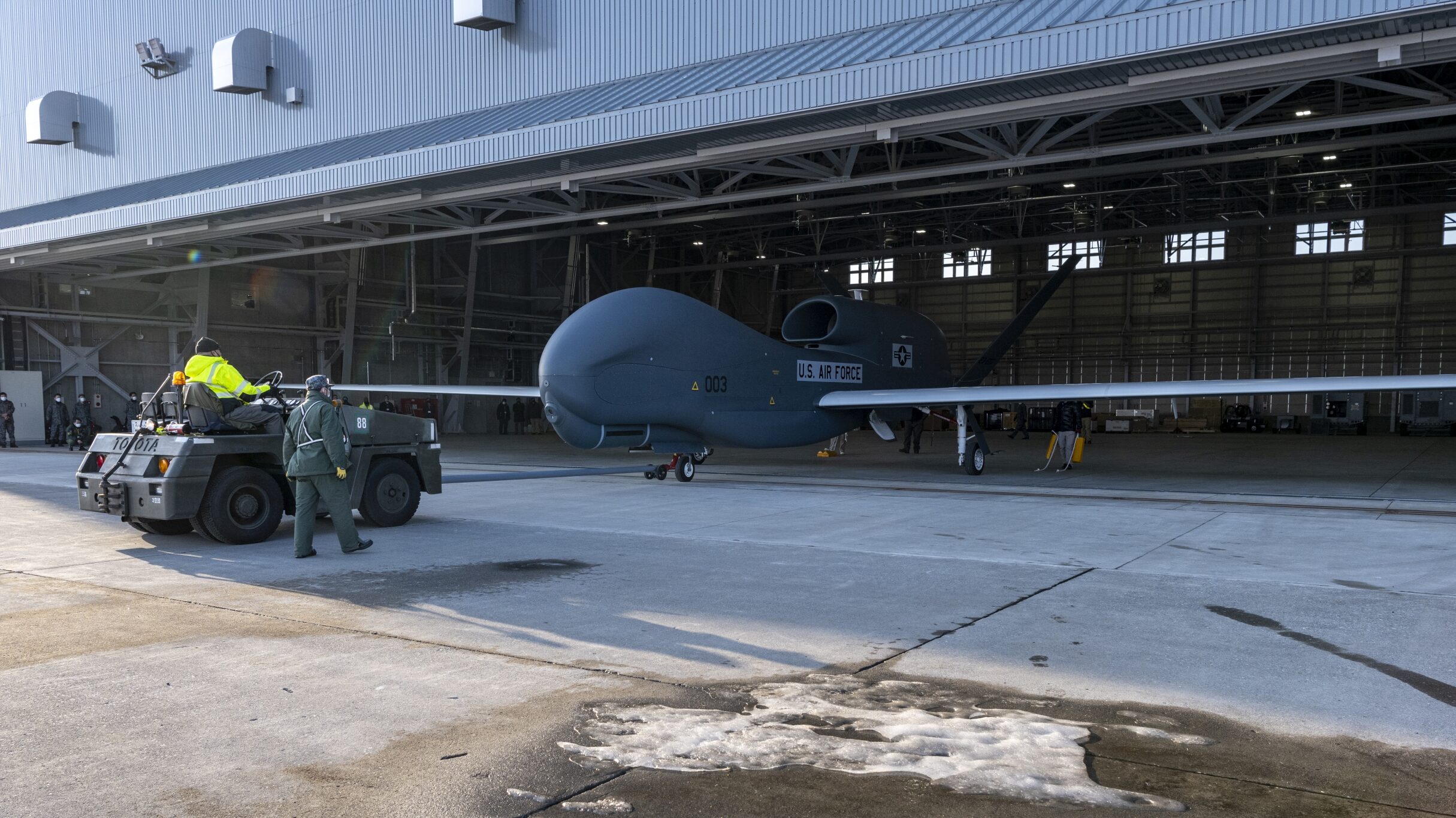 All photos © U.S. Department of Defence (DoD), cover photo: RQ-4B Global Hawk sits in a hangar at Misawa Air Base, Japan, March 12, 2022. (USAF photo by Sr. Airman Antwain Hanks). DoD information materials were used, in compliance with Public Domain licence. The appearance of U.S. Department of Defense (DoD) visual information does not imply or constitute DoD endorsement. Press information of the Japan MoD were used.