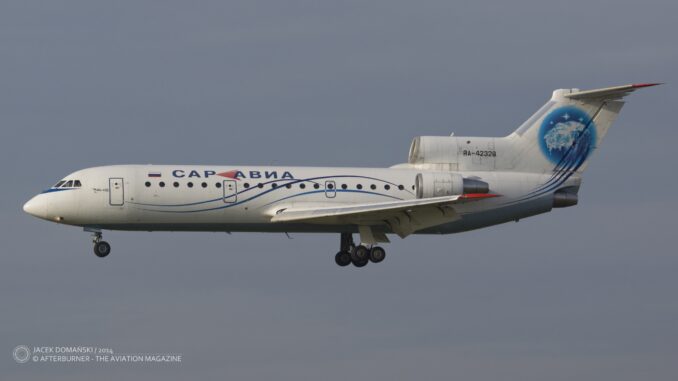 Yakovlev Yak-42D ´RA-42438´, operated by Saratov Airlines (Саратовские авиалинии / Саравиа), approaching Prague-Ruzyně airport, January 2014.
In the beginning, there was a Yakovlev Yak-40 – an iconic passenger jet aircraft from the Soviet era, designed in the early 1960s as the direct replacement of then existing fleet of propeller-powered regional airliners: Il-12, Il-14 and even Li-2 (license-manufactured DC-3).
A new airliner to be designed by Yakovlev construction bureau had to meet several, at first glance contradictory, conditions of reliability, flight safety, economy, comfort for passengers, ability to operate from unpaved runways and poorly equipped, local airfields. In addition, it was the very first passenger aeroplane designed by Yakovlev´s bureau – that have so far designed mostly military and training aircraft. The airliner, designated as Yak-40, performed its maiden flight in 1966.
Serial production of Yak-40 was launched in 1967 at Saratov Aviation Plant and more than 1,000 aircraft of that type were manufactured until 1981. The new regional airliner from Yakovlev bureau quickly earned recognition not only in the Soviet Union, but also in Eastern Bloc countries. During a few decades Yak-40 was not only a backbone of the Soviet regional aviation, but also widely used by Eastern air forces to carry government and military officials. In addition, there were also a few militarized variants of Yak-40.
Although Yak-42 is very similar in design, it represents a completely re-worked construction, sharing with Yak-40 only the general concept. Powered by three turbofan engines, Yak-42 is able to carry up to 120 passengers (comparing with only 32 passengers in Yak-40) and can operate on a short- and medium-range routes.
The Yakovlev Yak-42 was designed in the early 1970s and performed its first flight in 1975. Initially intended to replace Tu-134, An-24 and An-26 that operated on regional Soviet routes, Yak-42 was also exported to China, Iran, Cuba and Pakistan. The pictured Yak-42D is the long-range variant of the airliner (Д – Дальний / long-range) with the increased fuel capacity.
Production of Yak-42 ceased in 2003, after manufacturing approximately 180 aeroplanes of the type. About twenty of them are still being used by Russian regional operators, but that number is rapidly decreasing.
And, on this occasion, it is impossible not to mention an interesting history of Saratov Airlines – an airline based in the city where Yak-40s and Yak-42s were manufactured, and also operating few of them.
The history of passenger aviation in Saratov dates back into 1931, when the first air base for agricultural aviation was established there. The mail flights followed in 1933 and the first passenger flight to Moscow took place in 1935.
With no doubts, 1970s and 1980s were the golden years for passenger flights from Saratov. Regular and chartered flights performed by the fleet of An-24, Yak-40 and Yak-42 airliners included connections with Moscow, Leningrad, Lvov, Volgograd, Penza, Vilnius, Adler and many other Russian cities. The arrival of L-410s allowed to increase the existing offer and perform regular flights to several locations in the Saratov region. In total, Saratov airfield had a direct connection with 60 cities in the Soviet Union and served up to 3500 passengers and up to 220 flights daily. With the collapse of the Soviet Union and the new, post-Soviet reality, the passenger traffic from Saratov rapidly decreased.
In 1994, the joint-stock company ´Saratov Airlines´ (known also as Saravia) was established and three years later, Saratov airport received an international status. The new local operator was constantly growing, in 2000 receiving the national ´Wings of Russia´ award as domestic airline of the year.
In 2013, Saratov Airlines acquired two Embraer 195 aircraft, the first aircraft of that type in Russia. Between 2015 and 2018, the airport offered flights to the Czech Republic, Macedonia, Turkey, Greece, Bulgaria, Germany, Israel, Armenia and Georgia. And the traffic exceeded 700,000 passengers on annual basis. In April of 2018, the new brand – Ivolga Airlines, was launched.
However, on 30th May 2018, the company had to cease all operations due to cancellation of its certificate by the Federal Air Transport Agency (Rosaviatsia). At this moment, Saratov Airlines operated on 18 regular domestic and international routes.
The official reason behind cancelling the certificate was ´massive violation of aviation law´, as stated by the Federal Air Transport Agency. It was a direct consequence of detailed inspection of Saratov Airlines performed by Rosaviatsia after the tragic crash of Flight 703 – in February 2018, Antonov An-148 of Saratov Airlines, crashed shortly after take-off from Moscow Domodedovo, killing all people on board (65 passengers and 6 crew members).