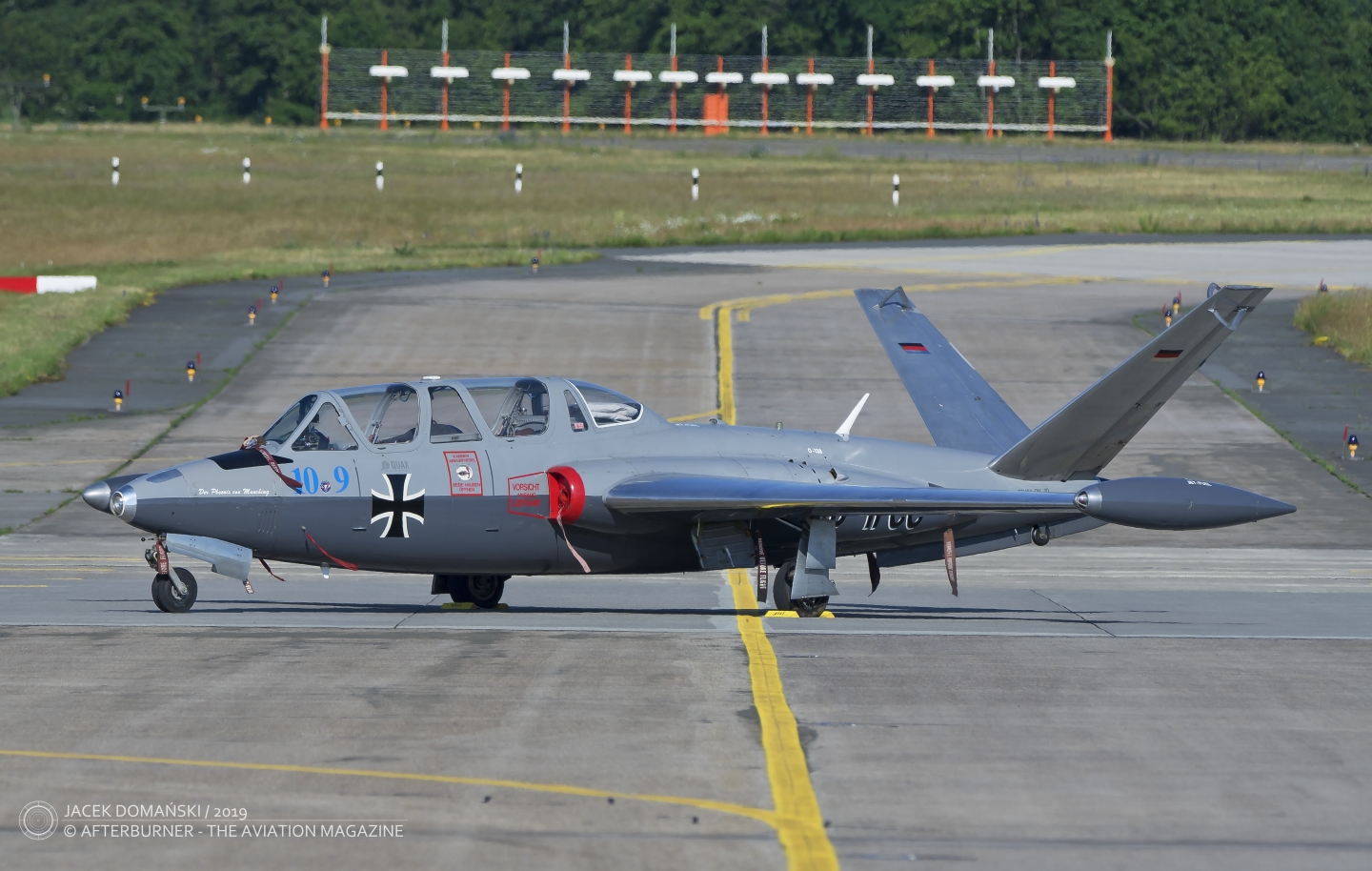 Fouga CM-170R Magister, D-IFCC (Quax Flieger) – a photo taken in June, during the spotter day in Nordholz air base (Fliegerhorst Nordholz), organized in addition to the Tag der Bundeswehr 2019 annual open doors event of the German armed forces.
Developed in the early 1950s, as the replacement of piston-powered trainers in the French Air Force, the Fouga Magister was the second jet-powered training aircraft in the world (the first one was  Fokker S.14 Machtrainer from 1951). More then 900 were produced and operated by 17 air forces all over the world, 265 of them in Germany (250 in Luftwaffe, 15 in Marine).
The German Magisters were either manufactured in France or in Germany (Messerschmitt plant in Riem), under license. The CM-170s were operationally used as a Luftwaffe trainer from 1957 to 1969, and most of them were based in Landsberg at Flugzeugführerschule A. It is worth recording that between 1959 and 1962, this flying school arranged an aerobatic team flying the Magisters during the air shows in Germany and abroad.
At the end of 1960s a few German CM-170s were sold to Belgium, and other aircraft found the new operators in Africa and Asia (Algeria, Bangladesh, Lebanon and Togo). The Magisters were also offered to the aeroclubs, for the symbolic price of 1 Deutsche Mark.
The pictured CM-170R is a German manufactured aircraft, and the only flying survivor of the Messerschmitt licence-produced Magisters. In the German Air Force, it was flying with SB+202, SC+603 and AA+179 identification numbers, ending its operational career in Manching test centre. Currently the D-IFCC is operated by private owner, the aircraft is based in Paderborn and belongs to the Quax Flieger association.