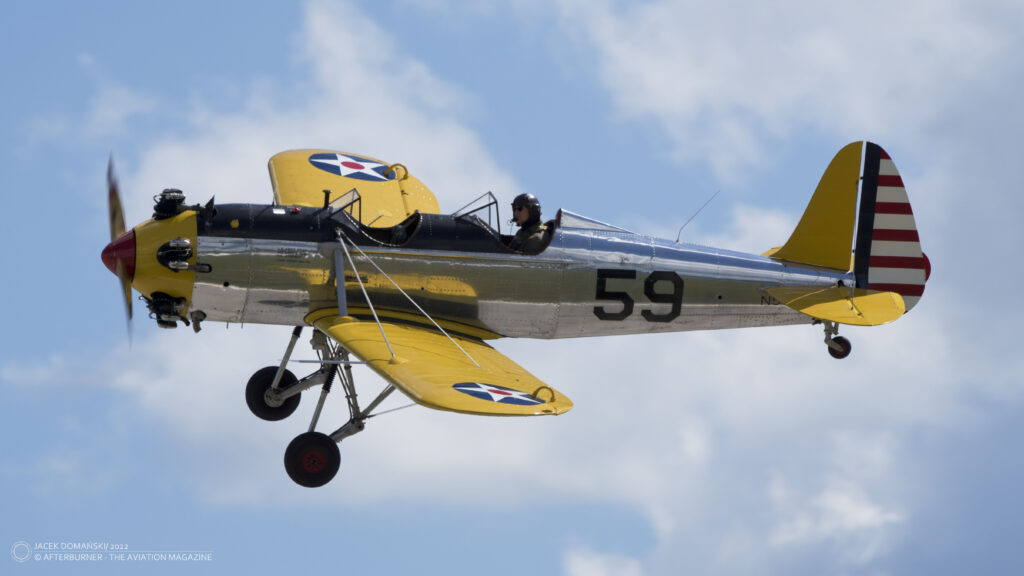 Ryan ST3KR / PT-22 Recruit (c/n 2186, formerly 41-20977 of the US Army Air Corps), flying display at 30th Aviation Fair, Pardubice, May 2022
Tubal Claude Ryan, aviation pioneer born in 1898, was one of the most prolific American aviators of the early 20th century. He founded at least four aircraft manufacturing companies and three airlines, at the same time being in the background of several then well-known aviation experiences. The Ryan company was, for example, a manufacturer of M-1 mail aircraft that was initially chosen by Charles Lindbergh for his transatlantic flight. Nevertheless, modifications that Lindbergh required for that pioneering adventure led to creation of a completely new design, just based on the M-1 and known widely as Ryan NYP ´Spirit of St. Louis´.
In 1933, the newly-established Ryan Aeronautical Company, the second Ryan´s aviation manufacturing enterprise with that name, began works on its first aircraft design – an aeroplane initially designated ´Sport Trainer´, or just ST.
It was a semi-monocoque aircraft with two-seat cockpit in tandem configuration and conventional landing gear. The aeroplane featured a combined metal construction, using both steel and aluminium alloy (alclad) frames. Wings of the ST were divided in three hybrid sections, made of alclad and wood. The prototype of the new Ryan aircraft took-off for its maiden flight on 8th June 1934 and shortly thereafter the ST was approved for serial production.
The first examples of the aeroplane were powered by Menasco B4 engine of 95 hp but they were soon succeeded by two more powerful variants. They were designated ST-A (that stood for ´ST Aerobatic´) and ST-A Special, also being equipped with Menasco engines, however of 125 and 150 hp, respectively.
The first military training variant of the ST aircraft appeared in 1937 and was designated ST-M (or just STM). It featured wider cockpits, allowing to be seated by pilots wearing parachutes. Then there was the STM-2P, a single-seat version built in just two examples that were armed with a machine gun and sold to China. The Royal Netherlands Navy has acquired thirteen aeroplanes designated STM-S2 that were intended for its units in the Netherlands East Indies and being a version adopted for using both floats and wheeled landing gear.
Within a short time the Ryan STM became a quite popular primary training aircraft and was acquired by the Royal Netherlands East Indies Army Air Force, China, Bolivia, Guatemala, Mexico, Honduras, Ecuador, Nicaragua and eventually the Royal Australian Air Force. Much of the sales success was credited to the overpowered Menasco engines that turned out to be an advantage at high-altitude airfields of the South America. The STM was also successfully evaluated by both the USAAC and the USAAF, under a joint designation PT-16 (Primary Trainer 16).
The PT-16 was another modification of the ST aircraft, equipped with Kinner B-5 (later Kinner R-440) radial engine and having its civilian designation ST-3. In the early 1940s, the Ryan trainer was acquired in several examples by the USAAC (PT-20, PT-20A and PT-21) and the US Navy (NR-1).
In 1941, Ryan Aeronautical Company developed another variant of the trainer – ST-3KR, this time powered with Kinner R-5 radial engine of 160 hp. It was designed purposely for the USAAC and became its main primary training aircraft, officially known as PT-22 Recruit. There were 1,048 examples of the PT-22 built until the end of 1943.
An interesting fact is that there was also another variant designed by Ryan almost parallelly with the ST-3KR. It was known as ST-4 (YPT-25 for military use) and was literally the ST-3 but with fuselage of the wooden construction. It was done just in case if there would be a shortage of aluminium and steel that could slow down serial manufacturing of the ST-3 variants. As this did not happen, the ST-4 was built only in approximately five prototype examples.
The pictured aircraft was originally built in 1942 as ST-3KR/PT-22 and entered service with the USAAC as 41-20977. It is now based in Austria and flown by Dietmar Grosz. During last week, that PT-22 was among participants of the 30th Aviation Fair in Pardubice and was one of the aeroplanes that attracted considerable interest from many of air show visitors.