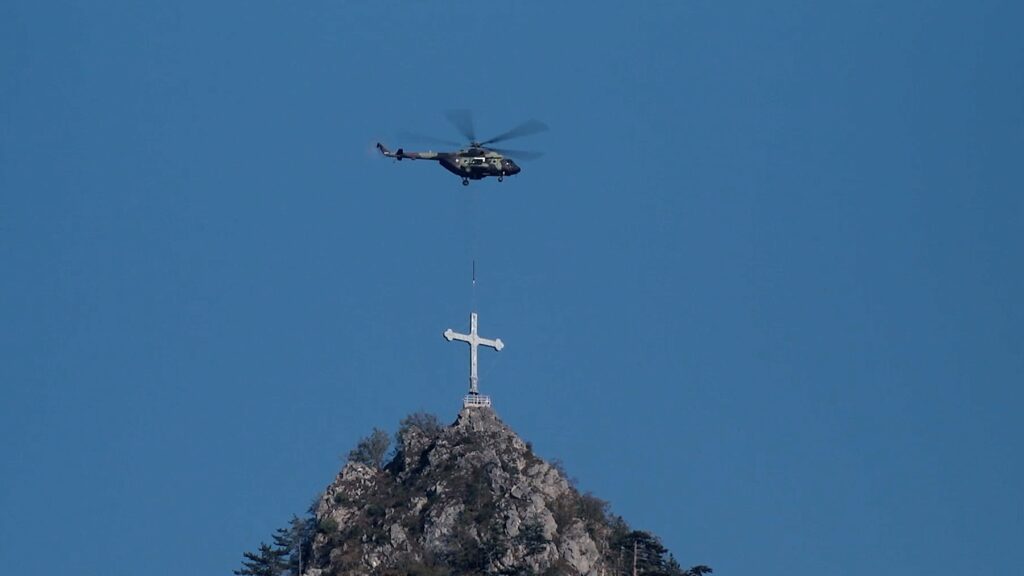 On 30th October 2021, the 890th Mixed Helicopter Squadron (a part of the 204th Air Brigade, Serbian Air Force and Air Defence) placed a cross on the top of Titerovac mountain. Its peak has an elevation of 962 metres above the sea level and is located within Zlatar mountain range, in Prijepolje area (southwestern Serbia).
The cross was erected in a close vicinity of Mileševa Monastery, founded between 1234 and 1236, and being known especially because of the ´White Angel´ fresco, considered one of the most beautiful works of European art from the High Middle Ages.
It´s been a long time since the idea of placing the cross at the top of Titerovac was born. Nevertheless, due to inaccessibility of the peak and its overall elevation over the Mileševka river valley, it was clear from the very beginning that it would be a complex and challenging operation.
The works on that undertaking gained momentum last year, with the official approval and blessing of Atanasije Rakita, the Bishop of Mileševa Eparchy. Additionally, in order to facilitate cooperation, a dedicated committee has been created. After exploring the site it became apparent that solid concrete foundations are needed, as well as use of helicopters.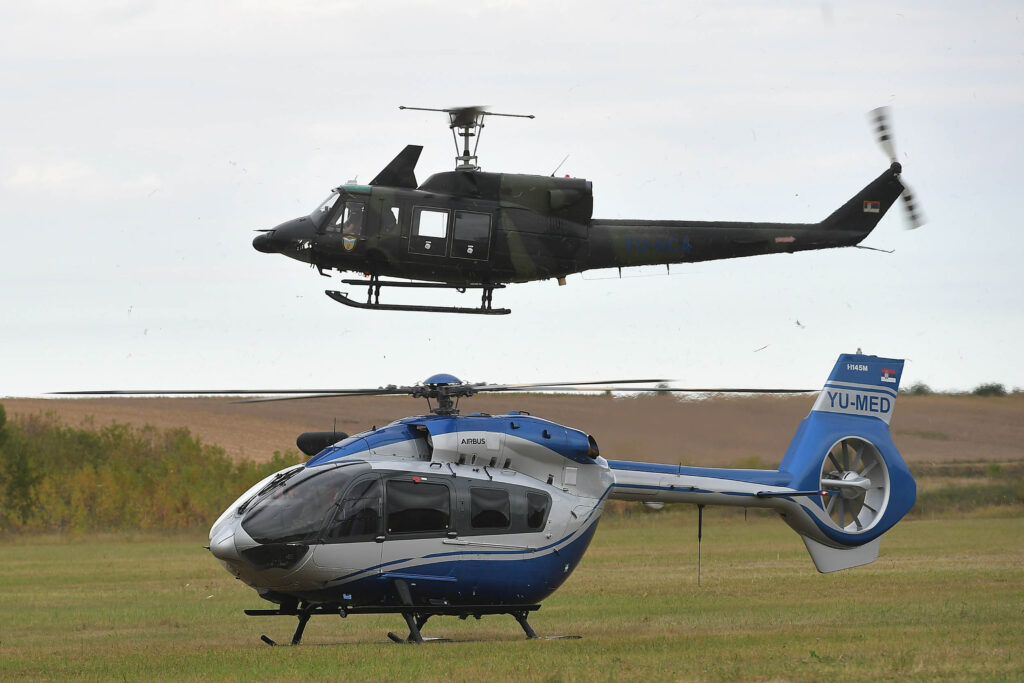 In August of 2020, in response to a request issued by the committee, the Serbian Ministry of Internal Affairs assigned two Airbus H145M helicopters for the task of carrying the construction materials to the top of Titerovac mountain. This allowed to prepare a foundations and a concrete pedestal for the cross.
This year, the works entered into its final phase. An eleven-metre-high cross, weighing in at 3,800 kilograms, was ready to be placed on the peak. However, due to its size and weight, a Mi-17 of the Serbian Air Force must have been involved in that operation. The 890th Mixed Helicopter Squadron from Batajnica air force base was assigned that challenging task and Lieutenant Colonel Vladimir Grbović was appointed the mission coordinator. The operation was preceded by detailed preparation and some on-site reconnaissance. All necessary equipment has been brought to Titerovac in several phases.
Finally, on 30th October 2021, the crew of Major Dragan Marjanović, Captain 1st Class Miroslav Matić, Sergeant 1st Class Danilo Nenadić and 1st Sergeant Zoran Cogolјević took-off with an unusual load placed under the Mi-17 on its external sling. Despite unexpected wind gusts, that made the operation even more difficult, the Mi-17 crew successfully managed to place the cross on its place at the top of Titerovac mountain.
All photos and video © Министарство одбране Републике Србије / MoD Republic of Serbia. MoD press releases were used. Cover photo – MI-17 placing a cross at the top of Titerovac hill, © MoD Republic of Serbia.