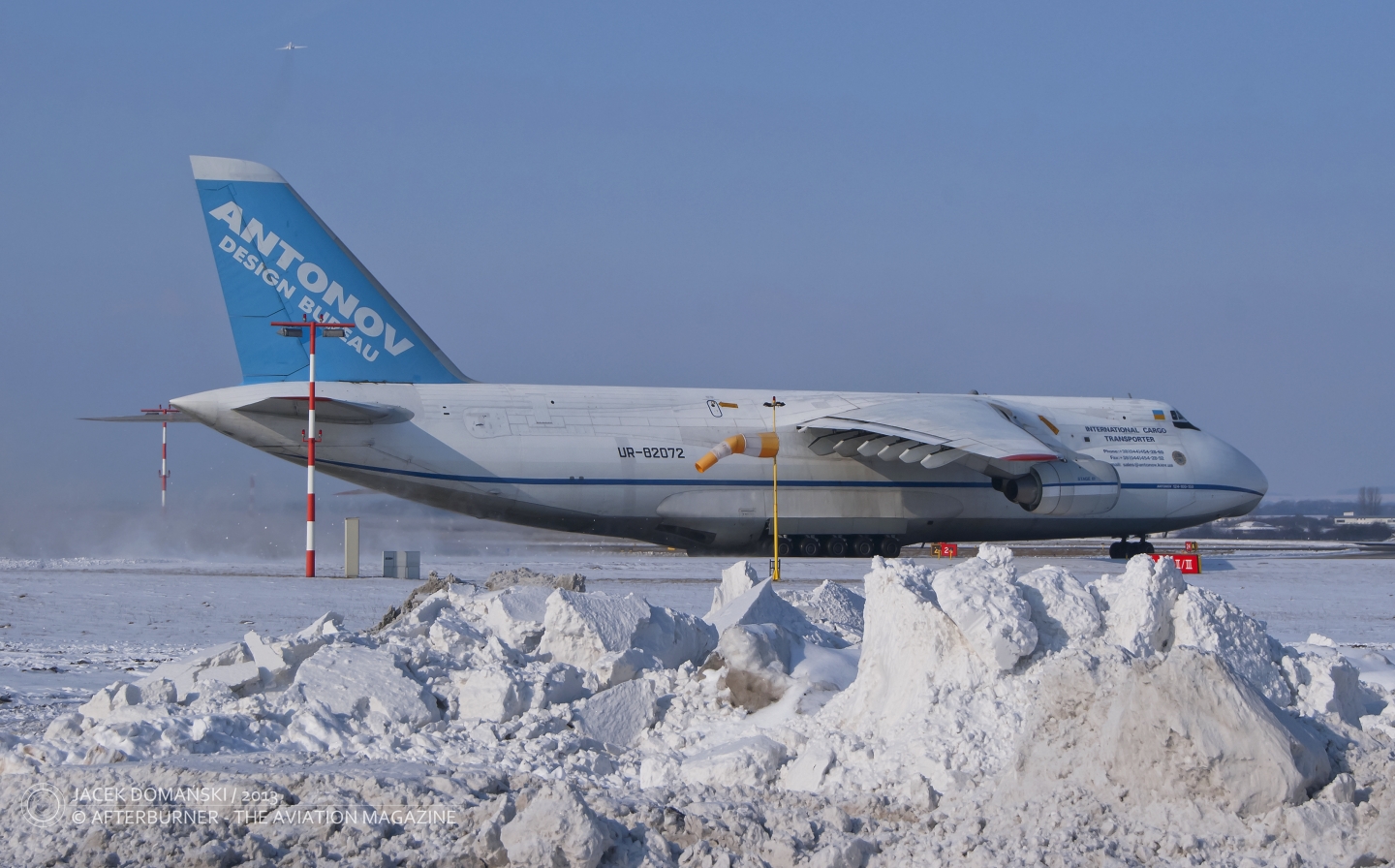 One of the largest cargo aircraft in the world, the Antonov An-124 ´Ruslan´, operated by Antonov Airlines taxiing to the runway of Letiště Václava Havla Praha / Prague Airport – Vaclav Havel (also known as Praha Ruzyně).
Probably you would not have believed it, but this photo was taken just a few days before the first day of spring, on 14th March 2013. It could be really hard to recall that cold and snowy winter of 2012/2013 – especially today, in the middle of the heat wave circling around Europe, when the outside temperature, at the moment I´m writing those words, is slowly reaching the today peak of 37 degrees Celsius.
Therefore, may this photo would help you to keep cool…
Antonov An-124 was designed in 1970s as the strategic airlift aeroplane and entered service in mid-80s. The Ruslan was, at the time of its implementing, the heaviest operating cargo aeroplane in the world. Still, 37 years from the maiden flight, An-124 remains the heaviest operational military aircraft with the take-off weight of 392 tonnes (the second one is C-5M Super Galaxy with 381 tonnes).
The aeroplane is used for both military and civilian purposes, operated by Russian Air Force and three civil operators, among them the Antonov Airlines – a division of the Antonov aviation company. The company now operates seven ´Ruslans´, two of them were already modernized to the An-124-100-150 variant, with the 150,000 kg payload capacity.
Previously designed as the strategic airlifter for the Soviet Air Force, the An-124 proved to be more than useful in NATO operations, especially Afghanistan and Iraq (chartered via NAMSA programme), and also as a space vehicle and equipment carrier for American and European space manufacturers.