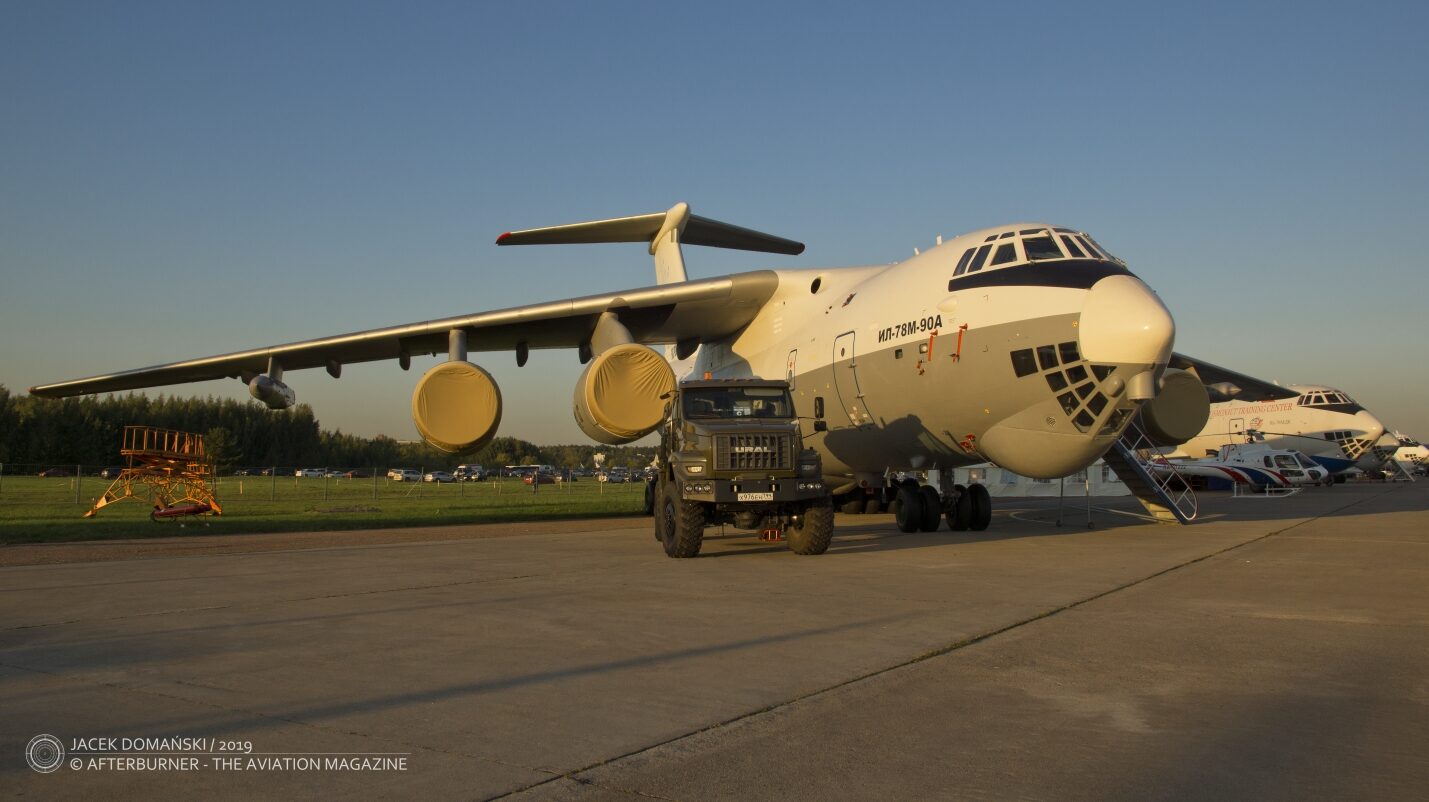 Ilyushin Il-78M-90A / Ил-78М-90А, NATO reporting name ´Midas´ (c/n 02-01, Russian Aerospace Forces RF-78741), prototype of aerial tanker based on an Ilyushin Il-76MD-90 strategic airlifter, static display at MAKS aviation fair, August/September 2019.
The first modern aerial refuelling aircraft entered service with the Soviet Air Force in the mid-1980s. Although works on that project were launched yet in the 1970s, the first prototype of a new tanker performed its maiden flight on 26th June 1983, flown by test pilot V.S. Belousov.
The new aircraft was based on Il-76MD (NATO reporting name ´Candid-B´), an upgraded variant of Ilyushin´s strategic airlifter, that was introduced in 1981. Its take-off weight was increased to 190 tonnes and two removable fuel tanks, each of 18,230 litres (or 23,460 litres, depending on the information source), were installed inside the fuselage. The aerial tanker was equipped with UPAZ-1 (Unified suspended refuelling unit / УПАЗ-1 – Унифицированный подвесной агрегат заправки), a device designed by NPP ´Zvezda´, and having three refueling points – one under each of the aircraft wing and additional one at aft port section of its fuselage.
In 1984, the new tanker entered serial production at Tashkent aviation plant, officially designated as Il-78. Already on 19th June 1984, the first operational aircraft (СССР-76607) was handed over to the 610th Centre for Combat and Flight Personnel Training (610-й ЦБПиПЛС ВТА) at Ivanovo. Until the end of the year, three more aircraft were completed and the fifth one was ready in January of 1985.
In the Soviet Air Force, the Il-78 has succeeded the existing fleet of aerial tankers being converted from bomber and transport aircraft – Tu-16N, M-4-2 and 3M-3. And unlike its predecessors, use of the new aerial refuelling aircraft was not limited only to long-range bomber units but it was also intended to cooperate with any branch of the Soviet military aviation. Moreover, there was a possibility to convert any Il-78 into a standard airlifter, by removing tanks and UPAZ-1 installation (which usually took about 6 hours, while a re-conversion required twice as much time).
There were approximately 30 of Il-78s built until 1988, when an upgraded variant – Il-78M – was introduced. It had the take-off weight increased to 210 tonnes, three tanks for 36 tonnes of fuel installed in the cargo compartment and was no longer able to be converted into a cargo aeroplane – as the tanks were not removable and rear loading doors were not installed. A total number of thirteen Il-78M tankers was manufactured.
In December of 2012, works on another modification of the Russian aerial tanker were launched. It had to be based on Il-76MD-90A, a new version of that popular airlifter, equipped with modern, low-noise and more cost-effective PS-90A-76 jet engines.
The prototype was completed in November of 2017, assembled by Aviastar-SP aviation plant in Ulyanovsk. Therefore the aircraft became the first ever aerial refuelling aircraft made completely in Russia. Officially designated as Il-78M-90A, the new tanker successfully performed its maiden flight on 25th January 2018.
The Il-78M-90A is equipped with modern avionics, including a ´glass cockpit´ and Kupol-III-76M digital flight/navigation suite. Its capability of being converted into a strategic cargo aircraft or even, if necessary, into a fire-fighting aircraft, was restored. Similarly to previous versions, the new tanker can simultaneously refuel three aircraft – two so-called ´front-combat fighters´ (Su-27/30/34/35, MiG-29/35) from wing-mounted refuelling points and one heavy or special aircraft from the tail point. On the ground, the Il-78M-90A may be used for refuelling of up to four aircraft at the same time.
For the first time, the new Il-78M-90A was unveiled to general public during the XIV International Aviation and Space Salon MAKS-2019. At that time, it was planned that test flights would be finalized until the end of 2021 and a pre-order for ten aircraft was signed. Nevertheless, those plans were revised due to coronavirus outbreak and dates postponed.
According to official information from the Russian MoD, at least thirty of Il-78M-90A aerial tankers should enter operational service with the Russian Aerospace Forces. The aircraft will be also offered for foreign customers, in a variant called Il-78MK-90A.