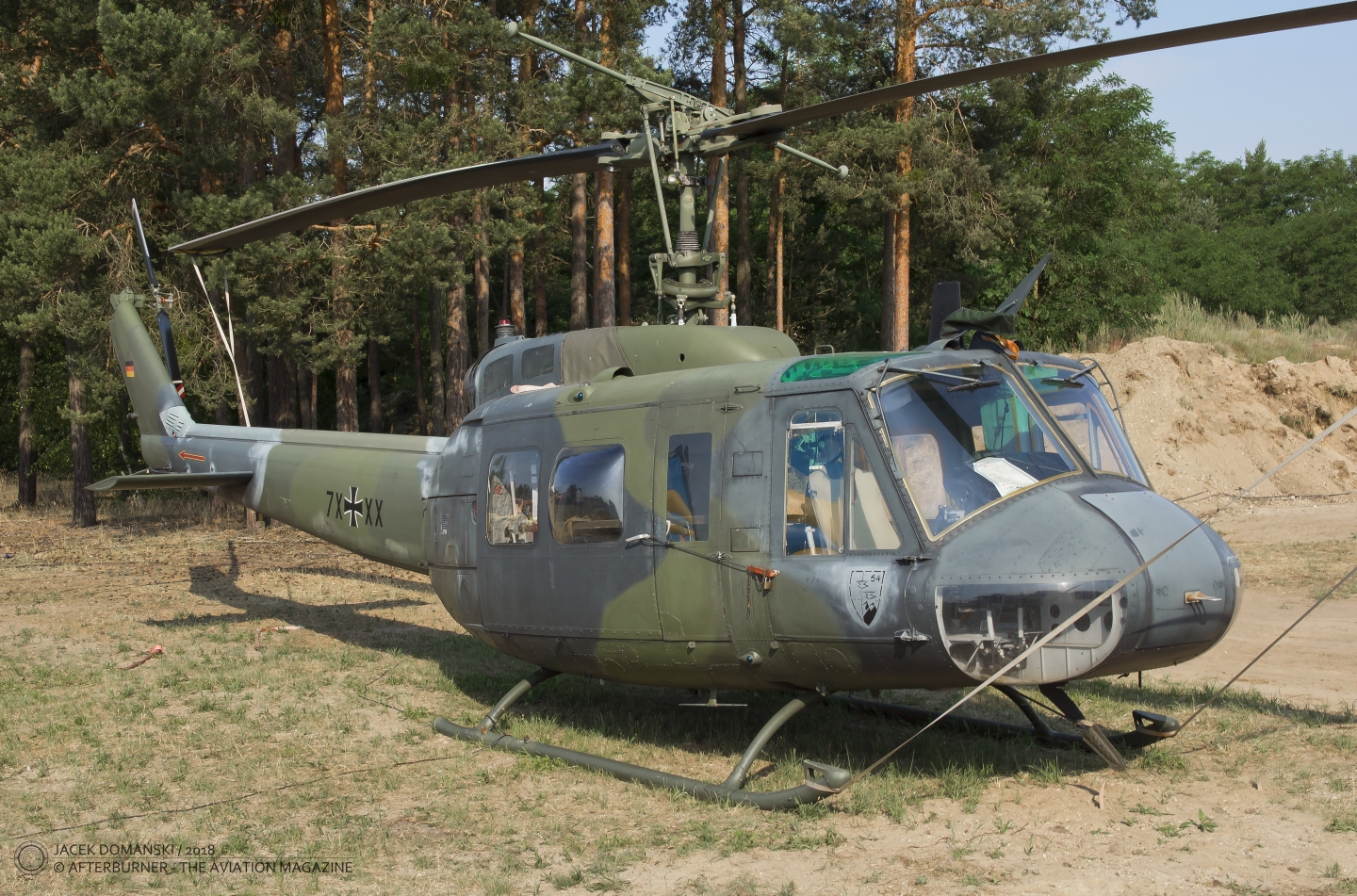 Bell (Dornier) UH-1D Iroquois, formerly of Hubschraubergeschwader 64, exhibited at static display in Holzdorf air base, Tag der Bundeswehr 2018.
Introduced in 1959, Bell UH-1 Iroquois quickly become one of the most-recognized helicopters in the world. This came about due to the Vietnam War, the conflict in which Bell´s new rotorcraft seen its operational debut.
More than 7,000 UH-1s were deployed to Vietnam and South Asia and turned into an icon of American involvement in the region. Initially designed as MEDEVAC and general utility helicopter, ´Huey´ – as this rotorcraft is commonly nicknamed – went through several modernizations, upgrades and unofficial modifications, used for literally any possible task and service.
UH-1D variant performed its maiden flight in 1961. This helicopter has its original body stretched, increasing the capacity to 15 persons (including crew) and quickly removable doors and side panels allowed to use it in the ´doors-off´ configuration, such a well-known from the Vietnam War movies.
Federal Republic of Germany was among the countries that, driven by the operational success in Vietnam, ordered UH-1D helicopters in mid-1960s. The first batch was received in the spring of 1966 and those ´Hueys´ were yet produced by Bell. Starting 1967, all German UH-1s were licence-manufactured in Germany, by Dornier company. The production in Germany was ceased in 1981, with 345 rotorcraft made in total.
Of all 352 ´Hueys´ operated by the German armed forces, most of them entered service in the aviation component of the Army (Heer). Only 132 were operated by Luftwaffe and 12 by the Federal Border Guard (Bundesgrenzschutz). In Germany, ´Huey´ received its own nickname – Teppichklopfer (carpet beater).
At the beginning of the 2000s, UH-1Ds were retiring from active service, being replaced by NH90 TTH or H145 helicopters. It is estimated that, during more than 50 years of their service in German armed forces, the ´Huey´ fleet clocked more than 2,3 million flying hours.
Today, there is still about a dozen of UH-1D helicopters in active service, all of them used for SAR duty by Niederstetten (SAR63), Nörvenich (SAR41) and Holzdorf (SAR87) air bases. All those ´Hueys´ will be replaced by H145 until June 2021.
On this occasion, the UH-1D with tactical number 73+08 was painted in the special ´Goodbye Huey!´ livery, designed by one of Huey pilots, Alexander Schütt. This special-painted helicopter had then to perform a ´Goodbye Huey Tour´ in Germany, visiting several aviation events in 2020 – 85th Anniversary of Dresden Airport, ILA Berlin, Tag der Bundeswehr in Laage, Breitscheid Airshow and others. Regrettably, due to coronavirus outbreak, most of those events were already cancelled.