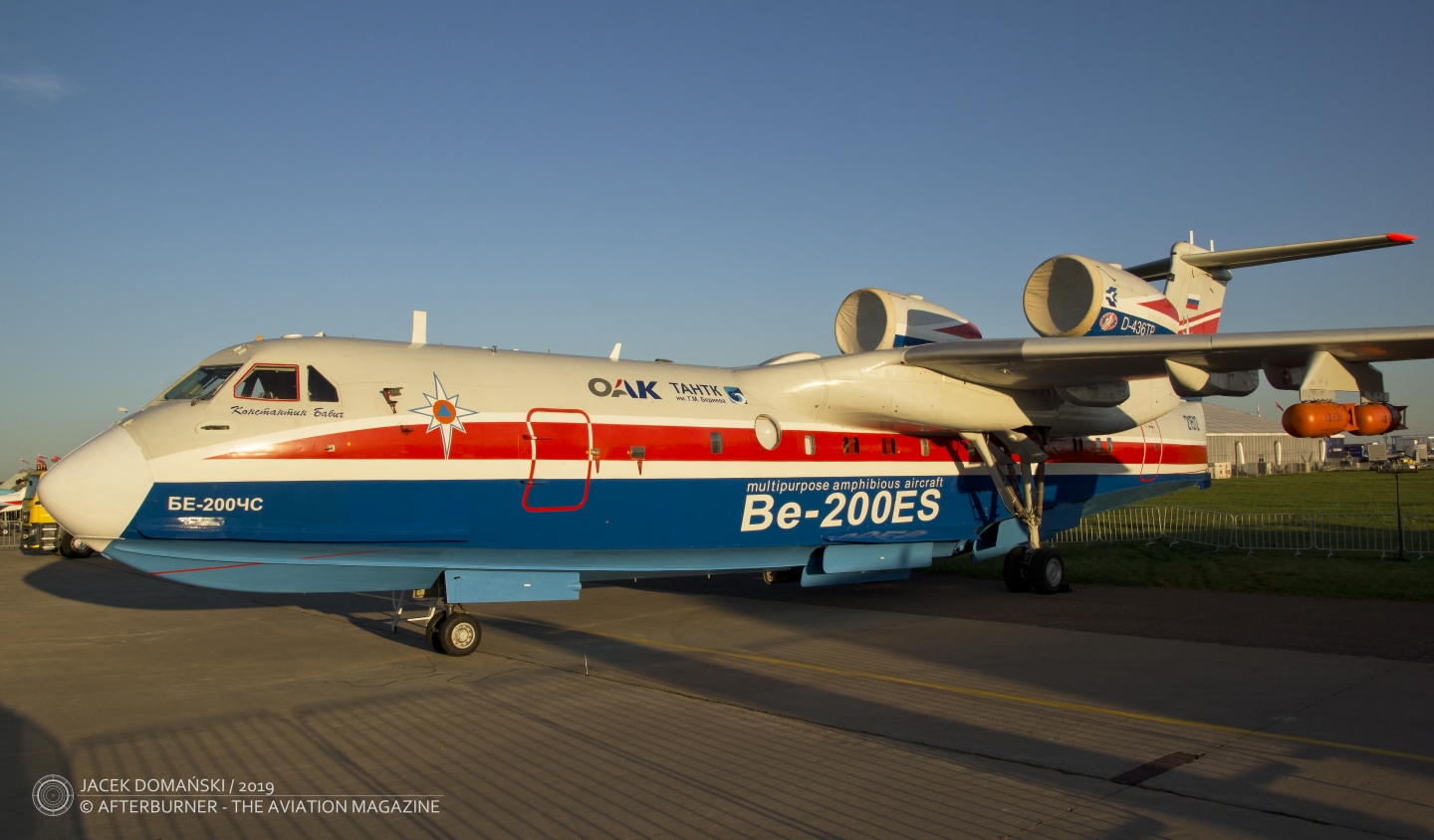 Beriev Be-200ES (No. 21512, named ´Konstantin Babich´) multipurpose jet amphibious aircraft, at the static display during XIV International Aviation and Space Salon MAKS-2019 in Zhukovsky, Moscow area.
In 1980s, the Beriev Design Bureau was working on two projects of new amphibious aircraft – a military anti-submarine A-40 ´Albatross´ with the maximum take-off weight of approximately 90 tones, and a much smaller, civilian multipurpose aeroplane named A-100.
´Albatross´ amphibious jet aircraft was intended to become a basic anti-submarine and SAR aircraft in the Soviet Union and therefore this project had the highest priority. A-40 performed its maiden flight in December 1986 and a year later for the first time took-off from the water. It seemed that this development was successfully aiming for the serial production, especially that the prototype proved the quality of A-40 design by setting approximately 140 aviation records.
In the meantime, the project of small civilian multipurpose amphibious aeroplane has been given no weight, being developed in a shadow of A-40. Having a take-off weight of about 20 tones, A-100 was intended to fighting forest fires from the air, cargo and mail transport, exploration of the Arctic areas and SAR duties. That amphibious aircraft had to be powered by two Klimov TV7-117 turboprop engines, intended for Il-114 regional airliner and many other systems and equipment were also unified with parallely developed Ilyushin aircraft.
However, this turned out to be a dead end – an aircraft to be made in accordance to the above mentioned specification would hardly find any customers, even within the Soviet Union and Eastern Bloc countries. Its size was considered too small for the intended purpose and in addition, there were many other aircraft already available in this class, therefore replacing them with more sophisticated amphibious aeroplane seemed to have no reason.
Fortunately for the civilian development, the A-40 project was suddenly slowing down due to the economic and political situation in the Soviet Union. Somewhere at this point the idea of combining both projects was born, and the first sketch of A-200 – a new fire-fighting amphibious aircraft, being a smaller copy of A-40 – was ready at the end of 1990. The new design was adopted enthusiastically and soon thereafter approved by the authorities. Following that approval, the works on two prototypes were initiated in 1993 – at that time the A-40 was fading into the mists of time, as the project was finally abandoned in 1992.
The maiden flight of A-200 took place in September of 1998, becoming a significant step in creation of a modern, multipurpose and jet-powered amphibious aircraft. In 2003, the first Beriev Be-200 entered the operational service.
Until today, 16 aircraft were manufactured. The main customer is Russian Ministry of Emergency situations, operating 12 aeroplanes. Other operators are the Ministry of Emergency Situations in Azerbaijan and the Ministry of Defence of the Russian Federation. According to the official press releases from the manufacturer, Be-200 were already ordered by operators in Chile, China and United States and Turkey. The deliveries are scheduled for year 2021 and further.
In February 2003, the name ´Altair´ was chosen for Be-200, as a result of a competition organized among employees of Taganrog and Irkutsk aviation plants. Altair is a star in the Eagle constellation, but also can be explained as ALbatross / TAganrog / IRkutsk. However, this name never caught on widely and the aircraft is usually called just Be-200.
Beriev Design Bureau was in 1989 transferred into ´Taganrog Aviation Scientific Technical Complex named after G.M. Beriev´ – Таганрогский авиационный научно-технический комплекс (ТАНТК) им. Г. М. Бериева, although in English the company is officially called just ´Beriev Aircraft Company´. TANTK/Beriev is currently a part of United Aircraft Corporation holding.