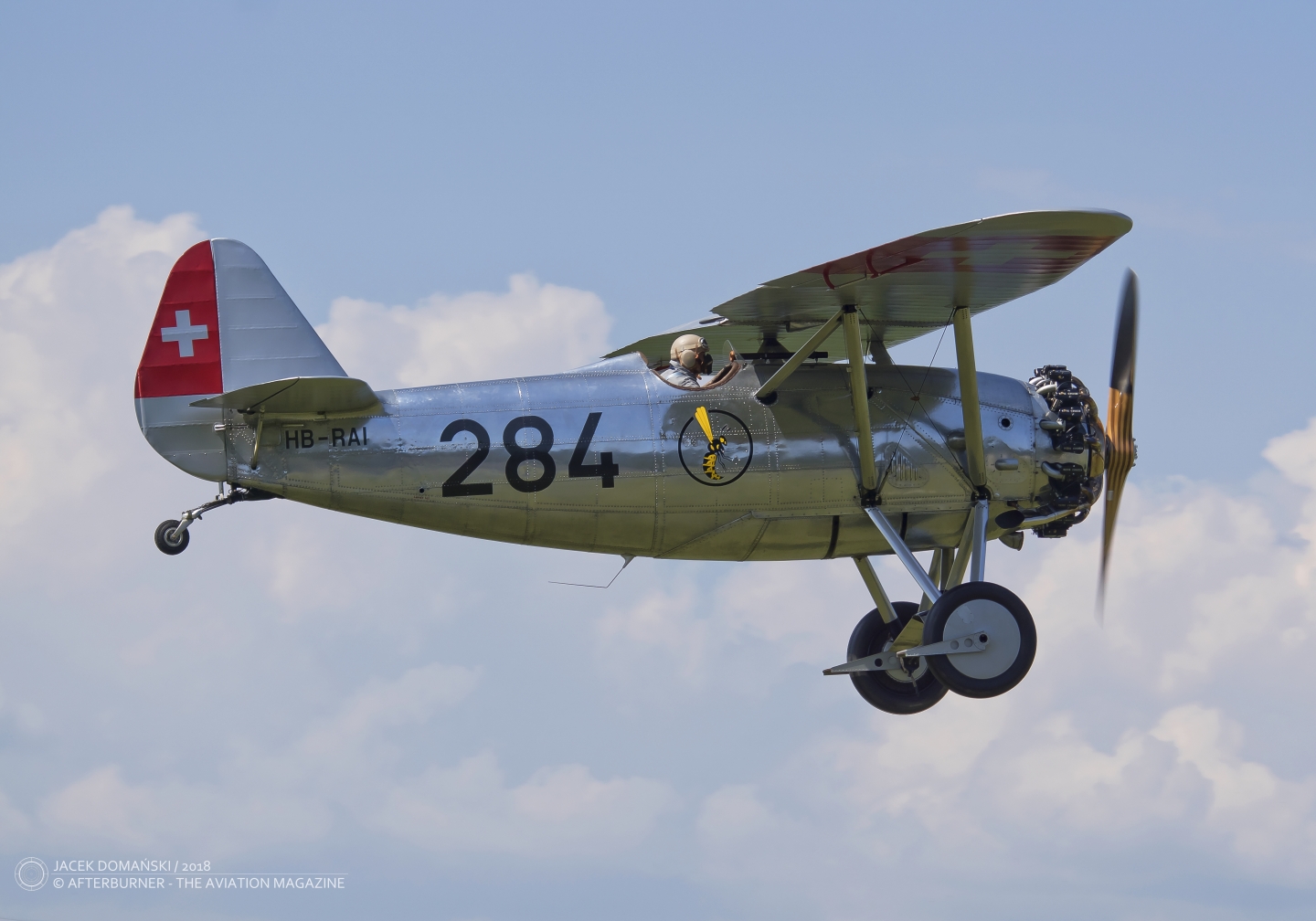 Dewoitine D.26 ´284´ training aircraft performing the flying display at Flugtage Schupfart 2019, an air show organized at the 50th anniversary of Schupfart airfield, Switzerland.
In 1927, Émile Dewoitine – a French aviation designer and manufacturer, formerly working for Latécoère company – being disappointed by the lack of interest in his aircraft developments in France, decided to close his company and move to Switzerland. A year later, he designed a parasol monoplane fighter designated as D.27, that was accepted by the Swiss Air Force and became operational in 1931.
However, the new all-metal fighter required a designated trainer, as the Hispano-Suiza engine mounted in D.27 was more advanced and complicated than engines used in existing Swiss Air Force aircraft – such trainer was also developed by Dewoitine, who equipped D.27 with lighter, less powerful and easier in maintenance, Hispano-Suiza license-manufactured Wright J-6-9 engine.
Ten training aeroplanes, previously named D.27WR but lately re-designated as D.26, were initially supposed to be manufactured by K+W Thun aviation plant, but finally the order was changed by adding two other, modified D.26s, equipped with a more powerful Wright engine (being an aircraft number 10 and 11 in the series).
D.26 turned out to be a very successful trainer, being operational in Swiss Air Force until 1948. Retired from the military service, the D.26 enjoyed its second life in the aeroclubs, as a glider tug. The last D.26 was finally withdrawn in 1970, and today is exhibited at military aviation museum in Dübendorf.
Two aircraft, 284 (HB-RAI) and 286 (HB-RAG), survived until today in airworthy condition:
After retiring from the Swiss Air Force, Dewoitine D.26 ´286´ was initially used by Grenchen aeroclub. Unfortunately, the following years were not kind for ´286´ and the aeroplane was stored for a long time, changing its location and storage condition several times. Finally saved by Peter Brotschi (then President of Grenchen Aeroclub), the Dewoitine trainer was restored into the airworthy condition by retired aviation mechanics from Interlaken air base, after more than 10,000 hours of work. Then the restored aeroplane changed its owners a few times, finally finding its home in Grenchen, being owned by Hangar 31 association since 2015.
Dewoitine D.26 ´284´ is owned by AMPA – Association pour le Maintien du Patrimoine Aéronautique, having its seat in Lausanne. Similarly to ´286´, the second airworthy Dewoitine trainer was, after being withdrawn from the Swiss Air Force, used as a glider tug by aeroclub in Geneve. At the end of this service, ´284´ was sold for scrap, but then saved by Eric Isaac, who bought it back from the scrap yard and restored into the airworthy condition. After his death in 1980, D.26 trainer was bought by AMPA and then participating in air shows until 2005, when the flying activity was ceased by the engine wear. This second restoration began in 2011 and was finished until 2014 Payerne air show – celebrating the 100th anniversary of the Swiss Air Force – where the restored D.26 ´284´ again performed a flying display.
Today, the pair of D.26 trainers is participating in most of the Swiss air shows, always attracting great interest of spectators. The Dewoitine trainers are often flying their display together, as ´Patrouille Dewoitine – Swiss Air Force 1931´.