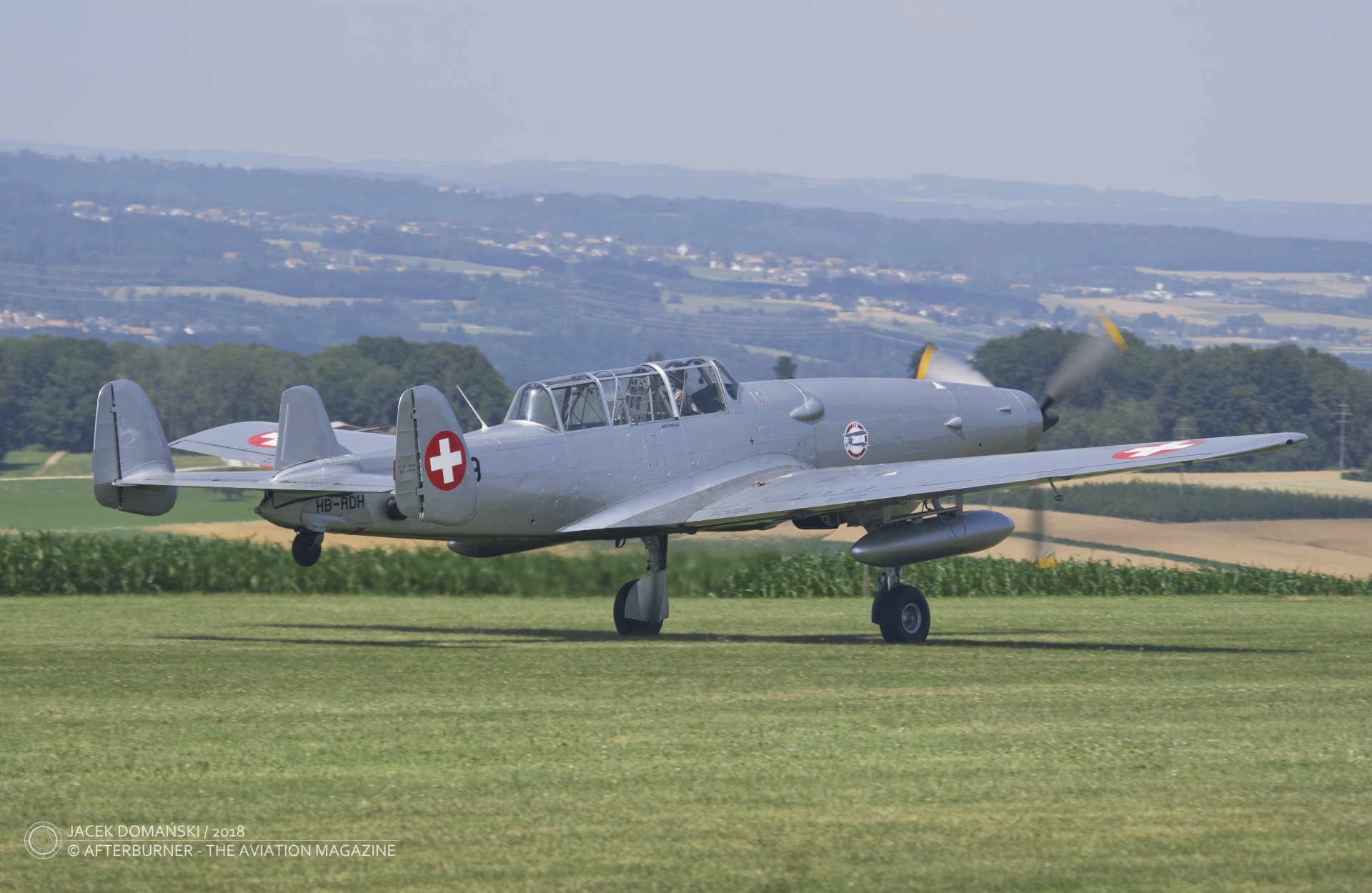 F+W (EKW) C-3605 ´Schlepp´, HB-RDH (formerly Swiss Air Force C-509), target towing aircraft, taking-off for the flying display at Flugtage Schupfart air show, June 2018.
The roots of this interesting aircraft could be found in the Swiss Air Force request for a new multipurpose aircraft, issued in 1935. That new construction was intended to replace then used Fokker biplanes and had to be capable of performing reconnaissance, close escort and patrol missions. In response to the request, Eidgenössische Konstruktionswerkstätte (Federal Constructions Works) – a state-owned company manufacturing military equipment – has proposed two new designs: C-35 biplane and C-36 monoplane. Finally, the latter was approved for serial production that was launched in the early 1940s.
Although initially C-36 served as combat aircraft, the rapid development of aviation during the World War II years quickly made their performance too poor for the air defence duties and were transferred to training and target-towing tasks. The serial-manufactured aeroplanes were designated as C-3603 (powered by Hispano-Suiza 12Y-51) and C-3604 (powered by Saurer YS-2). There were 142 of C-3603 built, 13 of them later converted to C-3604.
The C-3603/3604 aircraft remained in active service until 1950s but, being operated mainly as a target-towing aeroplane, their engines suffered excessively high wear. It became clear that a replacement was needed.
Several aircraft were then evaluated by the Swiss Air Force for this role – including Fairey Gannet, T-28 Trojan, OV-10 Bronco or even Mitsubishi MU-2 – but there were found too expensive. Therefore, as a fast and cheap solution, Eidgenössisches Flugzeugwerk (Federal Aviation Works – a company created after transferring the former EKW aviation plant into a separate entity of the Swiss Armed Forces) proposed a conversion of C-3603 into a turboprop-powered aeroplane.
The factory team led by Jean-Pierre Weibel used a Lycoming T-53-7A engine and the re-developed target tug performed its maiden flight on 19th August 1968. The test proved the idea was right and the aeroplane had an acceptable flight characteristics, although the third vertical stabilizer had to be added. Eventually, between 1971 and 1973, another 23 aircraft were converted into the new variant, now designated as C-3605.
The F+W C-3605 were operated by the Swiss Air Force until 1980s, with the last aircraft withdrawn in 1987, due to the airframe fatigue. During their service, C-3605 were usually painted in high-visibility colour scheme of black and yellow stripes and quickly being nicknamed Fliegender Zebrastreifen (English: a flying zebra-crossing) or just Schlepp (tug). Another popular sobriquet – ´Alpine Anteater´, was caused by the look of the re-designed aircraft.
Currently, there are just two C-3605 still airworthy, both manufactured in 1943 and now being privately owned: HB-RDB (C-494, c/n 274) and HB-RDH (C-509, c/n 289). And both aircraft are now (as of September 2020) offered for sale.
Our photo shows the C-3605 registered HB-RDH, taking-off for the flying display during Flugtage Schupfart, an air show organized in 2018 at the opportunity of the 50th anniversary of Fricktal-Schupfart airfield.