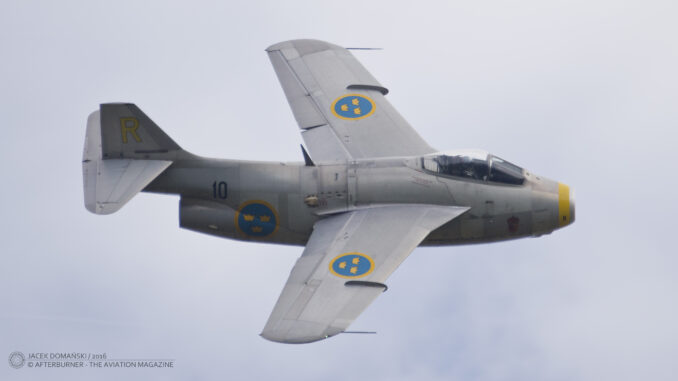 Saab 29 Tunnan (c/n 29-670, SE-DXB), operated by the Swedish Air Force Historic Flight, during a flying display at NATO Days, Ostrava-Mošnov, September 2016.
The first flight of a jet-powered aircraft in Sweden took place on 10th March 1947. An aircraft that introduced the Swedish Air Force and Saab aviation manufacturer into jet era was a converted J 21 fighter – an unorthodox aircraft designed by Saab between 1941 and 1943, originally powered by a  DB 605B piston engine. Its twin-boom pusher configuration made it easily adoptable for a jet engine and as a result, the J 21R jet fighter became one of only two jets, that were successfully converted from a piston-powered aeroplane. Opening the jet era in Sweden was possible thanks to purchasing a license for de Havilland ´Goblin II´ engine, which was later being manufactured as Svenska Flygmotor RM1.
The J 21R turned out to be a reliable aircraft but, faced with a rapid development of jet-powered aeroplanes, its flying characteristics quickly became not sufficient for a fighter. As a result, the initial order was limited to just 64 aeroplanes and already existing J 21R were converted to attack aircraft. In the consequence, Saab accepted a challenge to create a new Swedish fighter jet from a scratch.
Initially, there were two projects, both proposed by a leader of Saab design team, Lars Brising. The first design was codenamed R 101 and similar in shape to P-80 Shooting Star. In contrast to such slim silhouette, the second project, named R 1001, was representing a barrel-shape aircraft. And it was the second design that was finally chosen for further evaluation.
At the beginning the R 1001 project had, as most aircraft at that time, a classic straight wing. Thanks to data from German wartime research projects, it was soon changed into a swept-wing with a 25 degree sweep. Saab designers managed to obtain information and aircraft drawings (including Messerschmitt early jets) from German engineers that fled to Switzerland after the World War II and then quickly implemented those data in current Saab projects. As a result, the final design of the new Saab fighter became one of the pioneering swept-wing aircraft, together with B-47 Stratojet, MiG-15 and, certainly, Me 262.
On 1st September 1948, the new fighter took-off for its maiden flight, flown by S/L Robert A. Moore, a British test pilot. The aircraft was powered by de Havilland ´Ghost´ engine, being manufactured in Sweden under licence as RM2B. Although it received an official designation of J 29, this new fighter was quickly nicknamed Flygande Tunnan (English: flying barrel), or just Tunnan. The latter, shorter variant of its nickname was then adopted officially.
Serial production was launched shortly after a series of successful test flights and the Swedish Air Force received its first operational Tunnan jet in 1951. The aircraft was manufactured in five main versions: 29A, 29B and 29E fighters, 29F fighter with afterburner and 29C reconnaissance variant. A total of 661 Tunnans were built until 1956, the largest number for any Saab-manufactured aircraft.
The new aircraft was warmly welcomed by the Swedish Air Force. Despite its ugly look it turned out to be a fast and manoeuvrable fighter. And in addition, between 1954 and 1955, the Tunnans set several world speed records on a closed circuit.
In Sweden, the Saab J 29 Tunnan remained in active service until 1970s, although it was retired from the fighter role in 1967. At the beginning of 1960s, approximately 30 Tunnan aircraft were sold to Austria where they were operational until 1972.
The Tunnan was also the first Swedish-made jet to be used in combat. This happened between 1961 and 1964, when the Swedish Air Force joined the UN peacekeeping mission in the Republic of Congo (ONUC). Nine J 29 fighters and two reconnaissance aircraft were operated by F 22 Wing there and were destroyed after the end of UN mission – as returning them to Sweden was too expensive and pointless.
One of disadvantages of the Saab J 29 was lack of a two-seat, trainer variant. Because of that, Swedish pilots were trained with dual-control version of the de Havilland Vampire jet and then switched to solo flights with Tunnan. That, regrettably, was responsible for a significant crash record.
The sole airworthy Saab J 29 Tunnan that survived until today is being operated by the Swedish Air Force Historic Flight. Nowadays, this aircraft, registered as SE-DXB, is a frequent participant of aviation events in Europe.