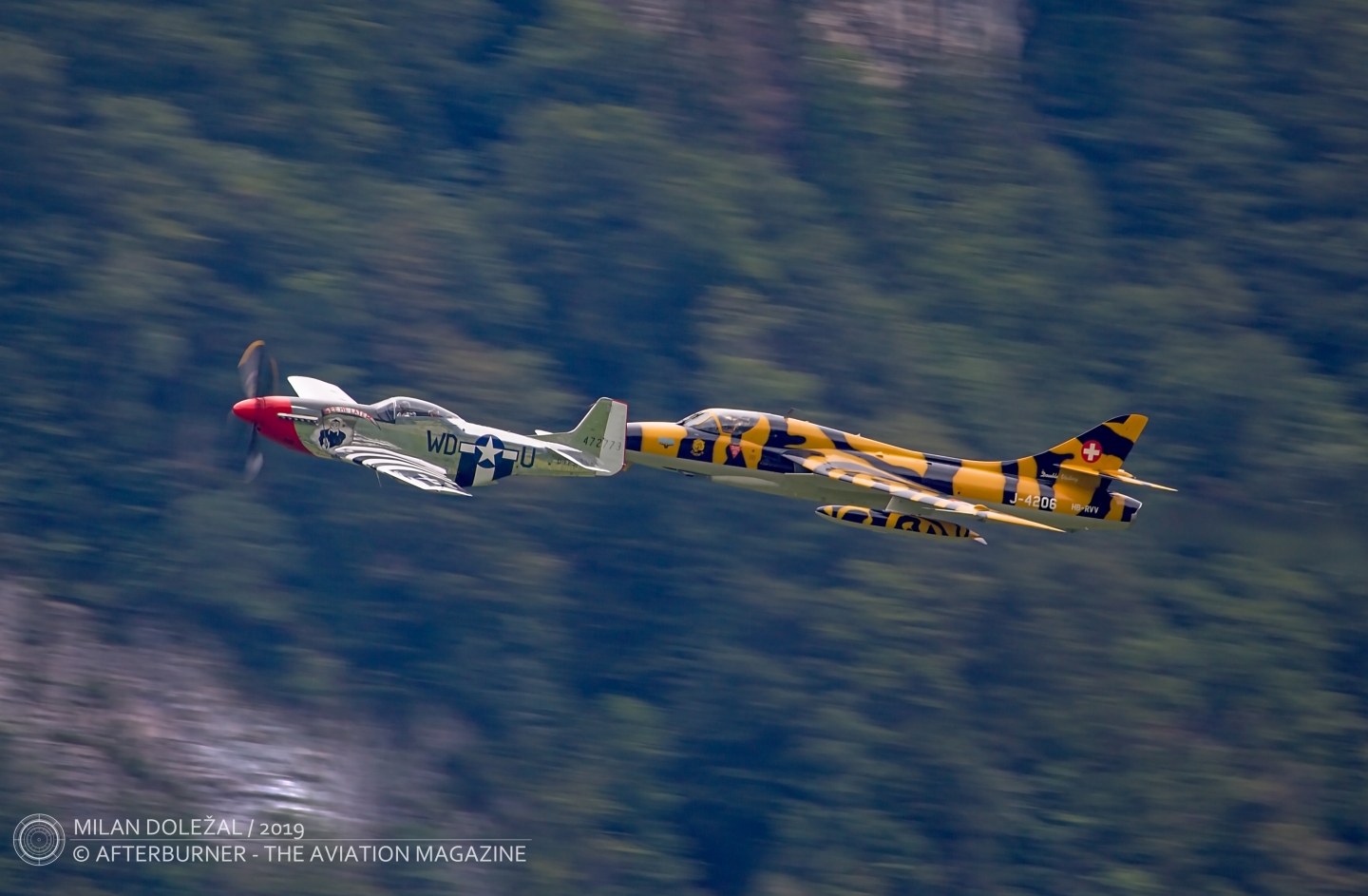 Hawker Hunter and P-51 Mustang during the joint flying display at Zigermeet 19, the air show held last weekend at Flugplatz Mollis, in Switzerland.
The North American P-51D Mustang 44-72773 (D-FPSI) is one of the approximately 170 airworthy P-51s existing today. This aircraft was built in 1945 and sent to South Italy but wasn´t operationally used and returned to the USA in August the same year.
Considered as the surplus aeroplane, the 72773 was firstly stored then used by training units in the USA until 1958, when it was transferred to Nicaragua National Guard. In 1963 the aircraft was sold to private operator and registered as N12066. In the following years this P-51D changed hands (and certainly, the livery) several times, moving between the warbird collections, and finally returning to Europe in 1988.
In Europe, 72773 was previously flying in the United Kingdom and later in Germany, again changing its name several times – twice it was ´Susy´, then ´Darlin Ann´ and ´Lucky Lady VII´.
The current owner acquired this Mustang in 2016 and chosen the polished silver look for his warbird. P-51D Mustang 44-72773 was painted as WD-U ´See me later´, the aircraft originally flown by 1Lt. Wilbur Eaton from 4th Fighter Group (´Debden Eagles´).
Hawker Hunter T Mk.68 ´Tiger Hunter´ is one of approximately 30 airworthy Hunters, including the ones operated by the government contractors in the USA. Manufactured in 1956 as Hunter F Mk.50, this aircraft was delivered to the Swedish Air Force, but there is no trace if used operationally there.
In 1970 it was bought back by Hawker Siddeley Aircraft and converted into T Mk.68 variant for the Swiss Air Force. In Switzerland, this aircraft was operated by the Staffel 24 and Staffel 5 until 1994 and then stored.
In 2001 the aeroplane was acquired by the Hunter Flying Group in Altenrhein and registered as HB-RVV. The aircraft was painted as ´Tiger Hunter´ in 2009, following the original ´Tiger-look´ Hunter J-4053 from Staffel 11 at Meiringen, that was wearing such livery in 1973.