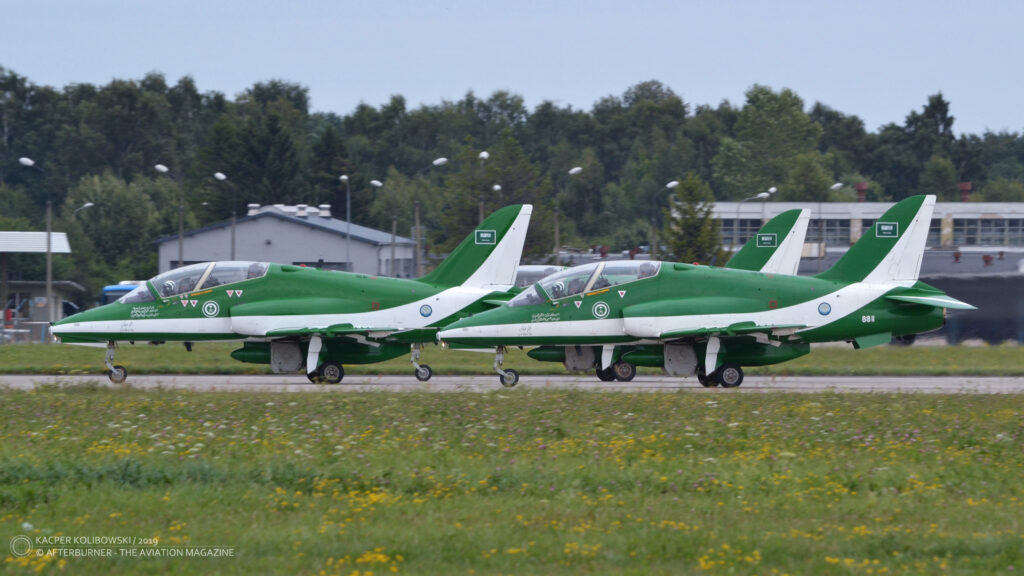 BAE Systems Hawk Mk.65A (8817, 8811, 8806) of the Saudi Hawks Aerobatic Team at LOTOS Gdynia Aerobaltic 2019
Three of seven BAE Systems Hawk Mk.65A of Saudi Hawks Aerobatic Team ready for take-off at Gdynia-Kosakowo Airport (EPOK) – LOTOS Gdynia Aerobaltic, August 2019.
History of the Saudi Falcons Aerobatic Team (commonly known as Saudi Hawks) began twenty three years ago. On 6th June 1988, Gen. Abdulaziz Henaidy – following an approval of the Minister of Defence and Aviation of Saudi Arabia, Prince Sultan Bin Abdulaziz – started to form a new aviation unit, the No. 88th Squadron based at King Abdulaziz Air Base in Dhahran and being the official demonstration team of the Royal Saudi Air Force (RSAF). Initially, the aerobatic group consisted of four BAE Hawk training aircraft from the RSAF inventory.
The team made its public debut in January of 1999, during an air show organised to celebrate the centenary of the Kingdom of Saudi Arabia and held in Riyadh, the capital city.  A year later, in February of 2000, the Saudi Hawks made their first international performance at aviation show in Bahrain.
In 2011 the Saudi Falcons Aerobatic Team took part in the well-known Airpower show held in Zeltweg, Austria. It was the first time the group performed for European aviation enthusiasts. Later the same year, the team debuted in the UK, taking part in Royal International Air Tattoo at RAF Fairford and then performed at the Koksijde Airshow in Belgium.
Over the coming years, the Saudi Hawks have performed in many European countries, including Greece, Italy and the Czech Republic.
In 2019, the Saudis made their debut in the Polish sky, and the Saudi Hawks aerobatic team was the highlight of LOTOS Gdynia Aerobaltic 2019 air show. It was the group's only European performance that year.
Since the very beginning the Saudi Falcons Aerobatic Team has been flying one of the world's most popular training aircraft – the British-made BAE Hawk of the Mk.65 and Mk.65A variants. In the course of years, the number of aeroplanes in the team has increased from the initial four to six and later to seven jets.
All aircraft of the Saudi Hawks team are painted in a characteristic green-white livery as these are the national colours of the Kingdom of Saudi Arabia. As is customary, the jets belonging to the group are also equipped with a smoke system that may generate white, green, red and blue trails that additionally enhance the viewing experience of the team´s aerobatic displays.
At the end, it is worth mentioning that the Saudi Falcons Aerobatic Team is often being compared to the RAF Red Arrows, mainly due to the fact that both aerobatic groups fly with the same type of aircraft.  However, this comparison has also another reason – there was a time when pilots of the official Royal Saudi Air Force demonstration team were trained by former pilots of the abovementioned British group.