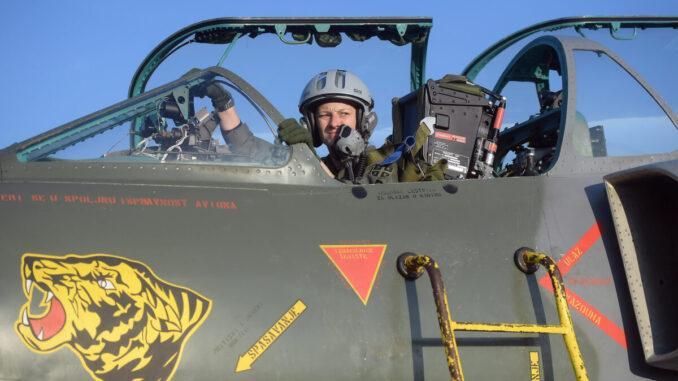 A few days ago, on 25th November 2020, Captain Ana Perišić of the Serbian Air Force and Air Defence (Ратно ваздухопловство и противваздухопловна одбрана Војске Србије) performed her first solo flight on a Soko J-22 Orao (English: eagle) ground-attack and reconnaissance jet, in this way becoming the very first female attack aircraft pilot in the history of the Serbian armed forces.
Captain Perišić´s flight took place at ´Morava´ air base in Ladjevici and was observed not only by her colleagues from the 241st Fighter-Bomber Squadron (98th Air Brigade), but also by the Deputy Prime Minister and Minister of Defence Nebojša Stefanović and the Deputy Commander of the Air Force and Air Defence, Brigadier General Željko Bilić.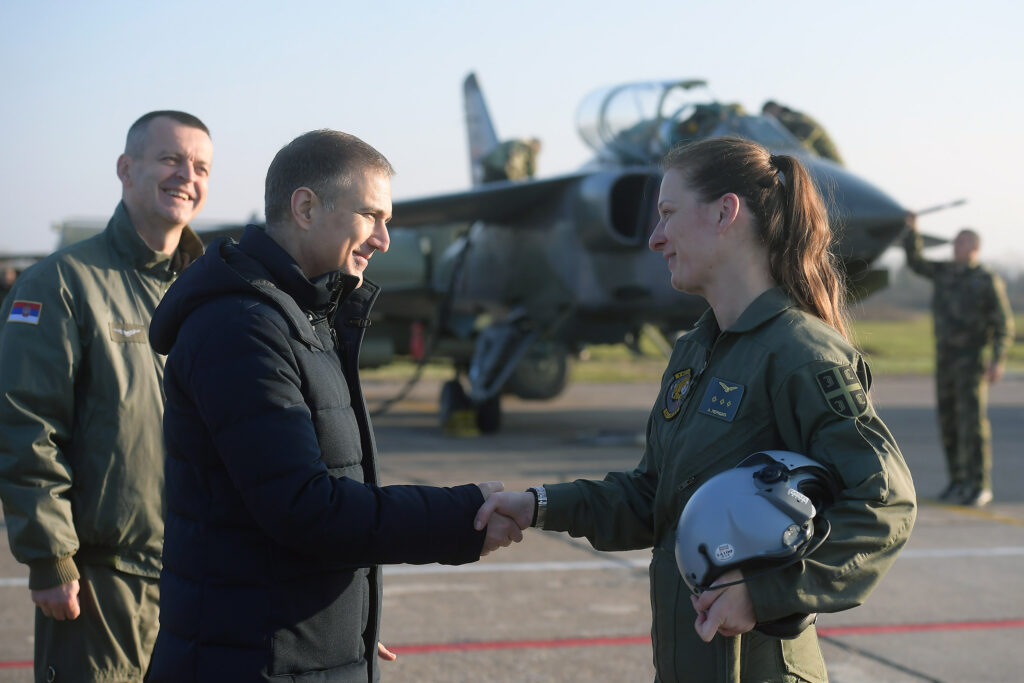 ´I am glad that this is the case and that new generations of young women from our country can make their careers in fighter aviation and other most complex services and units of the Serbian Armed Forces,´ said Stefanović and added that he was grateful to Ana ´for the opportunity to see a very successful pilot today. Her commanding officers and experts assessed her flight as very successful and decided that she was ready to move on to solo flights now.´
Stefanović also emphasized that there is no easy job in the air force, and all pilots and auxiliary staff, all those technicians and other people who help pilots in everyday activities and perform aircraft maintenance and should not be forgotten, have to undergo countless hours of training in order to be able to operate such complex systems as modern aircraft are, and also be ready to perform their duties at any time.
Captain Ana Perišić (neé Tadić), graduated the air force academy in 2011, together with two other colleagues Anja Krneta and Sandra Radovanović (now Bogunović). Together they are recognized as the first female pilot generation in the Serbian Air Force.
Perišić never dreamed of being a pilot, or even a soldier. However, when she learned that the air force is calling up females to enlist, Perišić decided to take this opportunity, and was approved as an air force cadet. After graduating the academy, she initially completed the training with Soko G-4 Super Galeb jet trainer and light attack aircraft, but later was qualified for becoming a J-22 Orao combat pilot. When asked about her impressions from the first solo flight with Orao, Perišić pointed out that it was difficult to express them in words, however she was really satisfied with how she managed it.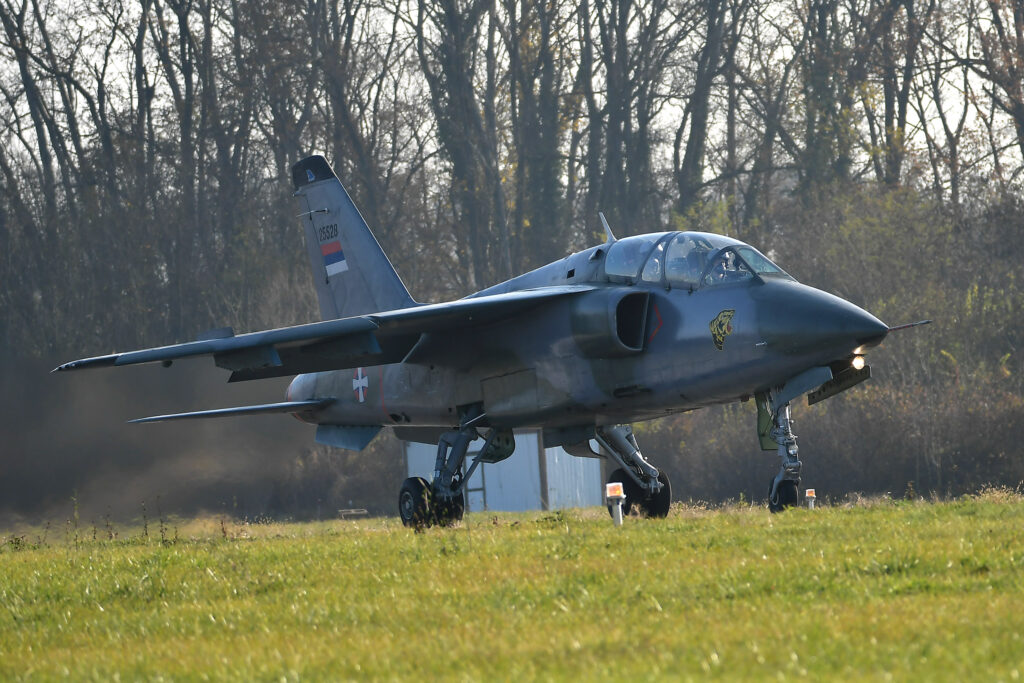 During the study at the academy, Krneta, Perišić and Bogunović, shared the same room at Batajnica. However that was Bogunović who achieved the honorary position of the first active female pilot in the Serbian Air Force. She completed the training with Super Galeb, with an enormous media interest, while still being a senior sergeant and a cadet.
Today, both Krneta and Bogunović are still in the air force, in the rank of Captain, and both are flight instructors in Batajnica – Krneta at the 890th Mixed Helicopter Squadron and Bogunović at the 252nd Training Squadron.
An interesting fact is, that although being now widely recognized as the first generation, Krneta, Perišić and Bogunović are not a true pioneers of female military aviation in the region. Already in 1984, in the former Yugoslav Air Force, there was a group of women officers that completed their training as a military pilot: Svetlana Mitrović, Mirjana Ivanović (Serbia), Tatjana Dodevska (Macedonia) and Milena Cestnik (Slovenia). However, they were not transferred into any active units and finally became reserve aviation officers.
Although several women were trying to follow Krneta, Perišić and Bogunović in becoming an air force pilot, they never managed to go through the preliminary selection, medical tests or introductory flight. Only in 2020, nine years after the graduation of the first group, the Serbian Air Force welcomed its new female pilots – this September, Tijana Milenković and Lidija Petrović, together with other eight male colleagues, were promoted to Second Lieutenant and started their career as Gazelle helicopter pilots.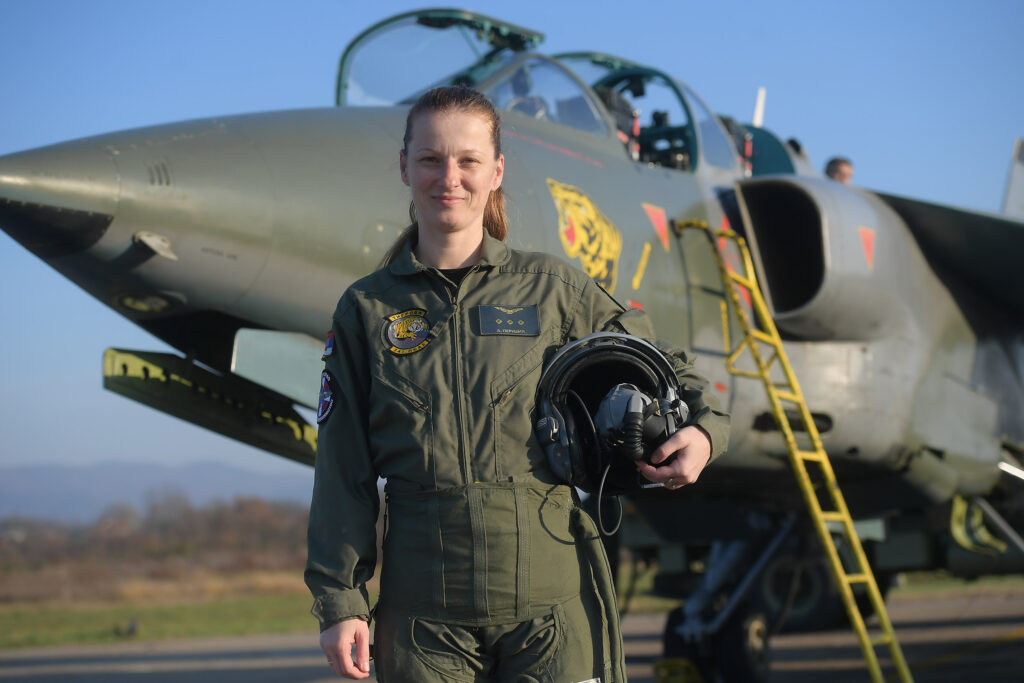 It is worth mentioning here that also the other countries, once being a part of the Socialist Federal Republic of Yugoslavia, have an active duty female military pilots – however in a very limited numbers. The Republic of Croatia is an unquestionable leader there, having currently five women flying within the air force structures – helicopter pilots Nevenka Škopac, Antonela Marinov, Monika Tršić and Anamaria Ćurković, and Diana Doboš who is flying a Canadair CL-415.
A short time ago Kristina Bačić, who completed her aviation education in Greece, became the first female helicopter pilot in Montenegro. The Hellenic Air Force Academy trained also the first woman aviator of Bosna and Herzegovina – Lieutenant Draženka Panić, who graduated recently, as the best foreign student in the class.
In the meantime, Iva Matić – who was the sole female pilot in the Northern Macedonia, flying a Mi-17 helicopter – has decided to give up her military career and now works as a civilian pilot.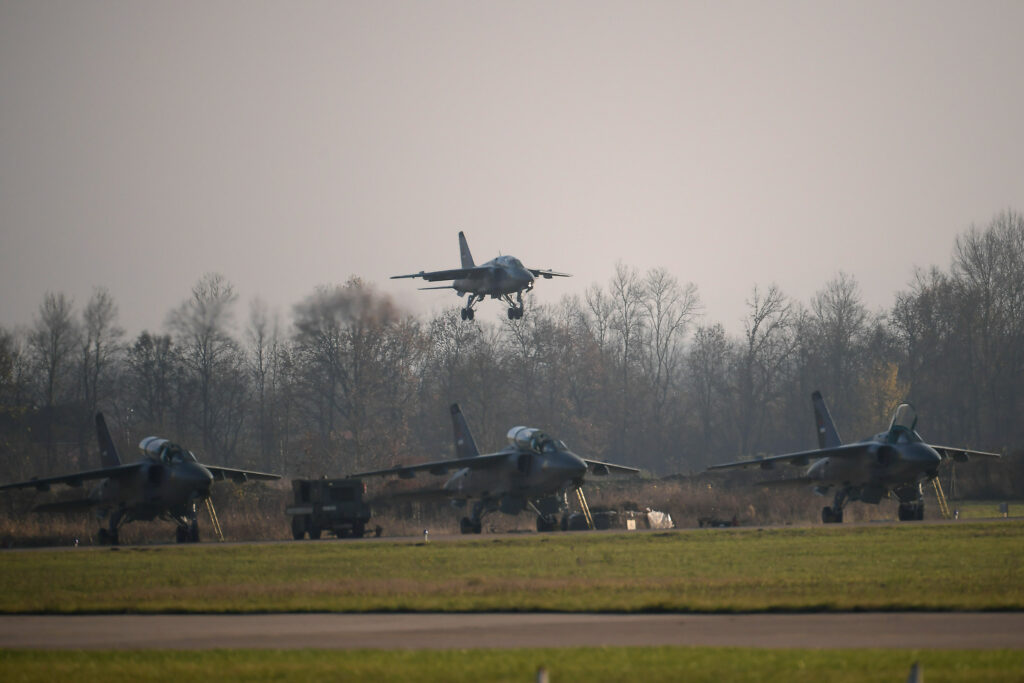 All quotations and photos © Министарство одбране Републике Србије / MoD Republic of Serbia. MoD press releases were used.