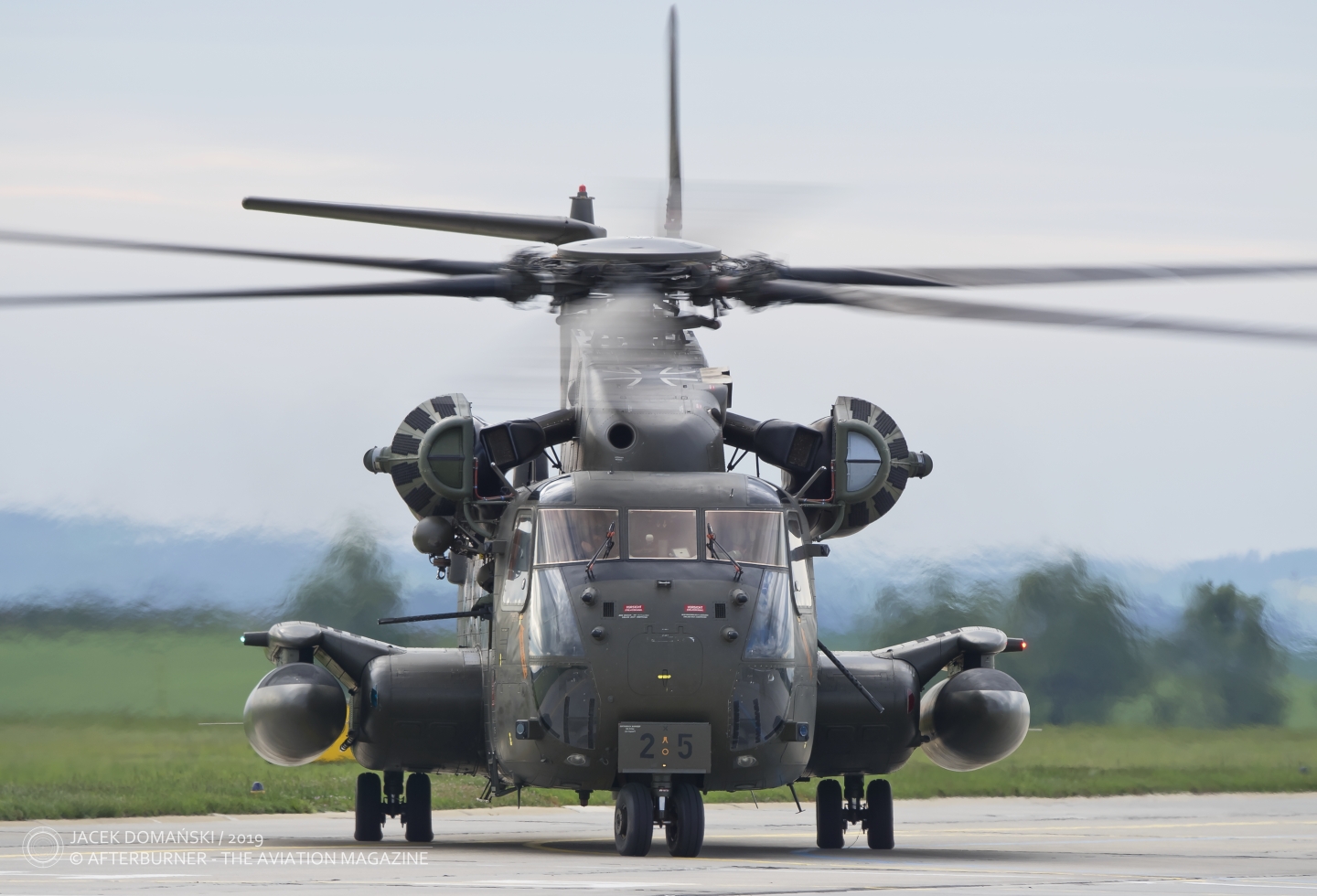 The Luftwaffe operated CH-53GS heavy-lift helicopter, returning from the evening COMAO mission to the 22nd Air Force Base in Náměšť nad Oslavou– photo taken in May 2019, during joint tactical helicopter exercise Dark Blade 2019.
CH-53 helicopters – originally developed by Sikorsky for the USMC in 1960s and named ´Sea Stallion´ – were ordered by Germany in 1968, as the result of the preliminary tests on CH-53 and CH-47 Chinook aircraft. The new helicopters were intended for the German Army (´Heer´) as the replacement for Piasecki H-21 and Sikorsky H-34 helicopters. All helicopters – with the exception of the first two delivered – were assembled or license manufactured in Germany, by the VFW-Fokker factory at Speyer.
The German CH-53 were designed as ´G´ variant, which was the German equivalent of the original CH-53D version (manufacturer´s designation S-65C-1). Starting in 1990s, all German CH-53s were subsequently modernized to the updated GS/GE/GA variants. As the effect of the German armed forces reorganization, from January 2013 all CH-53 helicopters were transferred to German Air Force and assigned to Hubschraubergeschwader 64.
CH-53GS is the ´geschützte´ (protected) helicopter, with the modernized IFR equipment, additional exterior tanks, low-flight night vision cockpit and NVG, partial ballistic protection, engine dust collectors, missile counter measure and self-defence armament (MG 3 and M3M machine guns). Additionally, the original engines were replaced by the T64-100 engines, enhancing the possibility of flying in ´hot and high´ conditions. The Sikorsky CH-53GS helicopter is capable to perform the CSAR missions.
At the moment, it all comes full circle and Germany is currently looking for the CH-53 replacement. And according to the latest information, the future German heavy-lift helicopter would be selected from two types – Sikorsky CH-53K King Stallion and CH-47F Chinook. The winner of the selection should be announced in 2020.