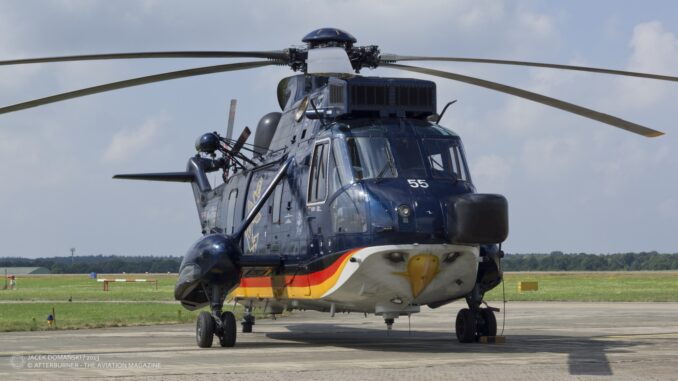 Westland Sea King Mk.41, ´89+55´, Marinefliegergeschwader 5 of the German Naval Aviation (Marineflieger), in special livery ´100th Anniversary of German Naval Aviation´, Nordholz air base, August 2013.
At the end of 1960s Germany decided to find a replacement for the fleet of Grumman HU-16 Albatross flying boats, that were operating as Search and Rescue aircraft for approximately ten years. German Navy acquired five Albatross flying boats in 1959 (G-191 variant) and then bought additional three aircraft of SA-16A version from the USAF.
This time it was decided to replace the flying boats with more versatile aircraft – Sea King helicopters. The order for 22 rotorcraft was placed on 20th June 1969, being also the first export sale contract for Westland Sea King.
German Navy helicopters had to be equipped similarly to HAS.1 variant, but without sonar. On the other hand, it was also the first dedicated SAR version of Sea King, with more spacious cabin and enhanced operational range (thanks to bigger fuel tanks). All helicopters were delivered in 1973/1974 and were taken over by Marinefliegergeschwader 5 – at that time already operating another type of rotorcraft, Sikorsky S-58 (H-34).
During the years, the Sea Kings were intensively used by the German Navy, acting not only as the SAR helicopter but covering a broad range of other tasks: tactical sea-land transport, surveillance, anti-ship warfare, naval support, and evacuation. The rotorcraft of MFG 5 were also used in the disaster relief operations in Germany, during gales, snow calamity and floods. The operational record of German Sea Kings include operations in Africa (Djibouti, Horn of Africa, Ivory Coast), Asia and UNIFIL in Lebanon.
In the nearest future, the Westland Sea King Mk.41 will be replaced by NH90NFH (NATO Frigate Helicopter), in a German Navy dedicated version called the Sea Lion (other variant of NH90, named Sea Tiger, is intended to be a successor of the Sea Lynx rotorcraft). This generational change was already planned for 2017, but the deliveries of NH90 were late and the first three Sea Lions were handed over to  MFG 5 only on 4th June 2020.
The Sea King ´89+55´ was manufactured in 1972 and probably is the most photographed German naval helicopter – due to special liveries that were applied on this aircraft. It started with ´30 Years of Sea King´ livery, then, when MFG 5 was leaving Kiel and moving to Nordholz air base, the ´89+55´ received an attractive, golden-orange ´Goodbye Kiel – Fly out´ livery. In 2013, in regard to 100th Anniversary of the German Naval Aviation, this Sea King received its another special livery – pictured above.