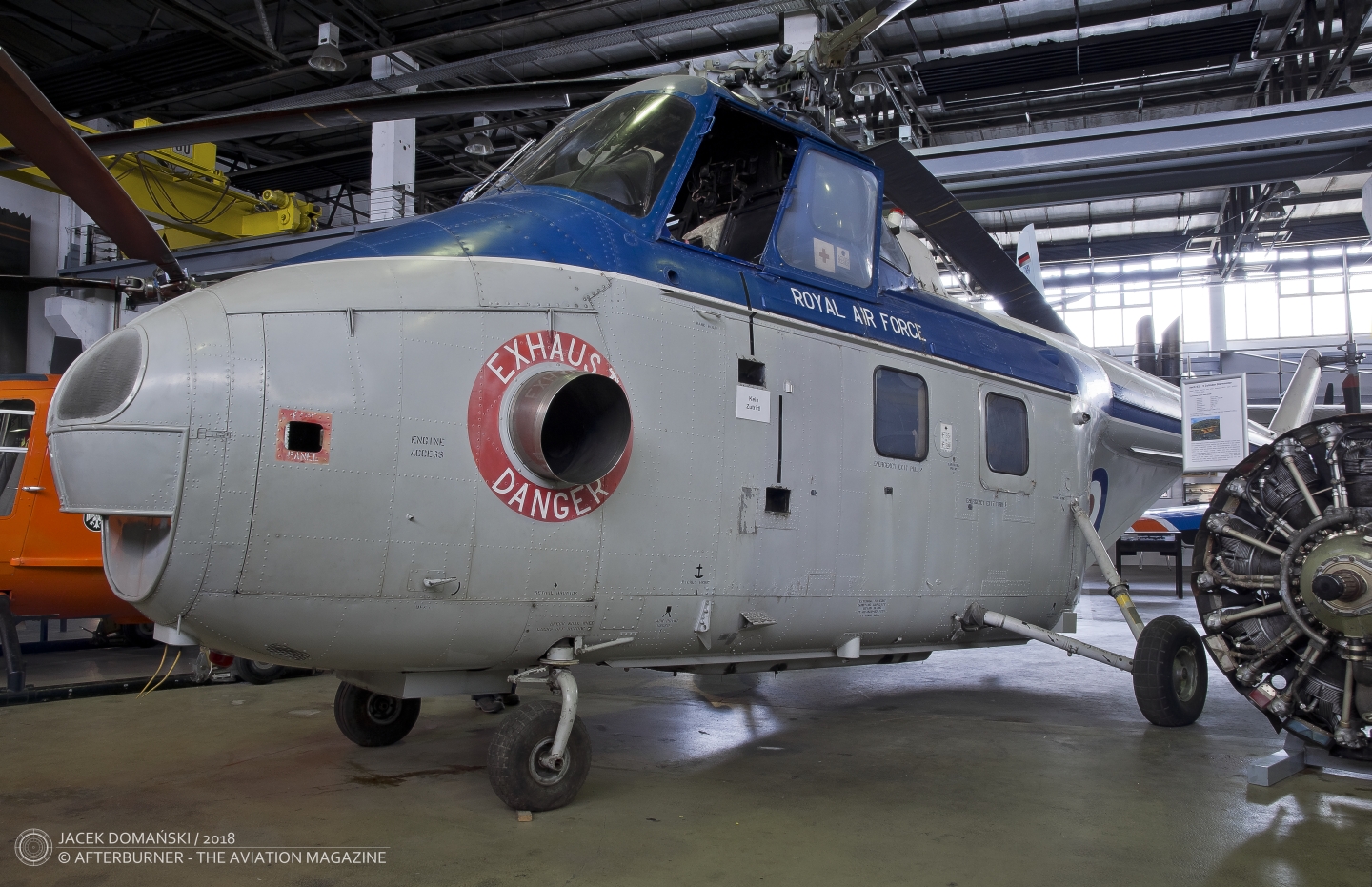 Westland Whirlwind HAR.10 helicopter, formerly the Royal Air Force ´XP339´, currently exhibited in Luftfahrtmuseum Wernigerode, Germany.
In 1946, the Westland company bought the licence rights to manufacture the Sikorsky S-51 helicopter, under the name of Westland Dragonfly. Four years later, the rights to produce another Sikorsky-designed rotorcraft were purchased by Westland –  H-19 Chickasaw / S-55, re-named as Whirlwind.
The first operational Whirlwind HAR.1 was manufactured in 1953, entering the service in the Fleet Air Arm of the Royal Navy, 848 Naval Air Squadron. More than 400 Whirlwinds were built until 1966 and were operated by both the Royal Navy and the Royal Air Force, mostly for SAR purposes and other non-combat duties. The list of other Westland Whirlwind operators include Brunei, Austria, Ghana or Iran; the HAR.5 variant was also license-manufactured in Yugoslavia as Soko S-55.
Many Whirlwinds survived until today and are exhibited in museums, but the helicopter on display in Luftfahrtmuseum Wernigerode is a unique one. Built in 1961 in HAR.10 variant, this rotorcraft was operated by the Royal Air Force, No. 103 and No. 225 Squadrons, including the intensive service in the Southeast Asia.
However, the most interesting part of its history is connected with No. 32 (The Royal) Squadron RAF. This special squadron based at RAF Northolt is providing the VIP services for the Royal Family and British government. It was confirmed that the Whirlwind now exhibited in Wernigerode was used as the ´Royal Shuttle´, flying with Prince Charles, Lady Diana and other members of the Royal Family.
Whirlwind XP339 was withdrawn from the RAF operational service in 1980s and for some time was exhibited in now-closed Bomber County Aviation Museum. Finally, it went to Wernigerode in 1987 and become an important asset in the aviation collection owned by Clemens Aulich.