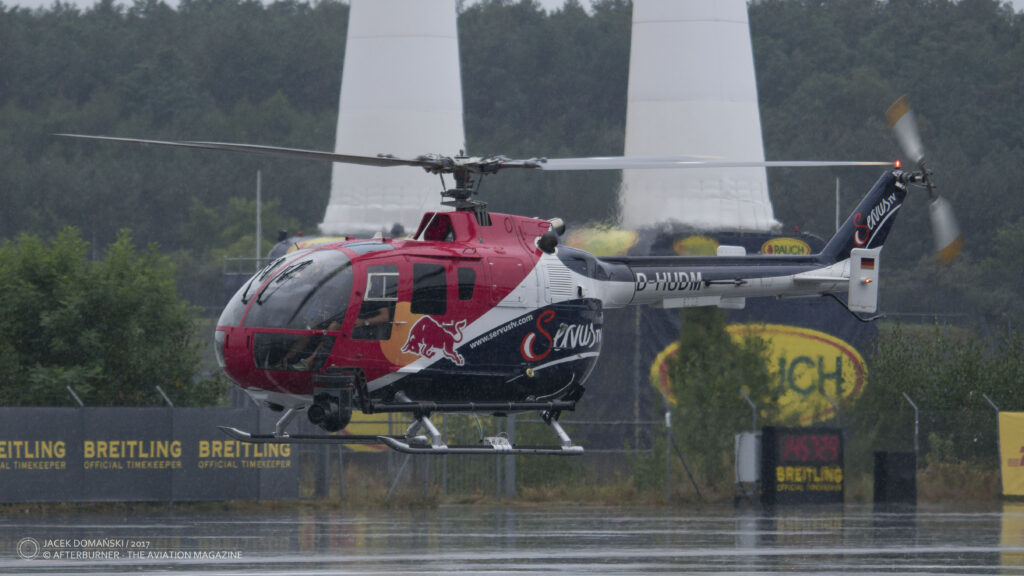 Messerschmitt-Bölkow-Blohm Bo 105 CBS-4 (D-HUDM, c/n S-883, Flying Bulls), draining a runway during the 2017 edition of Red Bull Air Race, Lausitzring, September 2017.
A light, twin-engine multipurpose helicopter, designated as Bo 105, performed its maiden flight on 16th February 1967. The rotorcraft was designed and developed by Bölkow aviation company in the late 1960s and then, since 1970, manufactured by then-recently created MBB – a new entity established as a merge of Messerschmitt, Bölkow and Blohm companies (later as Deutsche Aerospace AG and then Airbus).
The Bo 105 was, in many areas, a revolutionary rotorcraft. It was the first twin-engine helicopter in the world, featured a hinge-less rotor system and was (and still is) one of the only few rotorcraft being able to perform advanced aerobatic manoeuvres, including an inverted loop.
The German helicopter soon achieved international success, being built in more than 1,500 examples and used by several civilian and military operators all over the world. There were approximately thirty variants developed, including a specialized anti-tank aircraft, naval versions, HEMS and SAR helicopters, offshore rotorcraft and test-bed aircraft.
The CBS version featured on the photo is an example of utility transport variant with stretched fuselage and an extra window. This particular helicopter was manufactured in 1992 and until 2007 was used by the German Police in Bayern and Thüringen. Then it changed several private operators and in 2012 eventually became a part of the Flying Bulls fleet.
In September of 2017, that helicopter, equipped with several cameras and other television equipment, was providing a live broadcasting service during the Red Bull Air Race event held at Lausitzring, Germany.
The race was interrupted in the middle by heavy rain and, while traditional street sweepers have proven themselves inefficient in draining the runway, the Red Bull team reached out for other solutions. Using the low-flying Bo 105 to remove the water by its rotor was one of then implemented solutions.