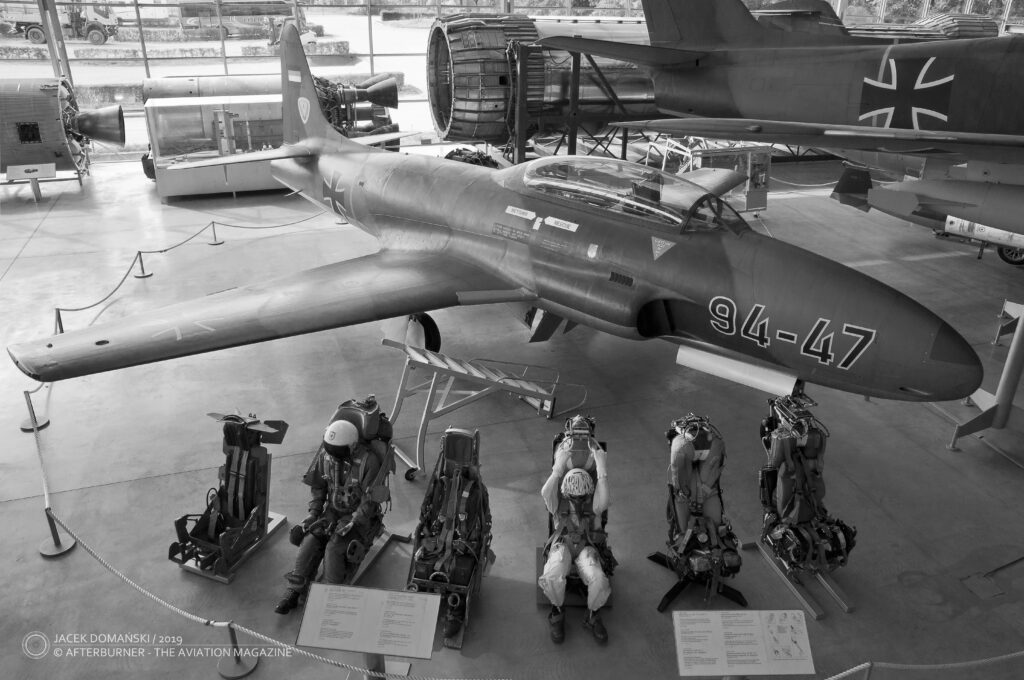 Lockheed T-33A Shooting Star (c/n 580-8967, 94+47), formerly German Air Force, exhibited at Deutsche Museum / Flugwerft Schleissheim, Munich, October 2019.
On 22nd March 1948, a new American subsonic jet trainer, successfully performed its maiden flight. It was developed from a P-80/F-80 Shooting Star fighter and initially received a designation TP-80C or TF-80C, being at that time recognized as just another variant of the base aircraft.
The T-33A Shooting Star (or just ´T-Bird´) was officially introduced into service in 1949, on its arrival to the US Navy and USAF training units. Shortly thereafter, it proved to be a reliable advanced trainer, being also used for target towing, guiding drones or gunnery training.
The recently re-established German Air Force has received 192 of T-33A, as a part of Mutual Defense Assistance program (MDAP). It was created by the Mutual Defense Assistance Act signed by US President Harry S. Truman on 6th October 1949 and focused on providing military assistance to foreign nations.
For the first time, a T-33A with West German markings was officially disclosed on 24th September 1956, although it still was just a re-painted American aircraft. In fact, deliveries for Luftwaffe were launched at the end of the year and continued until 1959. Most of the new T-33A aeroplanes were operated by Flugzeugführerschule B (pilots´ school) in Fürstenfeldbruck.
At the beginning of the 1960s, when the framework of German pilot training was significantly changed and majority of training activities were transferred to the USA, the T-33A aircraft were spread out to other units of the Luftwaffe. They were used there for training purposes and as liaison aircraft until their retirement in the mid-1970s.
In 1976, the last T-33A was officially withdrawn from active service in the German Air Force. Until that time, the fleet of German T-Birds has clocked almost 200,000 flying hours. The remaining airworthy aircraft were next sold to Greece and Turkey.
The pictured aircraft, being a part of MDAP deliveries, was initially carrying an American tactical number 53-5628. In German service, that T-33A was marked as AB+777 and then as EA+398, and was, inter alia,  operated by Aufklärungsgeschwader 51 and Jagdbombergeschwader 34.
In 1974, after its retirement, the aeroplane was restored and then transferred to the Deutsche Museum, where it is being exhibited until today. It carries the 94+47 tactical number, following the scheme implemented in 1968, when new identification numbers were assigned to particular aircraft.