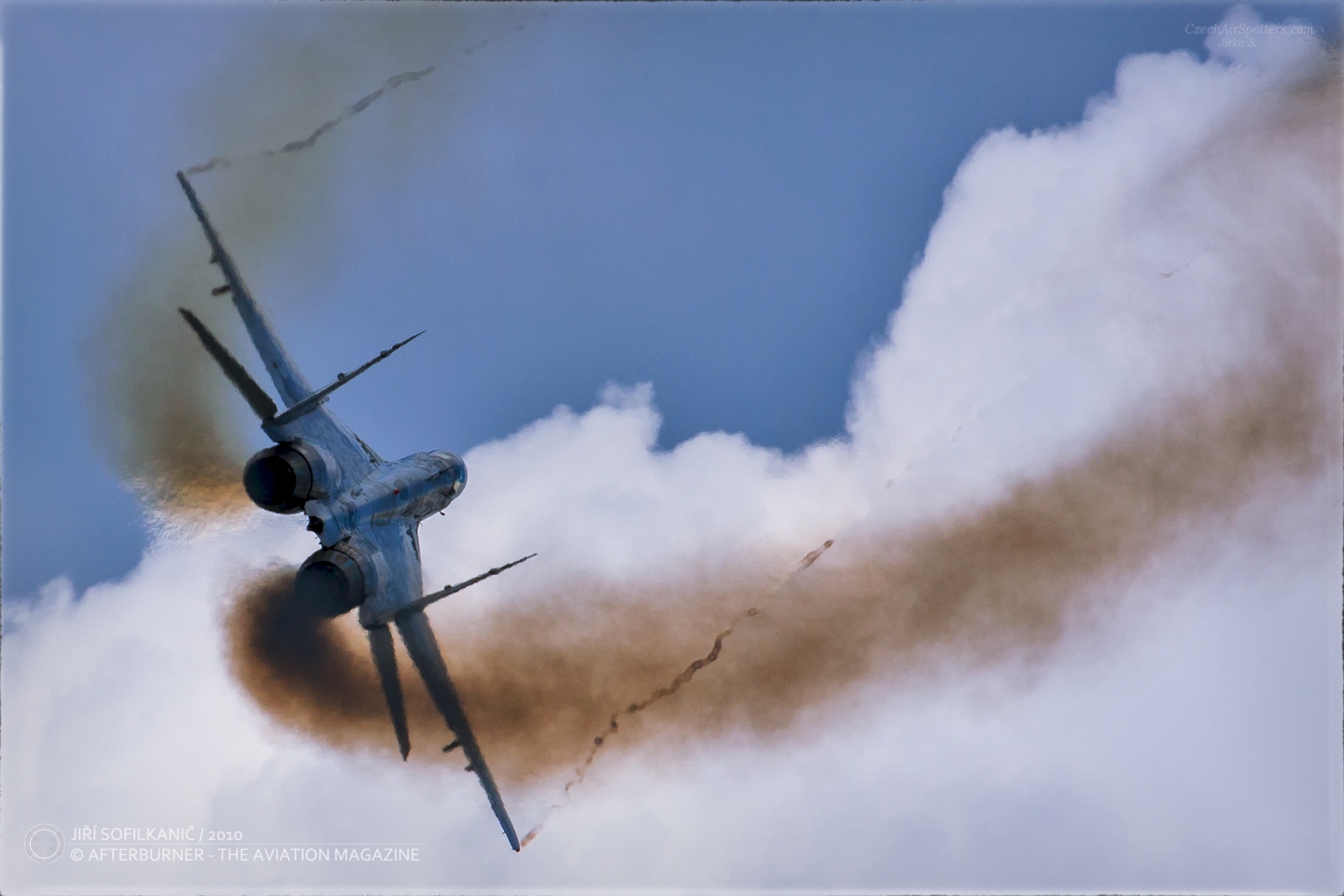 Slovak Air Force MiG-29AS ´0619´ performing the flying display at Czech International Air Fest 2010, Hradec Králové. This aircraft is flown by Lieutenant colonel Marián ´Buker´ Bukovský, the Slovak Air Force display pilot between 2010 and 2019 and now the deputy commander of the Tactical Wing ´Major General Otto Smik´, at Sliač Air Base.
The first MiG-29 fighters in – at that time – Czechoslovak Air Force appeared in 1989, when the first aeroplanes were delivered to the 11th Fighter Air Regiment in Žatec. After the dissolution of Czechoslovakia and establishing an independent Slovak Air Force (Letectvo a protivzdušná obrana Armády Slovenskej republiky) in 1993, the Czechoslovak MiG-29s were divided 50/50 and both Czech and Slovak air forces received 9 single-seat MiG-29As and 1 two-seat MiG-29UB.
All those nine MiG-29As were of the Product 9.12A variant (the export version of standard 9.12), two of them – ´3709´ and ´3911´ were later modernized to the MiG-29AS variant.
Between 1993 and 1995 Slovakia received another 12 MiG-29As and 2 MiG-29UBs from the Russian air force inventories, as a settlement of the Russian debt. Ten of the single-seat fighters and both MiG-29UBs were then modernized to the ´AS´ standard, including the pictured ´0619 ´.
The modernization was performed in 2005/2006 by Aircraft Repair Company Trenčín, in the cooperation with Russian Aircraft Corporation MiG and Western companies. The main goal of the modernization was to upgrade the aircraft to achieve the compatibility with the NATO communication and navigation standards. The aeroplanes also received the new camouflage scheme, but no upgrade of the armament was performed.
Initially, the estimated life- and service-time of the modernized Slovak MiG-29s was set as long as the year 2040. However, the general condition of the already 30-year-old aircraft, problems with the spare parts and the low level of compatibility with the current NATO standards (due to the limited upgrade), led the Slovak government to open the discussion regarding the possibility of replacing MiG-29s with the modern jet fighter.
In 2018 it was finally decided that 14 Lockheed Martin F-16V Block 70/72 fighters would replace the current MiG-29 fleet and the agreements were signed. The first batch of F-16Vs is expected to be manufactured until 2022 and therefore MiG-29s in the Slovak Air Force would remain operational until 2023.