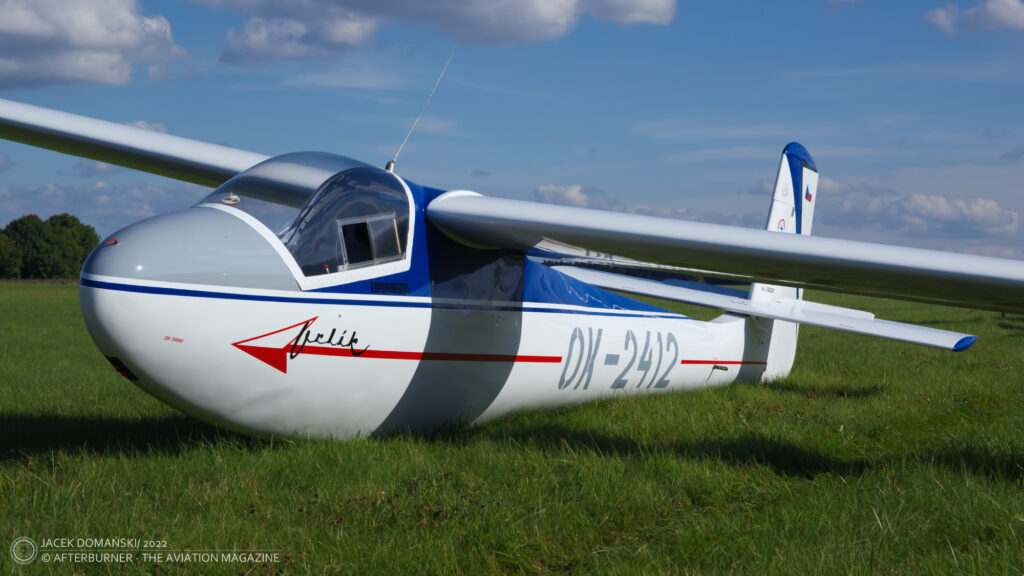 Orličan VT-16 Orlík (c/n 150702, OK-2141), single-seat glider, static display during open doors day at Aeroklub Broumov, Broumov, October 2022.
At the end of the 1950s, a well-known Czechoslovak aviation designer, Jiří Matějček, developed a single-seat club glider designated M-16 Standard. It was a high-wing airframe of all-wood construction with its skin reinforced by polystyrene foam and polyester-glass composite. The glider performed its maiden flight in August of 1959 and then was approved for serial production in Orličan aviation plant in Choceň.
The first glider of that type made by Orličan company was completed in 1961, and received new trade name VT-16 Orlík. In a short time, the VT-16 became the main type of sailplane used by the then Czechoslovak aeroclubs. Its advanced flying characteristics – compared to previous popular gliders, such as Z-25 Šohaj – quickly gained the VT -16 appreciation of sport pilots.
There were 83 examples of the glider built until 1963, when it was succeeded by upgraded variant, designated VT-116 Orlík II. The modernized version featured redesigned tail section and new fuselage with improved aerodynamics of its nose section. There were more than 200 examples of the VT-116 built until 1969.
Nowadays, approximately fifty examples of the VT-16 and the VT-116 are still being operated by Czech aeroclubs and private owners. The aircraft pictured within our Photo of the Week series was built in 1962 and, on daily basis, is being flown by Benediktýnský aeroklub Broumov o.s. (Benedictine Aeroclub Broumov).