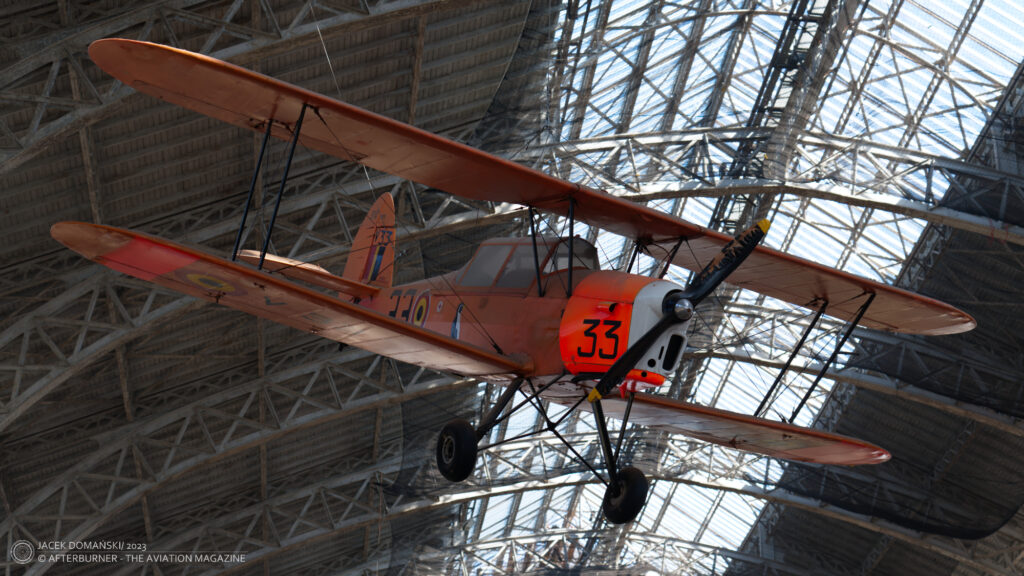 Stampe-Vertongen SV.4 (c/n 1175, formerly V-33 of the Belgian Air Force), exhibited in the aviation section of the Royal Museum of Armed Forces and Military History, Brusells, September 2023.
Stampe et Vertongen aviation manufacturing company was established in 1922 with its site in Antwerp, Belgium. With Alfred Renard as its chief designer, the company developed and then manufactured a family of trainer and sport aircraft, designated RSV. In the early 1930s, Renard decided to leave the company and opened his own aviation workshop.
Shortly after Renard´s leave, Stampe et Vertongen developed a two-seat biplane trainer designed by George Ivanov nad named SV.4. The aeroplane performed its maiden flight in 1933 and although just thirty-five examples were manufactured until the outbreak of the Second World War, it later turned out to be the most successful design of the company.
Production of the SV.4 was re-launched after the war and included SV.4A aerobatic trainer powered by Renault 4P-O5 engine, upgraded variant called SV.4B and featuring redesigned wings and de Havilland Gipsy Major I powerplant, as well as SV.4C, license-built in France and Algeria, and equipped with Renault 4Pei engine.
The post-war made SV.4 were widely used by the French and Belgian air forces in role of a primary trainer aircraft. In 1947, Belgium acquired thirty-three SV.4B trainers with Gipsy Major engine and, between 1952 and 1953, ordered another twenty-four aeroplanes of the same variant but this time equipped with Blackburn Cirrus Major III powerplant. Final batch of eight aeroplanes, also equipped with the latter engine, was purchased in 1954.
The first examples of the SV.4B were painted in silver aluminium paint, while the second delivery aircraft received new, all-orange livery.
Apart from the role of military trainer, the SV.4 were also used for aerobatics and flying displays, including at least three aerobatic teams – ´Manchots´ (English: penguins) in Belgium, Équipe de Voltige de l'Armée de l'Air (French Air Force Aerobatics Display Team) in France and the Rothmans Aerobatic Team in the UK.
The SV.4 biplanes remained in active service with the Belgian Air Force until the late 1970s, used as glider tugs. When retired, many of them were stored and then sold to private operators or exhibited in aviation museums.
The aircraft ´V-33´ exhibited in the aviation section of the Royal Museum of Armed Forces and Military History in Brussels remained in operational service until 1976. Then it was donated for museum purposes and exhibited in several branches of the Royal Museum, finally being hung under the roof of its main building in Brussels.
Regrettably, no other post-war aeroplane designed at Stampe et Vertongen plant gained recognition on the market. In consequence, and despite the commercial success achieved by the SV.4, the Belgian aviation manufacturer finally ceased all its activities in 1957.