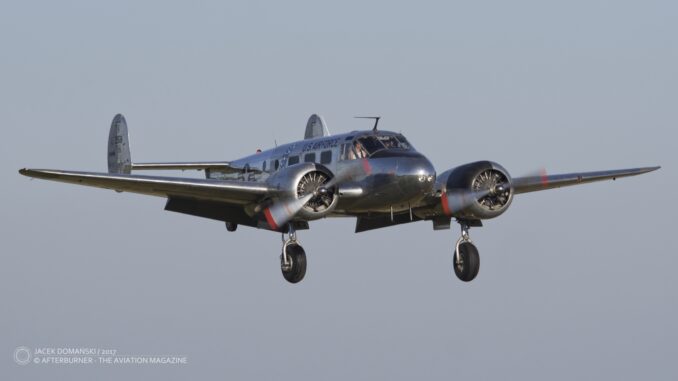 Maiden flight of Beechcraft Model 18, commonly known as ´Twin Beech´ – a six to eleven seat, twin-engine light aircraft, developed by the Beech Aircraft Corporation of Wichita, Kansas.
In the late 1930s, after being successful with Model 17 biplane, the Beech Aircraft company developed a new all-metal light aircraft, designed in twin-tailfin configuration (with a tail wheel) and powered by two radial engines. The new aeroplane, designated as Beechcraft Model 18, performed its maiden flight on 15th January 1937 and shortly thereafter was approved for serial production.
The initial configuration of Model 18 allowed to carry seven or eight passengers and was powered by two 350 hp Wright engines. According to manufacturer, a high demand for such aircraft was already existing on the market, from both military and civilian sectors, however the initial sales were really poor. Only 39 aeroplanes were sold until 1941, mostly for the civilian operators.
Fortunately for the Beech Aircraft, it all changed with the entry of the USA into the World War II. A sudden need for modern training aircraft that could be used during bomber crew course boosted the production of Model 18, now redeveloped for military purposes as AT-7 (for the US Army) and SNB (for Navy).
Several other military variants of Model 18 were introduced later – including AT-11, SNB-2, C-45, F-2 and UC-45 – and Beechcraft aeroplanes were used not only for training, but also for photo-reconnaissance, military and VIP transport purposes. After the World War II, the USAF remanufactured many of its Model 18 aircraft, upgrading them in compliance to the civilian variants. Those aeroplanes were then re-designated as C-45G and C-45H.
More than 4,500 of Beechcraft 18 in all variants were used by the military operators during the World War II and also in the post-war years. This represents approximately a half of all Model 18 aeroplanes ever built. The production was ceased in 1970, after manufacturing more than 9,000 aircraft of that type. This number makes Beech 18 one of the most manufactured light aircraft in the world. It was also the last passenger aeroplane still being powered by a radial piston engine, manufactured in the USA.
It seems almost impossible to tell all variants of Model 18. Although there were just 32 basic versions of that aeroplane, they were then divided into hundreds of official and informal modifications. After the World War II, Beechcraft 18 were used by several civil and military operators, all over the world. Apart from the main purpose of carrying passengers in VIP or standard airline variant, they were (and sometimes still are) used for crop dusting, fire-fighting, ambulance service, air-mail delivery and even for drug smuggling. Model 18 was also among the aircraft used by the famous Air America airline during the Vietnam War.
The last Beechcraft used by the US military was retired as late as in 1976, but there are still a few hundreds of airworthy Twin Beech aircraft all over the world.
An aircraft pictured here was manufactured in 1942 as AT-7. Then in 1953 was re-manufactured as Beech C-45H Expeditor and served in the Strategic Air Command until 1957. In 1960 it was retired from military service and then used by several civil operators. In 1990, while belonging to the British owner, this aircraft again received its original painting from the years of Strategic Air Command service. Finally, in 2014 the aircraft was bought by Czech owners and until today is being based in the Czech Republic.