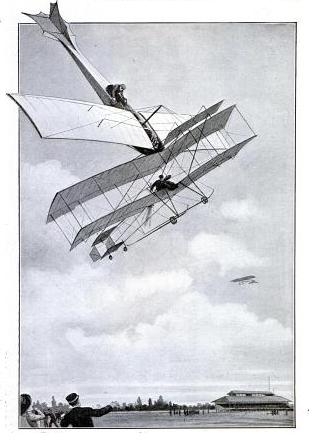 The very first mid-air collision was observed.
An aviation meeting named ´Milano Circuito Aereo Internazionale´ was organized in Milan, Italy, between 24th September and 3rd October 1910. At the end of the event – on 2nd or 3rd October, according to the source – a French aviator René Thomas, flying Antoinette IV monoplane, collided with a Farman III biplane, flown by British Army Capt. Bertram Dickson. Thomas rammed the Dickson´s aircraft, hitting it from the tail side.
Fortunately, both of them survived the crash, however Dickson´s injuries were so serious he never flown again. There are no data about the aircraft, but given the materials they were made of, we can presume both were damaged beyond repair.
The aviation pioneers managed to fly without any fatal mid-air collision until 1912. That year, on 19th June, two French Army aircraft collided in the morning mist at Douai, France, killing both pilots.
Pictured is the first mid-air collision, as it was imagined by the illustrator of Popular Mechanics magazine. Unfortunately, no photo of this event is known. (source: Wikipedia, public domain)