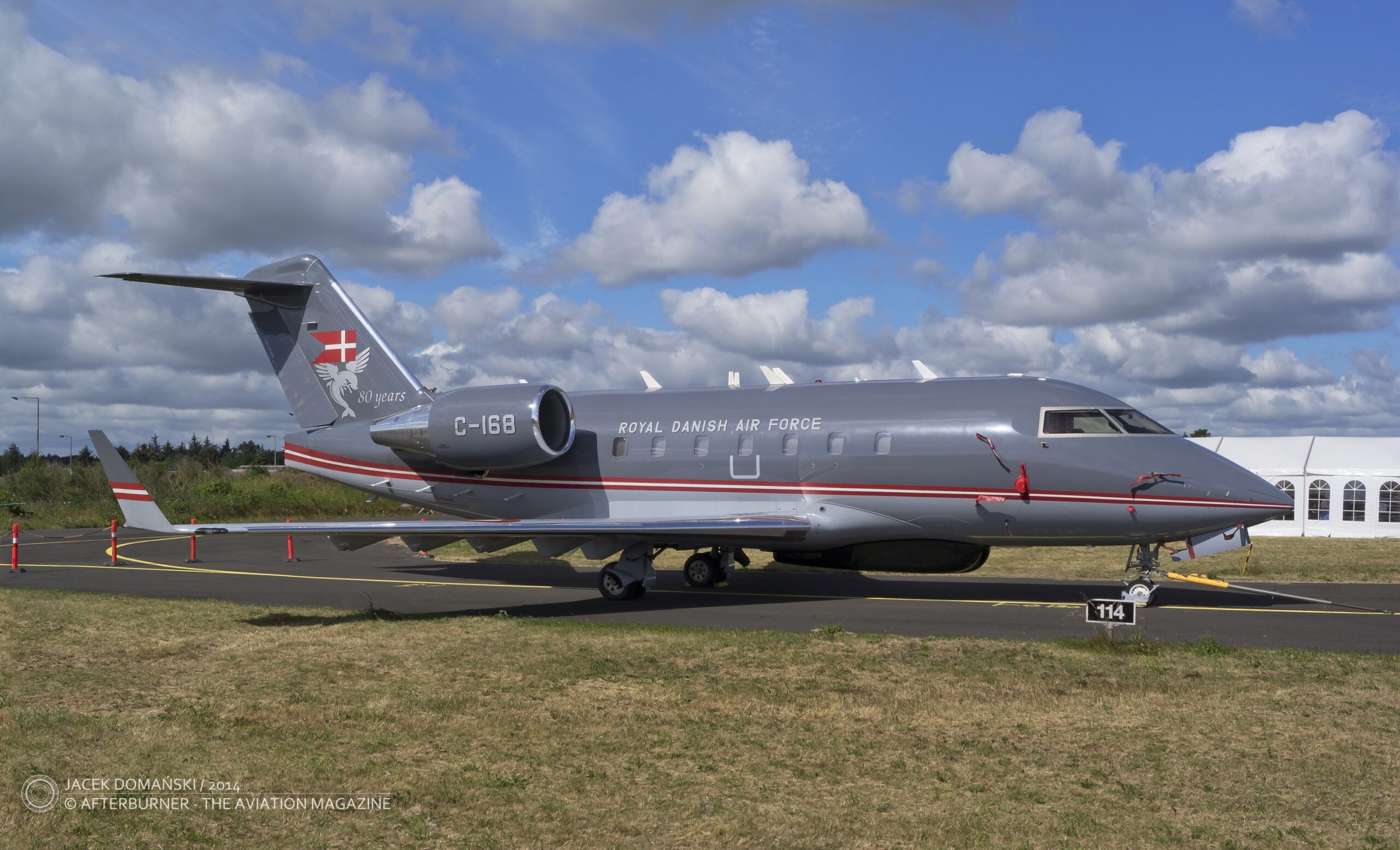 Canadair CL-600-2B16 Challenger 604 (C-168), Royal Danish Air Force, static display at Danish Air Show 2014, Karup air force base, June 2014.
In the middle of 1970s, an American engineer, aviator and inventor William Powell Lear (and also a founder of the Lear Jet Corporation), created a concept of a long-distance business jet powered by two turbofan engines, known as LearStar 600. His idea was then supported by Canadair, the Canadian aerospace company, that finally acquired the project in 1976.
Later that year, Canadair – having a government guarantee and pre-orders for more than fifty aircraft – officially launched the new business jet programme that led to construction of three prototypes and finally to successful maiden flight of Challenger, as the aircraft was named, on 8th November 1978.
The first production series of CL-600 Challenger was launched in 1980 but sales were extremely below the initial expectations and only ten Challengers became operational until 1982. That year, still not disappointed with the starting failure, the Canadair presented an upgraded CL-601 variant. However, this move has not been translated into a significant improvement of sales.
Only after 1986, when Canadair was purchased by Bombardier consortium, the aircraft eventually hit the market, achieving the number of 1,000 aeroplanes sold by 2015 and approximately 1,100 until today. It also became a base for further Bombardier developments – Global Express and CRJ100.
The first Challenger 604 for the Royal Danish Air Force was delivered in 1998, two another followed in 2000/2002. Those deliveries were secured by the Canada-based Field Aviation company, that took care of turning the business jet into a modern Multi-Mission Aircraft (MMA).
The Danish CL-604 jets, apart from providing the long-range VIP transportation capability for the Royal Family and Danish government, can secure a variety of maritime and surveillance missions, including fisheries protection, anti-pollution tasks, search and rescue operations, troops and passenger transportation.
Upgrading of CL-604 into the MMA included also the capability of operation from short, gravel runways – a very important feature for the RDAF, as its Challengers are also operating under the Danish Arctic Command, being sent on regular basis to Air Group West at Kangerlussuaq in Greenland.
The Danish CL-604s  are also regularly deployed for NATO anti-piracy operations in the Indian Ocean or around the Horn of Africa. They also operate over the waters of Mediterranean Sea, within the European Border Agency (Frontex) missions related with protecting the EU borders.
And exactly one of such anti-pirate initiatives – Operation Ocean Shield, being a part of Operation Enduring Freedom between 2009 and 2019 – was the direct reason of acquiring the fourth Challenger for the RDAF. During the mission held in 2013, the Challenger C-168 deployed to the area of Indian Ocean suffered an engine failure at take-off from the air base at Seychelles. It soon turned out that the broken engine could not be repaired there so the only solution was to unmount another engine from one of Challengers based in Denmark and then sent it to Seychelles as replacement. This, however, radically lowered the operation capability of the RDAF Challenger fleet, as for a certain time there was only one aircraft left for service.
To help prevent similar situations in the future, the fourth, second-hand Challenger was bought in 2014. It received a ´C-215´ tactical number and was left permanently in the VIP transport configuration, therefore eliminating the need of time-consuming change between transport and surveillance configurations between missions of different kinds.
Since the day of becoming operational, the fleet of Danish CL-604 Challenger aircraft received already several upgrades and modifications. The latest modernization programme was launched in November 2019 and included the avionics upgrade (customised cockpit for three missionized aeroplanes), and installation of advanced communication and satellite systems.
All Danish CL-604s are operated by 721 Squadron, based at Aalborg (Jutland) and being a part of the Air Transport Wing. Apart from the fleet of four Challengers, this squadron is also operating C-130J Hercules heavy-transport aircraft.