25th May 2021 marked exactly 45 years since the first flight of Boeing E-3 Sentry. And that makes a perfect occasion to tell the story of this iconic 'guardian of the skies'.
Origins of the Airborne Early Warning and & Control (AEW&C) system date back to World War II. Reportedly the first aircraft equipped with a rotating radar antenna was a Vickers Wellington bomber – used in the early 1940s as a testbed aircraft against aerial and naval targets. Nevertheless, the first major airborne radar warning systems were created in the Pacific theatre of operations. The immediate impulse for its creation was a threat posed by Japanese military aviation – radar systems mounted at US Navy ships proved to have insufficient range to effectively detect enemy aircraft – especially low-flying Kamikazes.
The need of the moment created an idea to move radar-equipped destroyers forward, therefore allowing them to detect Japanese aircraft in advance and alert the main naval group. However, it was just a short-time solution, quickly being noticed by the enemy. Those radar-warning destroyers, usually operating alone and beyond the main naval formation, suffered heavy losses and shortly it became clear that installing a radar on an aeroplane is the only solution.
Work on such airborne device began in February 1942, within the framework of Project Cadillac. The result was a radar designated AN/APS-20, to be installed on a modified Grumman Avenger XTBM-3W. Further attempts included Boeing PB-1W (a modified B-17G bomber) and then Douglas AD-3W Skyraider, both being equipped with the AN/APS-20.
The airborne radar warning system became operational after the war. Soon, the PB-1W was replaced by a then popular Lockheed L-1049 Super Constellation airliner. And it was this aircraft, designated EC-121 Warning Star, that became the primary AEW&C aircraft of US military aviation for about a decade.
In the early 1960s, the United States Air Force made a decision to replace the Warning Star, which at that time, due to a quite rapid development of radar technology, was already beginning to be insufficient.
Therefore, in 1963, the USAF issued preliminary development contracts for three leading American aircraft manufacturers – Boeing, Douglas and Lockheed. During following proceedings, the Lockheed proposal was refused as the first in 1966. Douglas came after, when, in 1970, its project based on DC-8 aeroplane was also rejected. Ultimately, it was the Boeing company that in July of the same year, was chosen to develop the new aircraft that was to become a platform for the new Airborne Warning And Control System.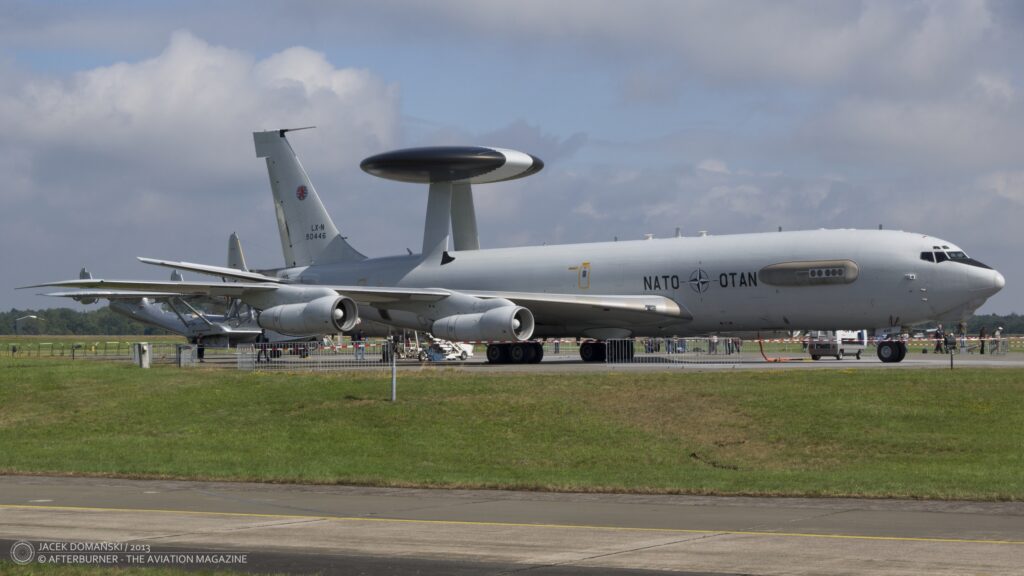 The new aircraft was to be equipped with significantly improved radar, providing observation over both water and land and in all directions – including downwards, thus allowing detection of low-flying aircraft and ground objects. In 1965, so yet while the question of a new platform aircraft was still open, a separate programme regarding radar system development was launched. In February 1966, preliminary contracts were awarded to several companies.
Soon, tests of the radar devices began, including test flights, yet with the previously mentioned EC-121 aircraft and the Raytheon project was rejected in the process. In the second stage, Westinghouse Electric and Hughes Aircraft competed each other on creating the radar, and the first company was declared the winner in 1967, when the project was concluded.  In 1968, the device was officially named Overland Radar Technology (ORT) system.
Although Boeing initially proposed an aircraft specifically designed for the purpose of carrying the airborne radar, it was finally rejected due to expected insufficient performance. It was decided that other aircraft, Boeing 707 being already manufactured by the company and at that time successfully used in commercial aviation, seemed to be a much better solution. And it was just this type of aircraft that was ultimately chosen to become the next flying command centre.
However, the commercial airliner needed to be appropriately modified for this purpose. Initially, it was planned to install the radar in a dome located on top of the aircraft vertical stabiliser, which was to be redesigned and tilted forward. It was also planned to replace four serial Pratt & Whitney JT3D engines with eight General Electric TF34, to increase the aircraft flight endurance. In the end, however, virtually none of those changes were made to the final version of the aircraft.
The first two EC-137Ds – as was the military designation of the aeroplane, although essentially it was still just a Boeing 707 – were soon ordered and used for the radar test flights. On 9th February 1972, the EC-137 performed its maiden flight, and a month later a series of evaluation testing of both radar types began and continued until July.
Although Hughes Aircraft seemed to be the early favourite in case of the radar, it was ultimately Westinghouse Electric radar that after the performed flight tests proved to be the better choice. And this was mostly because of two reasons. The first was AYK-8-EP1 computer and its software, that could be modified if necessary before each mission. The other advantage of the radar was a multiplexed pulse mode called Beyond The Horizon (BTH). Its purpose was to support work of the main radar and thus enhance the signal when needed.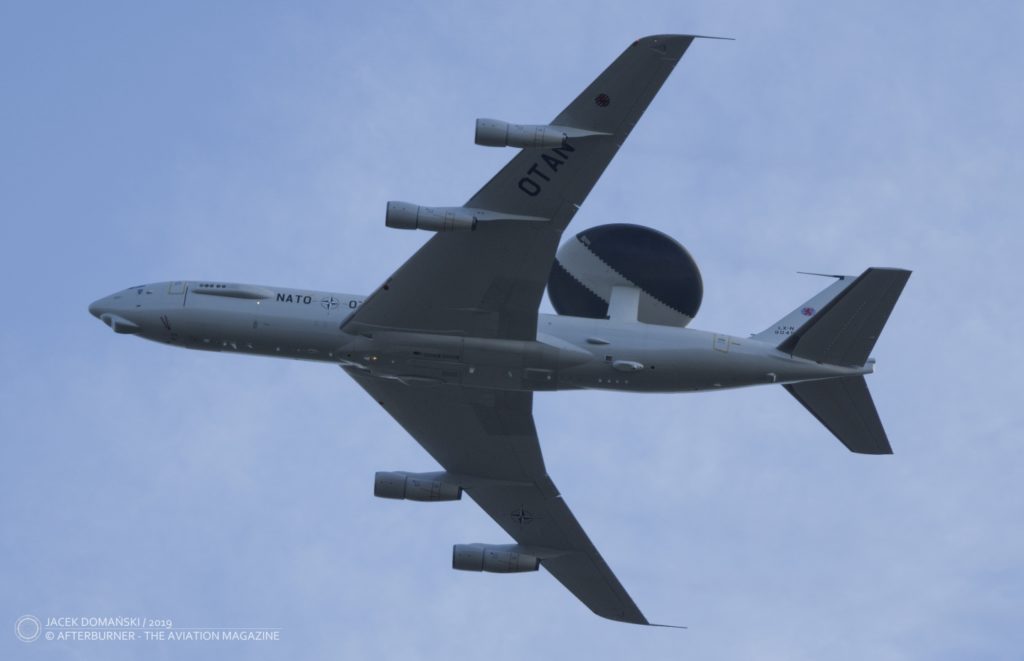 The BTH mode proved to be particularly useful when operating over sea areas. In such case, it allowed for detecting ships much more effectively, even if they were still beyond the horizon. And that´s why it was the Westinghouse Electric company device, that finally was selected for the AWACS to be equipped with.
On 26th January 1973, the main development work on the AWACS has begun. For the need of further tests, an order was placed for three more pre-production examples of the EC-137D aircraft.
This was generally the time when the AWACS began to take its final shape. At this stage, the previously mentioned concept of engine replacement was finally abandoned and the aircraft remained powered by the Pratt & Whitney JT3D – the standard engine of Boeing 707 – designated  by military as TF33-PW-100A. This decision was a result of reduction of flight endurance requirements, motivated by the need to reduce costs of development of the aircraft. Also the rotating radar dome itself remained installed exactly as on the first two examples of the aeroplane – on two struts, at the top of the rear section of fuselage, just ahead of empennage.
IBM and Hazeltine companies were entrusted with development of the first mission computer and radar display system for the AWACS. In addition to the abovementioned radar and its management systems, the aircraft was fitted with modified refuelling installation – including an in-flight refuelling  probe. Also a self-protection devices were installed on the aircraft. Soon, such equipped aeroplane received its official designation – E-3 Sentry.
Further testing and development work on the aircraft began in October 1975 and on 25th May 1976, the first E-3 Sentry took-off for its maiden flight. In 1977, the new aircraft entered serial  manufacturing with the first aeroplane delivered to the USAF in March that year. Until 1992, when the production was ceased, a total of 68 examples of E-3 Sentry AWACS aeroplanes were manufactured, in nine improved and modernized variants, with the last aircraft delivered to its operator in 1991.
When speaking about E-3 Sentry operators, the USAF became the major one, having in its inventory – according to records of 2019 – thirty one aircraft of this type in service. Nevertheless, that aeroplane is also being used by a few other countries.
The second largest operator of the E-3 Sentry is NATO, which has ordered 18 aircraft (according to sources, four have been already withdrawn from active service). Those aeroplanes are assigned to the NATO Airborne Early Warning and Control Force – E-3A Component. They are being operated by twenty international crews, personnel of which comes from fifteen different NATO member countries. Their main task is to monitor and secure airspace of the NATO European countries, but sometimes they also provide support to operations of the organization forces outside this area.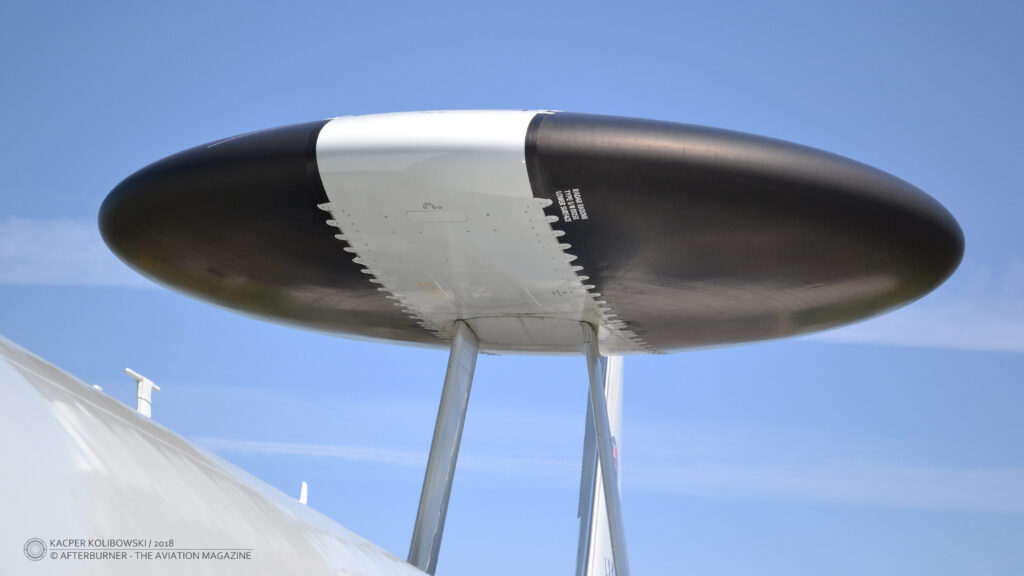 In October 1987, seven AWACS aircraft – designated as AEW.1 – were ordered by the United Kingdom. Currently, as of December 2020, three of these aircraft remain in service with the Royal Air Force, forming a second, E-3D Component of the NATO Airborne Early Warning and Control Force. However, their end of service date is determined to be 2022.
The AWACS was also ordered by France, along with the British, as part of a joint project. Armée de l'air has acquired four aircraft of E-3F variant into its inventory and they are currently operated by Escadron de détection et de contrôle aéroportés 36 "Berry" (36th Airborne Detection and Control Squadron ´Berry´).
In 1983, five aircraft of the E-3A version were ordered by Saudi Arabia. The AWACS being in service with the Royal Saudi Air Force, are part of No. 18 Squadron – al-Sarab al-Ththamin Eshr (السرب الثامن عشر).
The Boeing E-3 Sentry AWACS became an important element in monitoring and protecting  airspace, as well as supporting military activities of their American, European and Saudi Arabian operators. These aircraft took part in major armed conflicts that occurred at the turn of the 20th and 21st centuries.
During the Gulf War in the early 90s, the E-3 Sentry were among the first aircraft to take part in Operation Desert Shield, making a major contribution to monitoring Iraqi troop movements. Those aircraft carried out a total of 379 missions reaching 5,052 hours of on-station time during Operation Desert Storm. Controllers from AWACS crews, contributed to 38 of 41 enemy aircraft being shot down during the conflict.
During Operation Allied Force – between March and June 1999, these aircraft monitored and supported Allied air operations against Yugoslav forces and supported air strikes on strategically important objects during NATO intervention in Serbia, known as Kosovo War.
On 18th October 2015, the United States Air Force AWACS aircraft of the E-3G version were deployed to the Middle East, in order to support Operation Inherent Resolve against ISIL. That was the first time when the latest, upgraded Block 40/45 variant of AWACS was used in combat.
Although, since its introduction, the Boeing E-3 Sentry has undergone several key upgrade programmes to improve the effectiveness of its systems, it looks like the history of the most-known AWACS aircraft is slowly coming to an end. And the reason is not the electronic systems, but the airframe. The Boeing 707 has not been in production for over 40 years and the aircraft used today as AWACS are, unfortunately, ageing inexorably. An intensive search for its successor is already underway for some time and several solutions have emerged as a result.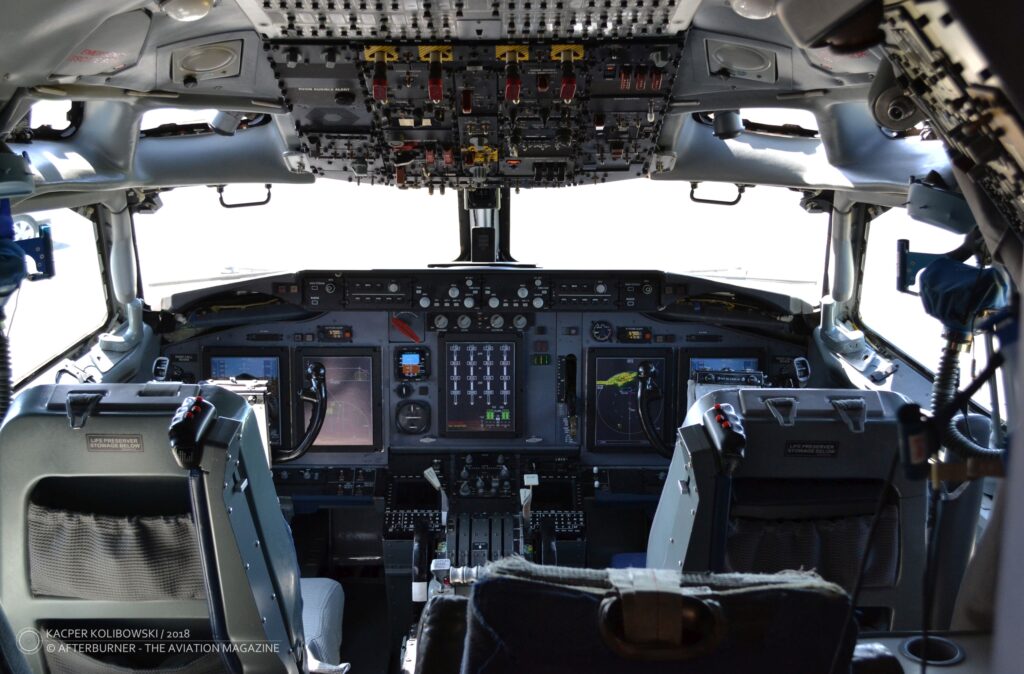 In May 2000, Japan introduced the Boeing E-767 aircraft into service in its air force. Basically, this aircraft is a Boeing 767, albeit duly modified and equipped with radar and systems from the E-3 aircraft.
In the early 2000s, the United States already planned to replace its fleet of E-3 and other AEW&C aircraft with a new design – Northrop Grumman E-10 MC2A. That was to be a multi-role aircraft, also based on a Boeing 767 airframe, but ultimately the project was not realised.  Currently, a likely candidate for the replacement of USAF E-3 Sentry aircraft is E-7 Wedgetail – an early warning and control aircraft based on Boeing 737NG. Another solution being considered is the Avionics Modernization Program, that could further extend lifespan of the American E-3s.
Also the Royal Air Force is currently planning to replace its fleet of now operated AEW.1 aeroplanes with the abovementioned E-7 aircraft. In March 2019, the UK Defence Secretary announced a contract to purchase five aircraft of that type. Nevertheless, the process of withdrawal of the existing British-operated AWACS aeroplanes from active service is expected to begin as early as 2022.
The French Air Force AWACS aircraft have been modernised a few times during their service. In 2018, Boeing won the contract for the last to date, mid-life upgrades for French-operated E-3Fs. Its completion time was foreseen until 30th June 2020.
On the other hand, the NATO plans to operate their Boeing E-3 Sentry aircraft until 2035. By then, a successor is to be selected within Alliance Future Surveillance and Control programme.
In conclusion, it is worth to tell a few words about capabilities of this inimitable aircraft, as the Boeing E-3 Sentry is. This airborne warning and control aeroplane has an operational ceiling of 12,500 metres (41,000 ft), flight duration of up to eight hours and a range up to 7,400 kilometres (without in-flight refuelling). With support of a flying tanker, the time during which the AWACS can perform its assigned tasks can be significantly increased, being basically limited mainly by its crew capabilities.
At its operational ceiling, the AWACS radar can detect even low-flying aircraft from 400 km (more than 250 miles) away. The second 'Beyond The Horizon' radar can detect aircraft flying at medium and high ceilings from as far away as 650 km (more than 400 miles). Using both radars, the Boeing E-3 Sentry can conduct airspace observation in all directions from ground surface to stratosphere, providing detection, identification and tracking both enemy and friendly aircraft.
An on-board personnel of E-3 Sentry aircraft includes an aircrew of up to four persons and thirteen to nineteen of mission crew, being responsible  for operating radar and navigation systems.