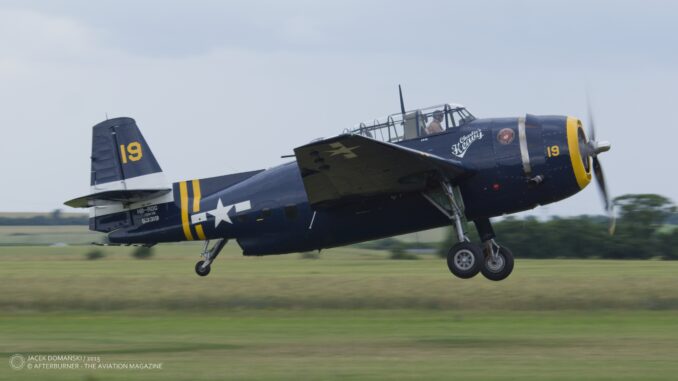 Grumman TBM-3E Avenger ´Charlie´s Heavy´ (HB-RDG, c/n 3381), taking-off for a flying display at Memorial Air Show, Roudnice nad Labem, June 2015.
Distinctive silhouette and characteristic sound of TBM-3 Avenger, nicknamed ´Charlie´s Heavy´, is well known by visitors to European air show events. For more than three decades that iconic torpedo bomber of the World War II pleases the eye (and ears) of aviation enthusiasts, at the beginning in the UK and then on the continent.
The Grumman-designed Avenger torpedo bombers entered service in 1942. With accordance to the US Navy aircraft code system, ´TBF´ and ´TBM´ designations were assigned to the aircraft – with TB standing for ´torpedo bomber´ and the third letter identifying their manufacturer, Grumman or General Motors, respectively. For the first time, the Avengers have seen combat during the famous Battle of Midway and, despite heavy losses, proved themselves effective.
The new American torpedo bomber gained attention of the Royal Navy, where it was used by the Fleet Air Arm, and also was acquired by the Royal New Zealand Air Force. Widely used on the Pacific theatre of operations, the Avengers quickly became an iconic aircraft, mainly because of participating in several famous and well-known battles and operations.
Among post-war users of the Avenger aircraft there was the Royal Canadian Navy, Aéronavale (French Naval Aviation), Japan Maritime Self-Defence Force and the Dutch Naval Aviation Service. A few aeroplanes of that type were also being operated by Brazilian, Uruguayan and Cuban naval forces, and the Nicaraguan Air Force. The Avengers remained in active service until the 1960s.
It is also worth to mention here that several ´big names´ served in cockpit of the Avenger bomber during their military career in the World War II. One of such examples was Paul Newman, who in later years became a famous actor and film director, but firstly used to fly as a rear gunner. And also future American president, George H.W. Bush, was an Avenger pilot and received the DFC for his service.
Grumman TBM-3 Avenger ´3381´ was manufactured in 1945 and remained on duty within the US Navy until 1954. A few years later it was sold to civilian owner and registered as N3966A. As is usually the case, it changed owners a few times.
A milestone in history of that Avenger came in 1987, when the aircraft was bought by Anthony Haig Thomas. The new owner not only shipped the Avenger to England, but also restored it to original configuration from the US Navy service years.
In 2006, the ´3381´ was sold to Switzerland and registered as HB-RDG. After a few years of flying the Avenger, its new owner has decided to change the livery for US Marine Corps. That was also the moment, the TBM-3 received its nickname ´Charlie´s Heavy´, referring to his owner – Charles Trachsel.
Being one of only two airworthy Avenger bombers in Europe (the second one is registered in France, as F-AZJA), ´Charlie´s Heavy´ always aroused great interest among the aviation fans. That aeroplane was a regular participant of European air shows, usually being one of the highlights of the event.
Last year, after almost fifteen years in Charlie Trachsel´s good hands, the ´3381´ once again changed its owner. On 18th October 2020, ´Charlie´s Heavy´ flew from Lausanne / La Blecherette airfield to Bitburg in Germany, that is now a new home base for that aircraft.