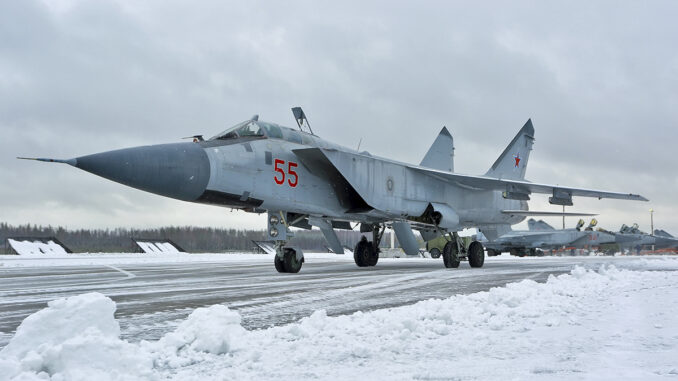 The Ministry of Defence of the Russian Federation has recently released a set of photos taken during a fighter regiment training day organized in the Tver area by the 6th Red Banner Leningrad Army of Air and Air Defence Forces (6-я армия ВВС и ПВО).
The 790th Fighter Aviation Regiment (790-й истребительный авиационный полк) was established already in 1941, in the middle of the World War II. Since 1952, the regiment is being based at Khotilovo (Хотилово) air base in Tver Oblast and is equipped with supersonic interceptor aircraft from the late 1970s – starting from 1979, when the regiment received MiG-25P fighters which in 1994 were replaced with MiG-31s. Currently, the aircraft inventory of the regiment includes approximately twenty-five MiG-31 fighters of BSM and BM variants, Su-27SM, Su-27UB and Su-35 jets.
MiG-31 (NATO reporting name: Fohxound) is a supersonic interceptor aircraft designed in the late 1970s and introduced in 1981, as the replacement for the MiG-25 (NATO reporting name: Foxbat) fighter. Although being similar to MiG-25 in general concept and design, the MiG-31 is much more than upgraded variant of Foxbat. The airframe of MiG-31 is significantly stronger, the aircraft can fly at supersonic speed at low altitudes and it has a crew of two, with the weapon systems officer occupying the rear seat.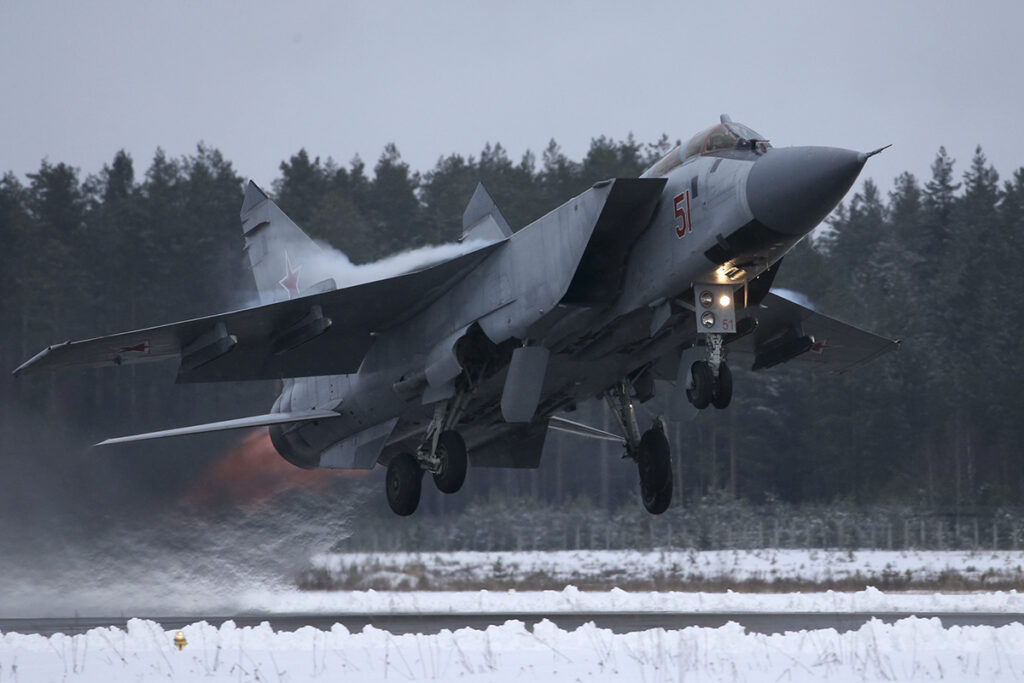 During the abovementioned training day at their home airfield, the MiG-31 crews practiced take-offs and landings in winter conditions, aerial combat techniques, search-and-destroy missions against the enemy aeroplanes and UAVs, as well as avoiding being intercepted by enemy fighters.
Pilots were also training cooperation with anti-aircraft missile and radio-technical units of the 6th Army, flying along a given route with avoiding areas controlled by anti-aircraft infrastructure of simulated enemy and, in addition, solving some navigational tasks. This tactical training was performed at high, medium and extremely low altitudes.
And, as the old saying goes, ´a picture is worth a thousand words´ – that´s why we have decided to share some of those interesting pictures here. Unfortunately, the official source at the Russian MoD did not disclose the name of author of those interesting photos.
All photos © Russian MoD (Министерство обороны Российской Федерации), used under the Creative Commons Attribution 4.0 license. MoD press information were used.