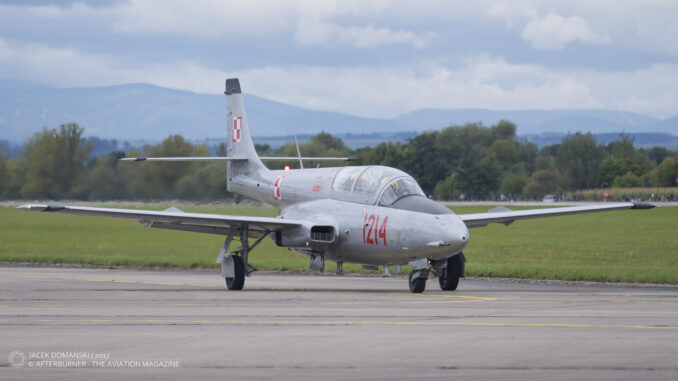 Maiden flight of PZL TS-11 ´Iskra´, a Polish jet trainer aircraft.
The idea of creating a jet-powered trainer for the Polish Air Force was born in the middle of 1950s, upon the introduction of jet fighter aircraft. Initial requirements for the new aeroplane were formed by Polish military authorities in 1957, then the task of designing the first Polish-made jet aircraft was assigned to the construction team led by Tadeusz Sołtyk.
The first prototype for static tests was ready in March of 1959 and almost one year later, TS-11 ´Iskra´ (English: spark) – as the aircraft was officially designated – took-off for its maiden flight. Due to significant delays in development of SO-1 Polish jet engine, the prototype was powered by Armstrong Siddeley Viper 8 power plant.
Serial production of TS-11 ´Iskra´ was commenced in 1963 and until 1987, when it was ceased, more than 420 aircraft of this type were built. During those years, several variants of the ´Iskra´ were developed, including – apart from the standard trainer role – reconnaissance version, ground-attack aircraft and armed training variant.
Although being generally considered a successful design, TS-11 was not acknowledged abroad – it was one of just few Eastern-made aeroplanes that did not receive a NATO reporting name – and the Polish Air Force became the major operator of this aircraft. One of the reasons was the participation in the competition for standardized training aeroplane for the Warsaw Pact countries, that was organized in 1961. The ´Iskra´ was generally expected to win this contest, but at the end another aircraft was chosen – a Czechoslovak-manufactured Aero L-29 ´Delfin´. As a consequence, L-29 was adopted by the air forces of the Warsaw Pact countries and then became a global success, being operated by several other countries in Asia and Africa, and manufactured in approximately 3,500 examples.
A sole export contract for the Polish trainer was concluded in 1975, and already next later, fifty TS-11 ´Iskra´ bis D aircraft were delivered to India. They were on duty with the Indian Air Force for almost thirty years, being finally retired in December 2004.
In the Polish Air Force, the TS-11 trainer was in active service even longer, being officially withdrawn in December 2020. Although there was an attempt to design another Polish jet aircraft in late 1980s, designated I-22 ´Iryda´ and intended to replace ´Iskra´, this programme was abandoned approximately a decade later. Finally, following the agreement concluded in 2014, TS-11 was replaced by Alenia Aermacchi M-346 Master (officially named ´Bielik´ in Poland).
Apart from the regular military service, TS-11 ´Iskra´ aircraft were also used by the aerobatic demonstration team of the Polish Air Force – Biało-Czerwone Iskry (White-Red Sparks). The team was established in 1969 and currently operates the last six TS-11 aircraft in the Polish Air Force. However, due to the age of those jets and also the small number of M-346 trainers in Poland, the future of the team is uncertain.
A few ´Iskra´ aircraft retired from the military service were bought by civilian operators and can be spotted all over the world. However, they are not as popular as L-29 or its successor, Aero L-39. In Poland there are currently two TS-11 ´Iskra´ trainers in private hands, both owned and operated by Fundacja Biało-Czerwone Skrzydła (The White-Red Wings Foundation).