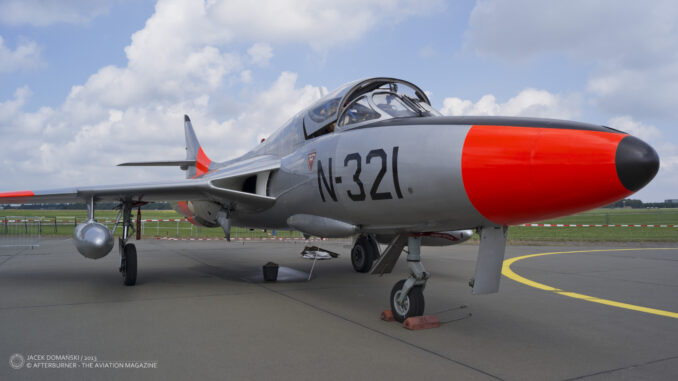 Hawker Hunter T.8C (G-BWGL / N-321), c/n 41H/695946, owned by the Dutch Hawker Hunter Foundation and exhibited at static display during the 100th Anniversary of German Naval Aviation event, Nordholz, August 2013.
Between 1955 and 1968, the Royal Netherlands Air Force (RNLAF) operated several Hawker Hunters of F.4, F.8 and T.7 variants, acquired together with Belgium in a joint programme. A significant number of those fighters was built under licence in the Netherlands by Fokker company.
After a relatively short operational service in the RNLA and the Belgian Air Force, the Hunters were replaced by F-104 Starfighter jets. Several aircraft were then bought back by Hawker, re-built and upgraded and finally sold again to India, Iraq, Chile and Lebanon.
Hawker Hunter Mk.4 ´XF357´ was manufactured in 1956 and served with No. 130 Squadron RAF in Bruggen air base, Germany. Just three years later, the aircraft was repurchased by Hawker and converted into T.8 two-seat trainer for the Royal Navy. The ´XF357´ remained in active service with the Royal Navy and then the Fleet Requirements and Aircraft Direction Unit until 1994, when it was retired and then sold to private owners and registered as G-BWGL.
In the following years, the Hunter T.8C changed its owner several times, although all the time remaining airworthy and participating in several aviation events in the Great Britain. The Dutch Hawker Hunter Foundation purchased this aircraft in 2007 and re-painted it with the original Dutch markings from the era, and fictional tactical number ´N-321´ (as the original Dutch two-seat Hunters were marked N-301 to N-320).
The ´N-321´ was, together with another aircraft owned by the Foundation – Hunter F.6A ´N-294´, a regular participant of aviation events in Western Europe. Regrettably, in 2020 the technical issues grounded this Hunter and shortly afterwards it became clear that those issues were impossible to overcome – and ´N-321´ will not fly anymore.
As a replacement for no longer airworthy Hunter, the Dutch Hawker Hunter Foundation acquired a Hawker Hunter Mk.68 from Switzerland. According to the official press release of the Foundation (issued on 18th January 2021), it is the Hunter ´HB-RVP´ (formerly J-4205 of the Swiss Air Force), an aircraft already well known from the Swiss air shows.
In the Dutch Hawker Hunter Foundation ownership the ex-Swiss Hunter will also receive the Dutch markings and a consecutive tactical number ´N-322´. The Foundation says that the aircraft would be ready to fly later this year and to celebrate the 70th anniversary of Hawker Hunter maiden flight in July 2021.