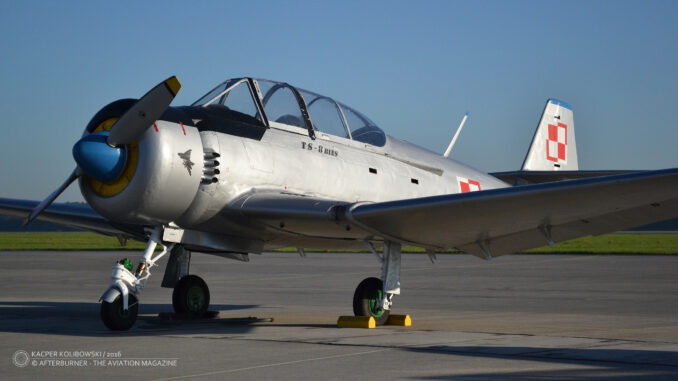 PZL TS-8 'Bies' (c/n: 1E0306), formerly ´0306´ of the Polish Air Force, exhibited at the static display during a joint event of the 10th anniversary of F-16 service in the Polish Air Force and the Polish Air Force Day, Poznań-Krzesiny AFB, 2016.
The history of this aeroplane dates back to the late 1940s, when one of the most recognised Polish aviation constructors, Tadeusz Sołtyk – at that time working at Lotnicze Warsztaty Doświadczalne – LWD (Aircraft Experimental Workshops) in Łódź – designed a single-seat aeroplane, intended to be used as a transition between basic and combat training aircraft.
LWD ´Bies´, as the new aircraft was named, had to be a potential successor of LWD ´Junak´ (English: a young daredevil) – a trainer designed by Sołtyk in 1947 and four years later introduced into operational service as ´Junak 2´. However, in 1950 the LWD construction bureau and experimental factory was transferred into a production plant and aircraft-design activity was ceased. In the aftermath, Tadeusz Sołtyk, together with some other engineers from the LWD, joined an aviation design group at Centralne Studium Samolotów – CSS (the Central Aircraft Study) in Warsaw. There, the idea of creating another variant of training aeroplane was born, this time to be powered by WN-2 engine, designed by Wiktor Narkiewicz. Regrettably, also that aircraft was not finished, due to closing of the CSS bureau.
Nevertheless, with the beginning of a jet-fighter era in the Polish Air Force (Yak-23 and then MiG-15 / Lim-1) created an urgent need for a modern training aircraft, with better flight characteristics, retractable gear and nose-wheel configuration, able to replace the fleet of currently operated LWD ´Junak´, Yak-18 and Yak-11 aeroplanes.
In order to meet this challenge, in 1952 Tadeusz Sołtyk organized a new design team at Instytut Lotnictwa (Institute of Aviation) in Warsaw. Being aware of both the urgent need for a suitable trainer for the air force and the fact that development of a completely new aeroplane can last several years, it was decided to design two modified versions of ´Junak 2´ first, and only then continue with creating the new aircraft.
The first of those upgraded variants was named TS-7 ´Chwat´ (English: a brave lad), but despite several improvements on the initial design, this aircraft did not meet needs and expectations of the air force and works on the project were soon abandoned. Next came TS-9 ´Junak 3´, a training aeroplane with fixed landing gear and a nosewheel. Shortly after a successful maiden flight that took place in 1953, the ´Junak 3´ was approved for serial production and then sent to military flying schools, as a temporary solution until an arrival of the final trainer.
Launching the serial production of ´Junak 3´ finally allowed Sołtyk and his design team to focus all their efforts on creating their completely new, modern trainer aircraft. From three initial projects, that included two – in a way revolutionary – designs in a pusher configuration, finally a classic-looking aircraft was chosen, with a pulling propeller and a radial engine.
This new aeroplane received a type designation TS-8 (being the eight aircraft designed by Sołtyk) and was named ´Bies´ – an evil spirit or demon in Slavic mythology. This name was chosen on purpose, as the overall silhouette of the TS-8 was essentially based on the abovementioned LWD design from 1948. But obviously, to meet the latest requirements of the air force, the initial design was redeveloped into a much more modern and advanced aircraft.
The TS-8 'Bies' was a low-wing cantilever monoplane of all-metal construction. The entire airframe – both fuselage and wings – was designed to provide the best possible aerodynamic and flight characteristics, similar to those of a jet aircraft. The 'Bies' had a double, enclosed cabin for student pilot and instructor, with seats in tandem configuration. It was equipped with two sets of instruments for non-visibility flights and modern radio navigation equipment, retractable landing gear with a nosewheel, and was powered by 320 hp WN-3 radial engine of Polish construction. A possibility of adding light armament – 12.7 mm calibre UBK machine gun and two 50 kg bomb mounts under the wings – was also provided.
The first prototype of the ´Bies´ performed its maiden flight on 23rd July 1955 and two more were built a year later. After a successful series of evaluation flights, the new Polish aircraft was widely advertised both on domestic and international markets. In 1956, the prototype of the TS-8 'Bies' was presented at the Poznań International Fair. And a year later, also during the Leipzig Trade Fair and at the International Aviation Salon in Paris.
During the evaluation and test flights, the prototypes of ´Bies´ set up several international records in its class of aircraft: flight altitude of 7,084 metres (1956), closed-circuit flight distance record of 2,884 km (1957) and speed of 317 kph on a closed circuit route of 2,000 km (1957).
Serial production of the ´Bies´ was launched in 1957, starting with ten aircraft designated as BI variant and being sent to aviation units for further testing. This evaluation resulted in a few upgrades and two final variants, named BII and BIII, being then manufactured at WSK-Mielec aviation plant.
A total of 250 examples of the TS-8 aircraft were built, with 229 of them being of the BII variant. The 'Bies' was being produced for just three years, until 1960. Despite being a successful design, the TS-8 was hardly exported anywhere. The only exception was regarding two aircraft being specially adapted to tropical conditions and then delivered to Indonesia.
The new aircraft received generally positive reviews within the Polish Air Force, both instructors and students. It was a reliable aircraft, with fine flying characteristics and overall performance, together with being good at performing aerobatic figures. After being retired from the air force, more than a hundred TS-8 aircraft went into civilian service and were used by aeroclubs all over Poland, mostly until the end of the 1970s.
The PZL TS-8 'Bies' was the second (after ´Pegaz´ moto-glider) Polish-designed aircraft powered by an engine of Polish construction built after the World War II. At the same time, it was also the first all-metal aircraft designed and built in Poland after the war.
Approximately ten TS-8 ´Bies´ aircraft survived in Poland until today, most of them can be seen in aviation museums throughout the country. In 2012, there were also three airworthy ´Bies´ aircraft, according to official reports.