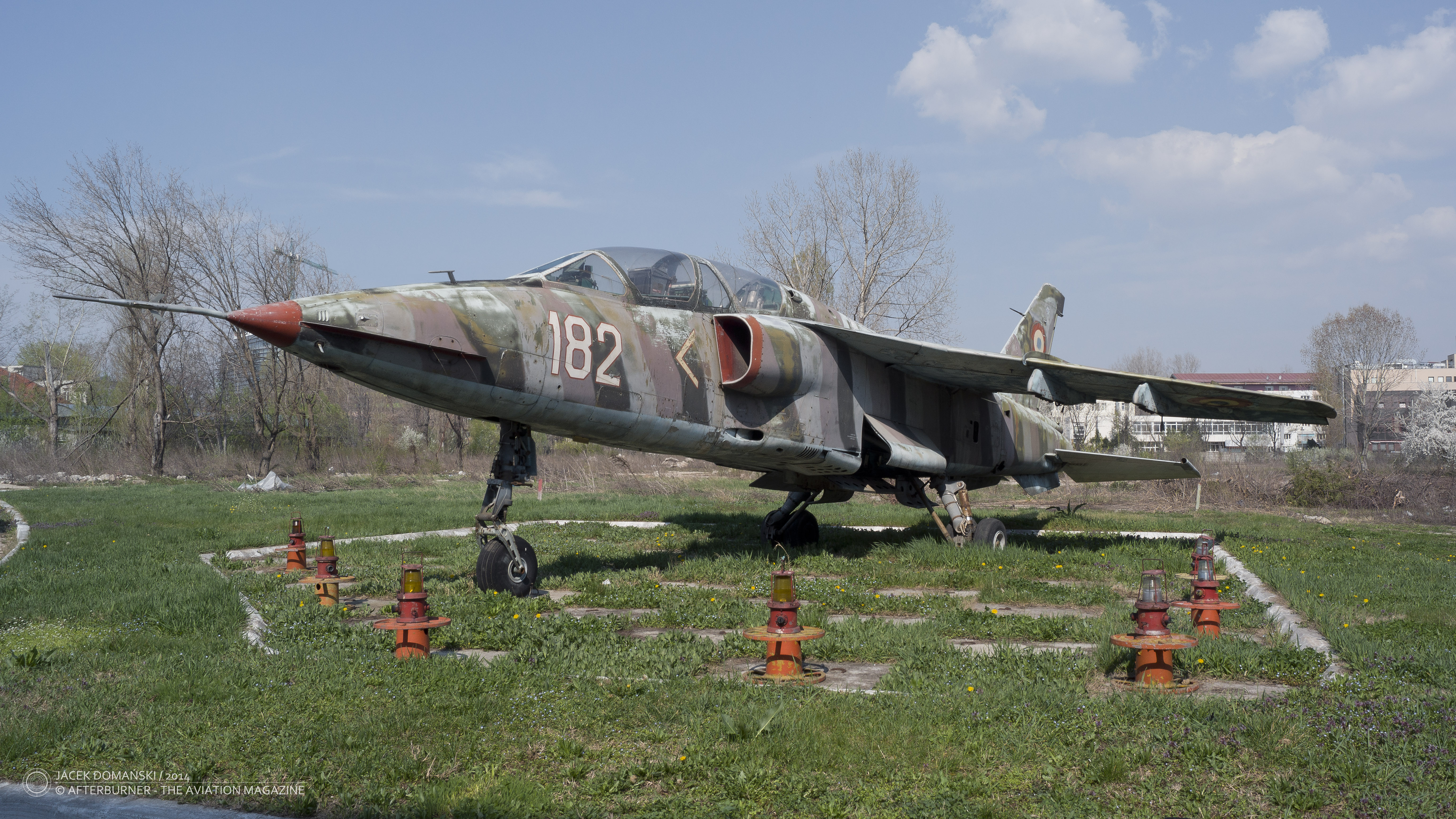 Avioane Craiova IAR-93A(DC) Vultur (c/n 93282182, formerly ´182´ Romanian Air Force), exhibited at Muzeul Naţional al Aviaţiei Române (Romanian National Aviation Museum) in Bucharest, March 2014.
Back in the 1970s, Yugoslavia and Romania, although still being socialist states, decided to became military independent from the Soviet Union. Among many projects launched in those countries that time, there was a joint development of a multi-purpose subsonic aircraft, similar in its role and capabilities to SEPECAT Jaguar.
On 20th May 1971, a bi-national agreement was concluded, creating YuRom programme aimed with purpose of creating the abovementioned aircraft. The joint development was supervised by engineer Teodor Zanfirescu for Romania and Colonel Vidoje Knežević for Yugoslavia. Zanfirescu was an experienced Romanian aviation engineer,  a technical director of Institute of Aerospace Research and Design (ICPAS), as well as one of its founding members.
According to official requirements, the new aeroplane had to be a multi-purpose jet, able to perform ground attack missions and reconnaissance tasks, as well as having a low-level intercept and air combat capabilities. The aircraft also had to be able to operate from austere runways and made, as much as possible, of domestically-manufactured components.
One of the first concerns that arose with designing the aircraft was to acquire a suitable jet engine. Initially, the development team focused on British-made, modern jet engines but eventually it turned out that there was no possibility to get permission for their license-manufacturing in the Eastern Europe. Therefore, a relatively old Rolls-Royce Viper jet engine was chosen – originally developed in the early 1950s by Armstrong Siddeley. Although it was not a perfect choice for the new aeroplane, it was merely the only available at that time.
The aircraft being a result of joint Romanian and Yugoslavian development was a classic twin-engine, high-wing monoplane of swept wing configuration with 43⁰ back angle, was equipped with a tricycle landing gear and aerodynamic brakes. Its cockpit was located a bit forward of two side air intakes and was equipped with ´zero-zero´ ejection seat made by Martin-Baker.
The new jet was equipped with a combination of Western and Eastern avionics and armament. Although the final result never reached the level of SEPECAT Jaguar, it still was a technological leap for aviation industry of both involved countries. For Romania, it was also the first jet aircraft developed and designed by the domestic aviation industry.
Both Romanian- and Yugoslavian-made prototypes performed their maiden flights on the same day, 31st October 1974, taking-off from Bacău and Batajnica air bases. Although the new jet received a different designation in each country – J-22 in Yugoslavia and IAR-93 in Romania – its common name in both languages (Orao and Vultur, respectively) had the same meaning, ´the eagle´.
The Yugoslavian aircraft were assembled at SOKO factory in Mostar, while the Romanian ones were made at Avioane Craiova in Ghercești. Over the years, each country chosen a bit different path, developing its own variants and modifications of the aircraft. They were also equipped with different types of the Viper engine, both with- and without an afterburner.
The first Romanian version of the aircraft was designated IAR-93A and was equipped with Viper 632-41 engine without afterburner. Most of these aircraft were made in a single-seat configuration, although there were also nine two-seat trainers made, known as IAR93A(DC).
Other versions included an upgraded IAR-93MB, still having a non-afterburner Viper 632-41 and then IAR-93B, powered by 633-47 engine already equipped with afterburner. Both of them were built as single- and two-seat variants. A total of eighty six IAR-93 aeroplanes was built in Romania.
Production and further development of the Eagle was ceased in 1992, as a consequence of the Yugoslavian Wars and related sanctions against Yugoslavia (and then Serbia). Although Romania was not involved directly in that series of conflicts, the aircraft was a result of a bi-national development and cooperation which could not be continued when it came to sanctions.
Therefore, the IAR-93 programme was terminated in 1992. Those aircraft still being in service were successively retired and the last operational flight of the Vultur was reported in April of 1998. Most of the existing aeroplanes were just scrapped.
A few IAR-93 aircraft that survived until today can be found in Romanian museums or in a role of gate guards. Among them there is the ´white 182´, the aeroplane pictured above and exhibited in National Aviation Museum in Bucharest.
The J-22 Orao is still in active service with the Serbian Air Force and Air Defence. More information about that aircraft, its variants and plans for future modernization can be found here.