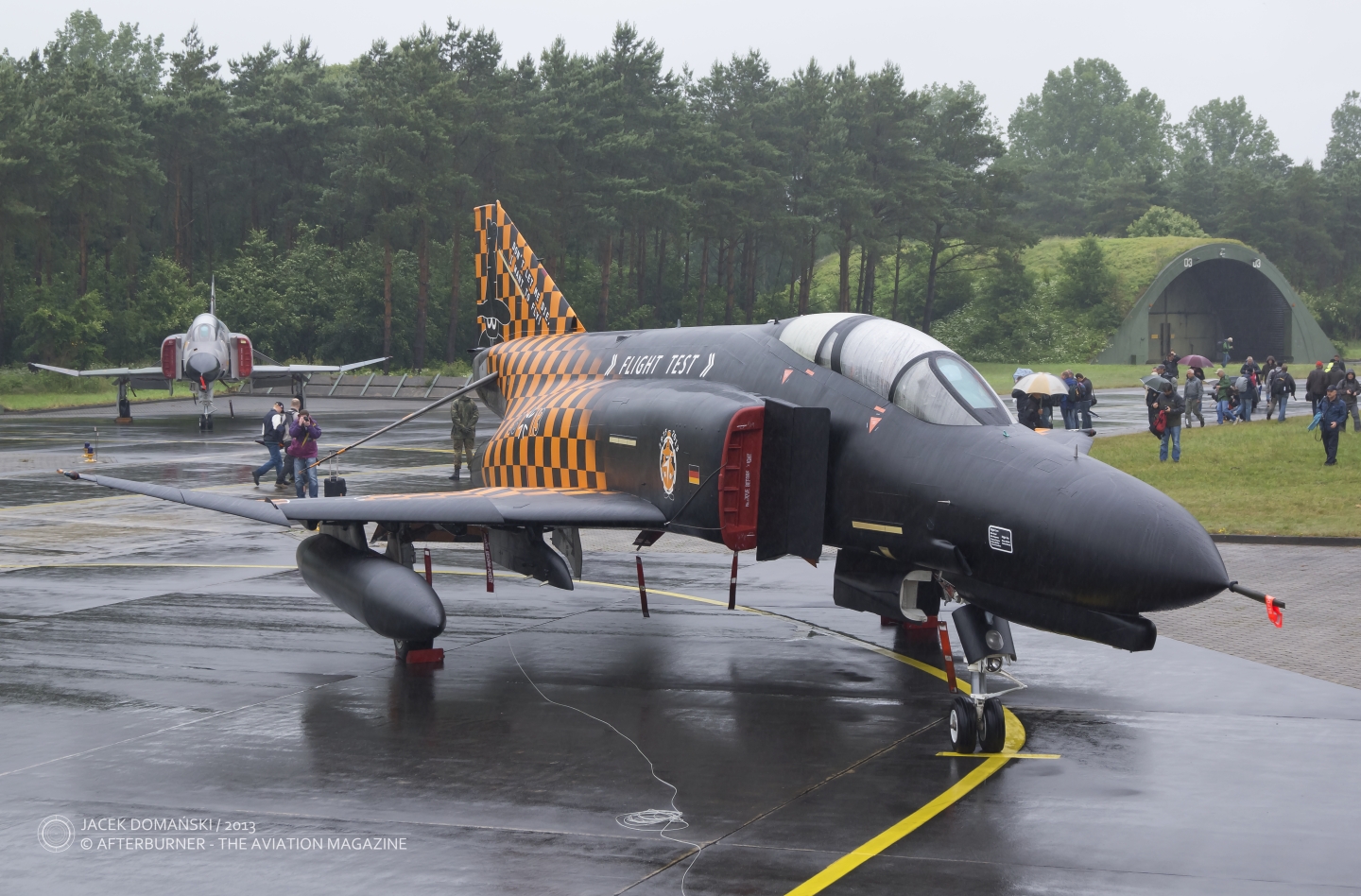 McDonnell Douglas F-4F Phantom II, German Air Force (Luftwaffe) 38+13, from the Bundeswehr Technical and Airworthiness Centre for Aircraft (Wehrtechnische Dienststelle 61) in Manching, in the special ´Final Flight´ livery – ´Phantom Pharewell´ at Wittmundhafen, June 2013.
The story of German Phantoms began in 1968, when the first batch of eighty-eight aircraft was ordered. They all were of RF-4F unarmed reconnaissance version, but later, with the modernization and upgrade performed in 1980s, those aircraft also received an air-to-ground attack capabilities.
That order coincided with the decision about replacing the F-104 Starfighters with an up-to-date fighter jet and the bidding process started. Among the offers received by Luftwaffe there were Northrop F-5, Saab J-37 Viggen, SEPECAT Jaguar and Mirage F1, but the one accepted by German authorities came from McDonnel Douglas, that proposed F-4F Phantom II supersonic fighter jet.
As a result, an order for 175 F-4F aircraft was placed in June 1971 and the new Luftwaffe fighter was expected to enter operational service until 1976, assigned to Jagdgeschwader 71 (based at Wittmund) and Jagdgeschwader 74 (Neuburg a.d. Donau). However, the limitations of the ordered F-4F variant were quickly noticed, as it was the lightened and simplified variant of F-4E. The negotiations with the US Government were launched almost immediately, and the agreement on the first Phantom upgrade was concluded yet in 1975.
This was the first of several consecutive upgrades implemented on the German F-4F fighters during their 40 years of operational service. The most significant improvement of their combat capabilities was then made within the Kampfwertsteigerung (Improved Combat Efficiency) programme – a three-stage modernisation process that was started in 1983 and was finalized in 1997.
However, everything has changed when the Cold War was over. A wave of significant cutbacks and reductions swept across European armed forces, including Germany and its Luftwaffe. The number of fighter jets was remarkably reduced, between 1992 and 1994 more than 70 F-4F Phantom aircraft were sold to Greece and Turkey. Also the aeroplanes of RF-4E variant were all retired until 1994.
In addition, Eurofighter 2000, a long-awaited successor developed since 1980s, finally appeared in 2004. The first four EF 2000 arrived to Jagdgeschwader 74 yet in 2006, however the delays in production and deliveries of the new multi-national European jet fighter caused the Phantom retiring process (and therefore the active service of F-4F) was extended until 2013.
In the meantime, until the arrival of Eurofighters, the Phantoms managed to perform the air policing duty over the Baltic countries in 2005, 2008, 2009, 2011 and 2012.
Successively, with new EF 2000 being delivered to Neuburg, all operational F-4F fighters were transferred to Wittmund. There, flying in Jagdgeschwader 71, the last Phantoms made it until summer of 2013, when they were officially retired from service. A well-known ´Phantom Pharewell´ retirement event was then organized there in June 2013 and met with the great interest among aviation fans.
Apart from the operational Luftwaffe squadrons, F-4F Phantom II fighters were also evaluated by Wehrtechnische Dienststelle 61 in Manching. Focused on testing and evaluating of military aircraft and aerial weapon systems, WTD 61 operated a few Phantoms as a testbed aircraft. Two of them, 37+15 and 38+13, remained there until 2013 and both aircraft could be seen during ´Phantom Pharewell´ in Wittmundhafen. In addition, 38+13 received a special ´Final Flight´ attractive livery.
On 29th July 2013, the aeroplane with tactical number 37+15 made its last flight when, together with other Phantoms of JG 71, it was flown to Jever and then scrapped there.
The second aircraft, 38+13, had then the privilege of performing the very final Phantom flight in Germany. On 30th July, this fighter returned to Manching test centre where it is still stored until today.