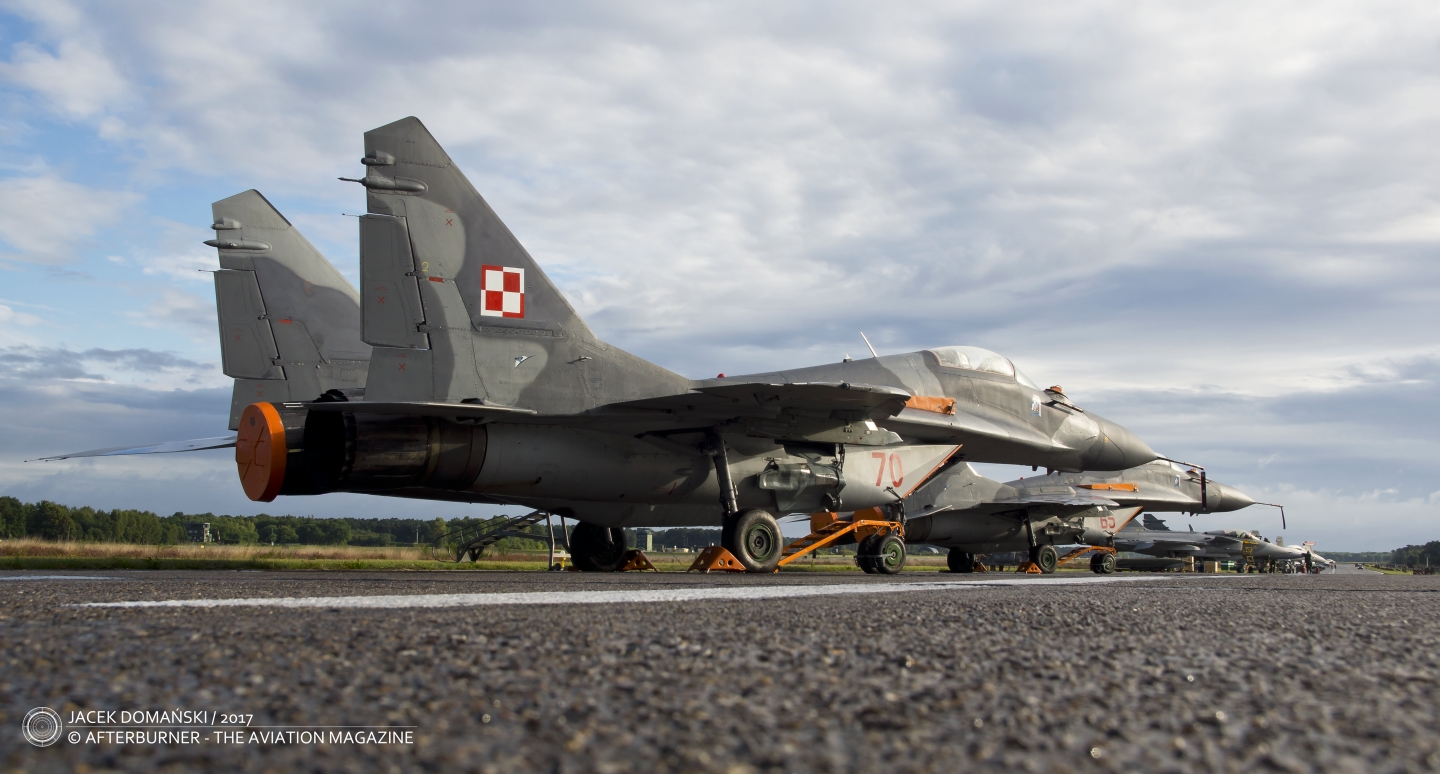 Mikoyan MiG-29s (NATO reporting name ´Fulcrum´) with tactical number ´70´(2960526370) and ´65´ (2960526365), from Polish Air Force, 22nd Tactical Air Base in Malbork, at the Kleine-Brogel air force base (Belgium), September 2017.
Every year in September the Kleine-Brogel air base opens its doors for all aviation enthusiasts during the Spotterday organized there. The event is related to Sanicole International Airshow, held annually by Sanicole Aeroclub, located at Leopoldsburg/Beverlo Airfield – a former military airfield located just a few kilometres away.
Leopoldsburg/Beverlo offers just a short runway and is not suitable for modern jets. That´s why most of the air show participants are based at Kee Bee, from where they fly to Sanicole to perform their flying displays. The air show days are Friday and Sunday, so this creates a perfect opportunity to organize the open doors event at Kleine-Brogel on Saturday. At the air base, the visitors may see the static display of the show participants and some additional military aircraft. There is also a possibility to watch flying displays and rehearsal flights.
It was a very cold autumn morning, that day back in 2017. The weather was awful during the whole week before the event days and it almost damaged the evening show on Friday. It was still raining until the early morning on Saturday, the rain stopped just approximately half an hour before and you may still see the dark clouds in the background – but this was exactly that morning light after the shower, which created this photo.
An interesting fact is, that ´70´ was among the first MiG-29s delivered to Poland in June 1989 and approximately one month later became also the very first Polish MiG-29 fighter presented to the public, during the Air Force Day in Poznań air base on 23rd August 1989.