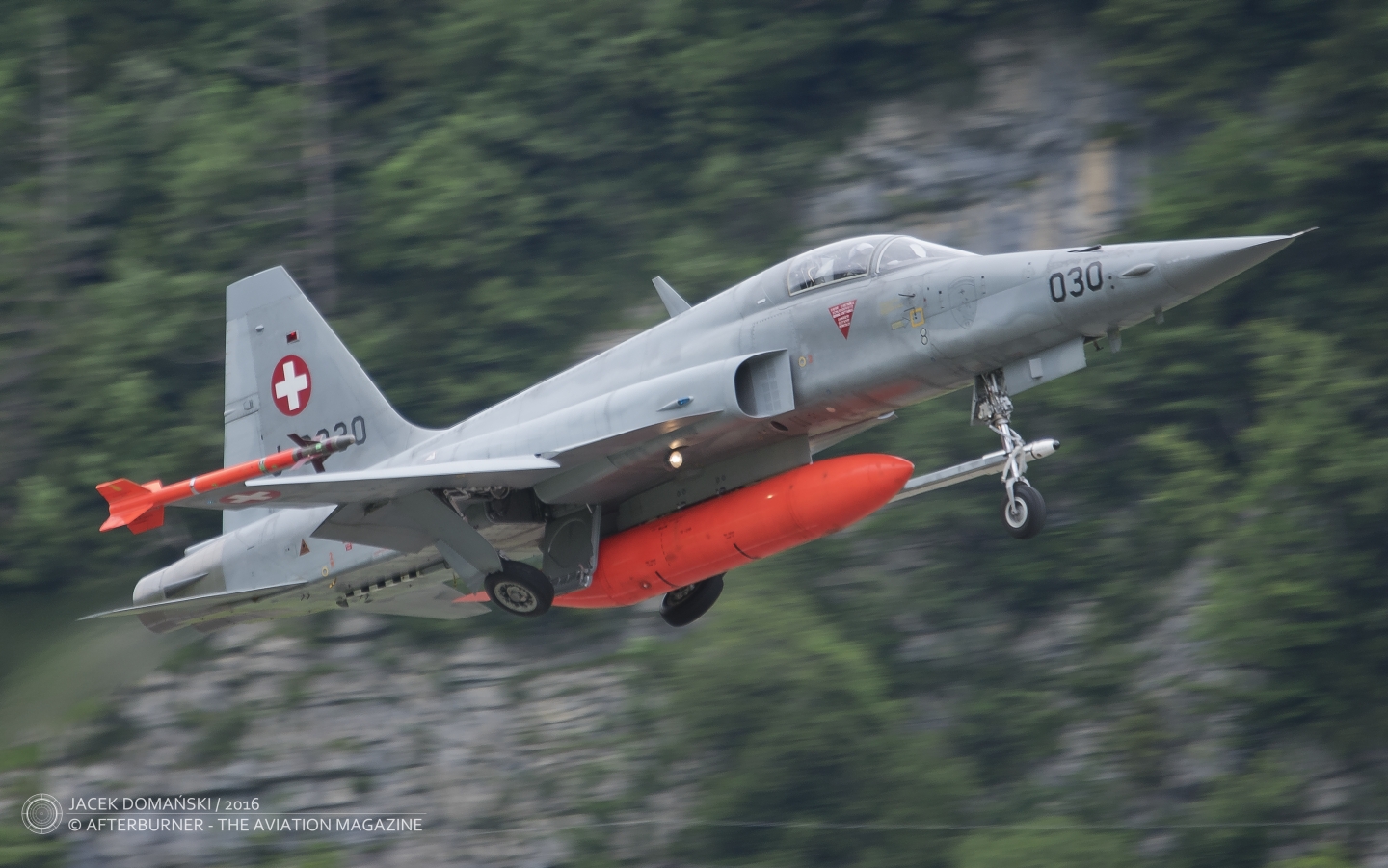 Northrop F-5E Tiger II ´J – 3030´, Swiss Air Force – flying display during the 75th anniversary of Flugplatz Meiringnen (Meiringen Air Base), June 2016.
In the 1950s, Northrop Corporation developed a privately-founded project of supersonic fighter jet – F-5 Freedom Fighter, which soon became an effective and low-cost fighter for many countries. Thirteen years after the maiden flight of F-5A, a significantly modernized variant named F-5E Tiger II performed its first flight. Approximately 850 of F-5A/B/C Freedom Fighter and 1,400 of F-5E/F Tiger II aircraft were built and were operated by many air forces around the world – including Brazil, Greece, Iran, South Korea, Turkey or Taiwan.
At the end of 1970s Switzerland was looking for a new air-defence fighter, after retiring Venoms and Hunters being assigned mostly to air-to-ground attack tasks. Following a long evaluation process, the Northrop fighter won the competition against the F-4 Phantom II, Dassault Mirage F1 and Saab 37 Viggen.
In 1976 the first batch of 66 F-5E (single-seat) and 6 F-5F (double-seat) aircraft was ordered and they were delivered until 1979. Shortly after, in 1981, the order for second batch of another 38 aircraft followed. Although the Swiss F-5s were manufactured in the United States, their final assembly was done in Switzerland by the Swiss Federal Aircraft Factory in Emmen (now RUAG Holding).
The Swiss F-5E/F Tiger II fighters received tactical numbers from J – 3001 to J – 3098 and were operated by five fighter squadrons.
Currently, the Swiss Air Force is still reporting 53 Tigers in the inventory, but only 26 remaining operational. The initial plans to retire all F-5s until 2017 and replace them with modern fighter aircraft failed, when as a result of national referendum, the purchase of 22 JAS-39 Gripen aeroplanes was rejected by the voters.
But this small Tiger fleet – which is now practically idle, apart from a few scheduled training flights per year – still remains a significant item in the Swiss annual defence budget. Therefore, according to the announcements from December 2019, all F-5s should be withdrawn from the operational service by 2021. Patrouille Suisse, the Swiss national jet team, would be the only exception, most probably still flying their red-white Tigers beyond this date.