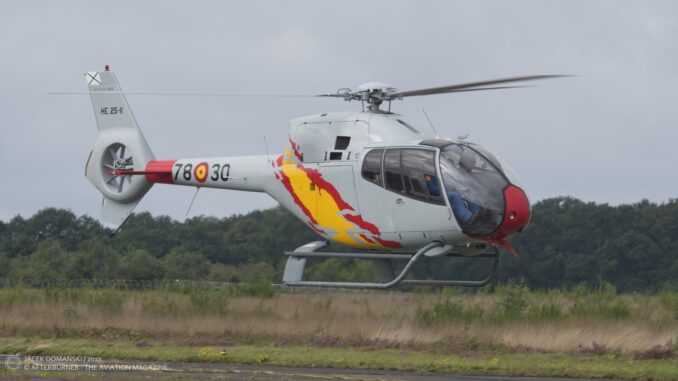 Eurocopter (now: Airbus Helicopters) EC120B Colibri (English: hummingbird), HE.25-11 of the Spanish Air Force helicopter aerobatic team Patrulla ASPA, Kleine-Brogel air base, September 2017.
In order to introduce the roots of EC120 light utility helicopter, we must go back to the 1980s and projects that at that time were being developed by Aérospatiale – a French, state-owned aviation and space company.
In the early 1970s, Aérospatiale helicopter division introduced a light utility and attack helicopter known as SA 341/342 Gazelle. It was warmly welcomed not only by the French armed forces and government agencies, but also became quite popular among military and civil operators all over the world. Following such a great success of Gazelle, the French manufacturer started works on its direct successor. Finally, project of a single-engine, light helicopter designated as P120 was chosen and initially planned as a replacement of SA 341 in the late 1980s.
However, it shortly turned out that Aérospatiale was not able to independently continue this development and an extensive search of foreign partners was launched. The project of P120 captured the interest of aviation companies from the Far East and Australia. Finally, China National Aero-Technology Import & Export Corporation (CATIC), Harbin Aviation Industries Group and Singapore Technologies Aerospace (STAero) joined the programme, together with newly formed joint-venture company named Eurocopter. The latter was established on 1st January 1992, by merge of helicopter divisions of Aérospatiale and Deutsche Aerospace Aktiengesellschaft (DASA).
Development of new light utility helicopter was officially launched in October 1992 and the first prototype of EC120 Colibri – as the rotorcraft was eventually designated – took-off for its maiden flight on 9th June 1995. The new helicopter was introduced to general public in 1997 and quickly caught attention of potential customers. Number of orders received by manufacturer during the first monhts was significantly surpassing initial expectations.
Production process of the EC120 was shared among the partners involved in the development programme. CATIC became a manufacturer of cabin and fuel system, STAero produced tail boom, doors and composite parts, while all other elements and final assembly were done by Eurocopter in France. In 2004, a second production facility was opened in China and there were also plans to arrange another one in Australia.
Nevertheless, interest in the EC120 / H120 had waned relatively quickly. Despite the high number of initial orders it never became as popular as its direct predecessor, SA 341/342 Gazelle, was. In the 2010s, just a few EC120 helicopters were being ordered per year and that finally led to cessation of its production. In 2017, Airbus Helicopters (a successor of Eurocopter) announced the end of H120 programme – the company stated that it will focus on newer and more successful rotorcraft, as H125 and H130 are. Until that day, approximately 700 aircraft of all EC120 variants were built.
In 1999, the Spanish Air Force has ordered fifteen EC120 helicopters for initial training purposes, with their delivery scheduled for July 2000 – June 2001. In addition, the purchase contract included a flight simulator, computer software, set of spare parts and dedicated tools.
On 23rd September 2003, at Armilla air base, Patrulla ASPA helicopter aerobatic team was officially founded. The team performed its first public display on 16th May 2004 and a year later made its first foreign debut, during the Portugal Air Show. Currently, Patrulla ASPA is one of only two helicopter aerobatic teams in Europe (with ´Berkuts´ team of the Russian Aerospace Forces being the other one).