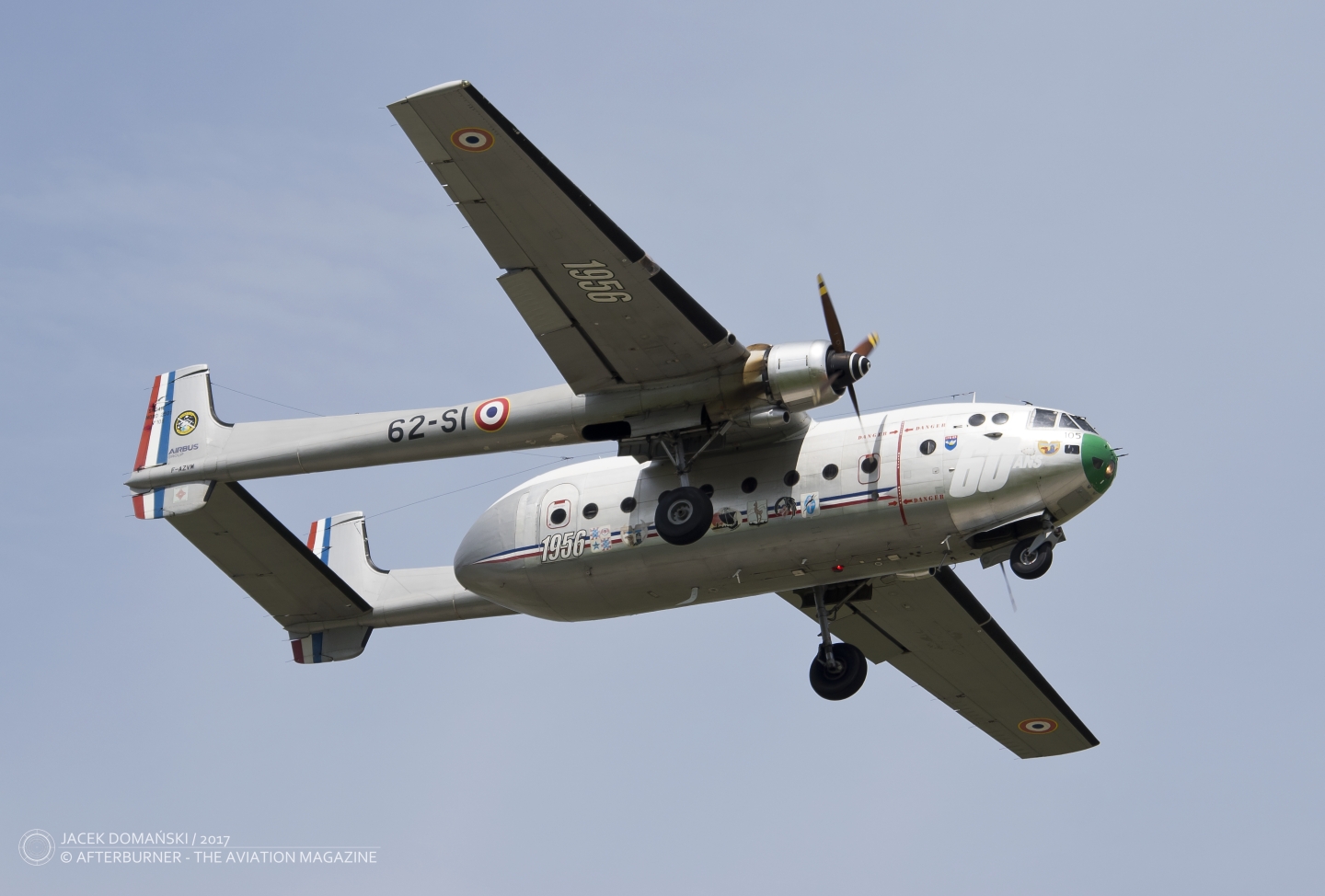 Nord Aviation 2501 Noratlas operated by L'association Le Noratlas de Provence, flying display during Tag der Bundeswehr open doors event at Fliegerhorst Landsberg/Penzing, June 2017.
In late 1940s, the French Air Force opened the competition for a new military transport aircraft, able to replace the existing fleet of surplus C-47 Dakota and Amiot AAC 1 Toucan (being a Junkers Ju 52 derivative). The most advanced and promising design was proposed by Nord Aviation company – an aircraft named Nord 2500, created by Jean Calvy.
Unlike the other cargo aircraft, usually having the tailwheel landing gear, Nord 2500 was a twin-boom aeroplane, with tricycle landing gear and low-pressure tyres allowing to use rough surface runways, and, first of all, it has a rear-opening double bay doors for easy cargo operations.
The first prototype of Nord 2500, powered by two Gnome-Rhône 14R engines, performed its maiden flight on 10th September 1949. However, the new transport aircraft was underpowered and therefore its performance was lower than expected. Only the second prototype, re-designed as 2501 after receiving two 2,040 hp Bristol Hercules 738/9 engines manufactured by SNECMA under license, was accepted by the air force authorities.
Nord 2501 Noratlas entered service in 1953 and more than 200 aircraft were built for French Air Force. In addition, 2501 was used by German Air Force (first aircraft from France, then license-manufactured in Germany) where it was nicknamed ´Nora´, Israel Air Force (bought from France and Germany), Hellenic Air Force (surplus aeroplanes from Germany) and Portuguese Air Force. The last Noratlas was manufactured in 1961 and the 2501 fleet remained operational until late 1970s, when it was replaced by C-160 Transall and C-130 Hercules transport aircraft. However, it is reported that last 2501 were retired from the French Air Force in 1989.
Nord 2501F-3 Noratlas, serial no. 105, was operational until 1986. The aircraft is now registered as F-AZVM and owned by L'association Le Noratlas de Provence, based at Marseille Provence Airport. ´Le Grise´, as the aeroplane is nicknamed, is currently the sole airworthy Nord 2501 in the world.