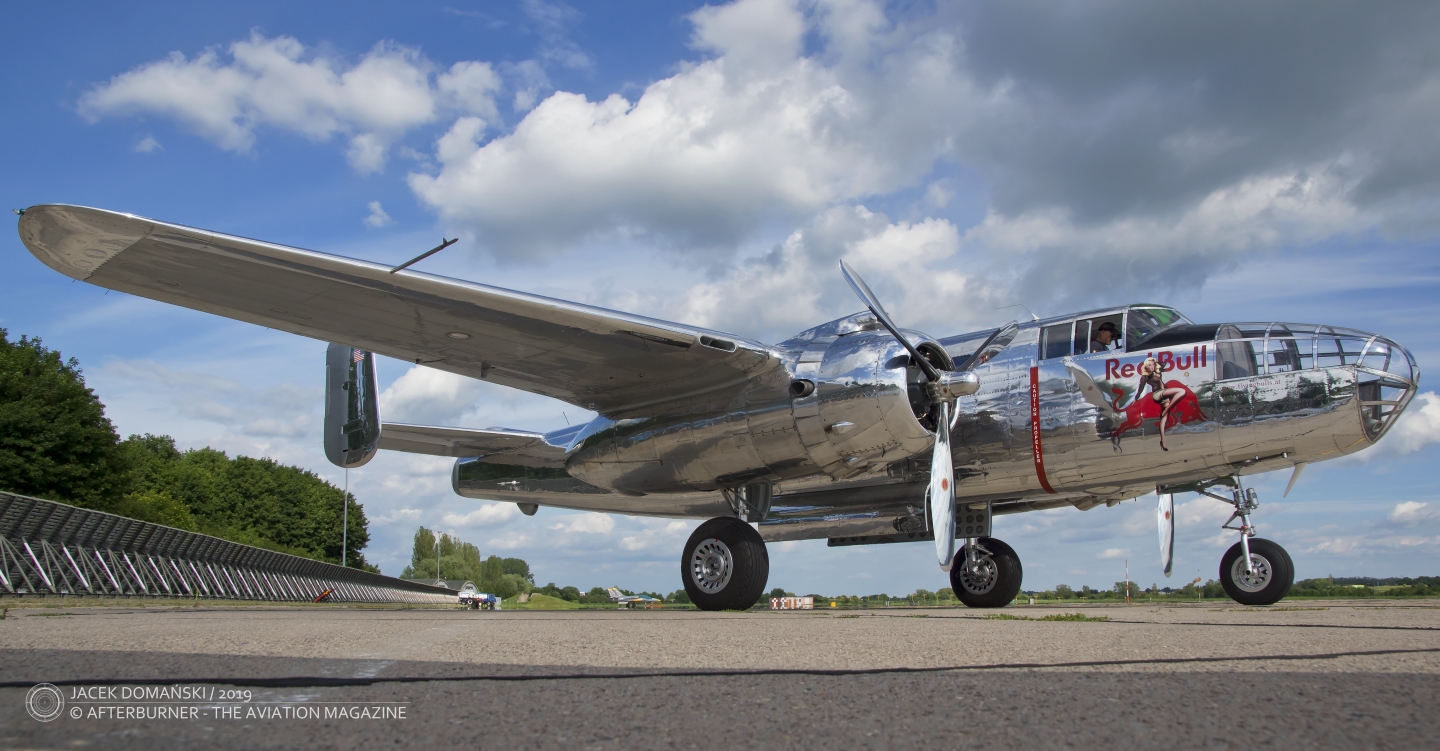 North American B-25J ´Mitchell´ from the Flying Bulls fleet, shortly after its arrival to Pardubice on 31st May 2019. Together with Bo 105C helicopter and T-28B ´Trojan´ aeroplane, that also visited Pardubice during the last weekend, the silver-painted B-25 participated in the 29th Aviation Fair air show, performing a few flying displays there.
B-25 medium bomber is one of the World War II iconic aircraft, famous for being used in the ´Doolittle Raid´ – the first air operation to strike the Japanese Home Islands. Nearly 10,000 aeroplanes were produced, starting 1941, and served in every theatre of the war: Asia and Pacific, Middle East and Europe. The aircraft was named in honour of Maj. Gen. William Mitchell, a pioneer of US military aviation.
There is still around 40 airworthy ´Mitchells´ all over the world, however only two of them are currently in Europe – the pictured B-25J owned by the Flying Bulls and another B-25J in the Netherlands (currently under repair).
The B-25J N6123C had come a long way before it became a part of the Hangar-7 collection. And this is the full story, told by the Flying Bulls:
With its cool retro look, the gleaming silver Mitchell is a very special highlight, even in the Flying Bulls valuable collection. Built in Kansas City in 1945, it shared the good fortune of the Corsair in never having to fly off to war. Instead, it was used as an electronic test platform. Later it was flown to Arizona's Davis Air Force Base, an aircraft cemetery, to be mothballed.
Apparently, it was well treated there, because in the 1970s a fire-fighting firm purchased the aircraft in order to put it to work putting out fires from the air. However, it was never put to that use.
And now the aircraft enthusiasts enter the picture: in the 1980s a flying club in Kansas City bought the Mitchell, rechristening it the Fairfax Ghost. The club continue to fly the plane until 1994, when it was discovered and, after some discussion, purchased by Sigi Angerer, former chief pilot of The Flying Bulls. The collection, after all, already included the Corsair, the T-28B and the Grumman Widgeon, and a B-25 would be – at least temporarily – a new highlight.
But first there was lots of work to be done, because the Mitchell was not at all in good shape.  First it got a complete overhaul in the US:  it was restored and converted into a civilian version with a comfortable interior. By September 1997 the work had been completed to the point that the Mitchell was ready to undertake the flight to Europe across the North Atlantic.
At the beginning of 2001, the aircraft was moved to Salzburg Airport. Now the Mitchell cuts a good figure, whether serving as a photographic model at Hangar-7 or taking part in one of the many great air shows in which it flies.
(from an official Flying Bulls press release)