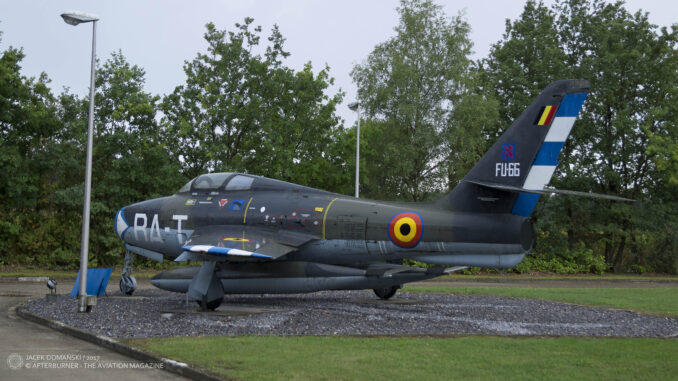 Republic F-84F Thunderstreak, ´FU-66 / RA-T´, formerly Belgian Air Force, on display at the Kleine-Brogel air base, Belgium, September 2017.
Thunderstreak, a fighter-bomber designed between 1948 and 1950, was a swept-wing version of an early USAF jet, Republic F-84 Thunderjet. Being far more than just another variant of the straight-wing F-84, the new design was intended as an answer to North American F-86 Sabre – an aircraft that had much better performance than Thunderjet and slowly becoming a base fighter for NATO countries.
The maiden flight of Thunderstreak took place in June 1950, however the performance of the new aircraft meant just a minor improvement, comparing to Thunderjet. A new, more powerful engine was considered as another remedy and British-originated Sapphire turbojet engine (manufactured in the US as Wright J65) was chosen.
Although the serial production of F-84F was ordered already in 1950, the new aircraft turned out to be more complex in manufacturing than expected and as a result, the first Thunderstreaks were ready only in 1952. In addition, the early-produced jets suffered from several performance problems that had to be solved and delayed the introduction of new fighter for another two years.
Finally, the F-84F Thunderstreak became operational in May 1954. Despite being, in large part, a completely redeveloped aircraft, F-84F had the same characteristics as Thunderjet, including poor take-off performance and a risk of accelerated stall pitch-up. Moreover, Thunderstreaks were also practically unrecoverable from spins.
Also the operational history of F-84F Thunderstreak in the USAF was marked by several technical issues. Already in early 1955 the fleet of F-84Fs was grounded due to engine problems, in 1962 they were grounded again because of corroding control rods. Finally, the stress corrosion caused the F-84F retirement from the Air National Guard units in 1971.
Belgium received 197 Thunderstreaks in 1955, a majority of them within the Mutual Defence Assistance Programme. The F-84F jets were assigned to the 1st, 2nd and 3rd Squadron of the 2nd Wing at Florennes, and the 23rd, 27th and 31st Squadron of the 10th Wing at Kleine-Brogel.
The 10th Wing replaced the Thunderstreaks with F-104 Starfighter fighters in 1965, while the 2nd Wing operated F-84Fs until 1972 and then replaced them with Mirage 5 jets. Although many of Belgian Thunderstreaks were scrapped, some of them were used as a static Mirage mock-ups and therefore survived until today and finally became exhibited in museums and air bases across the country.