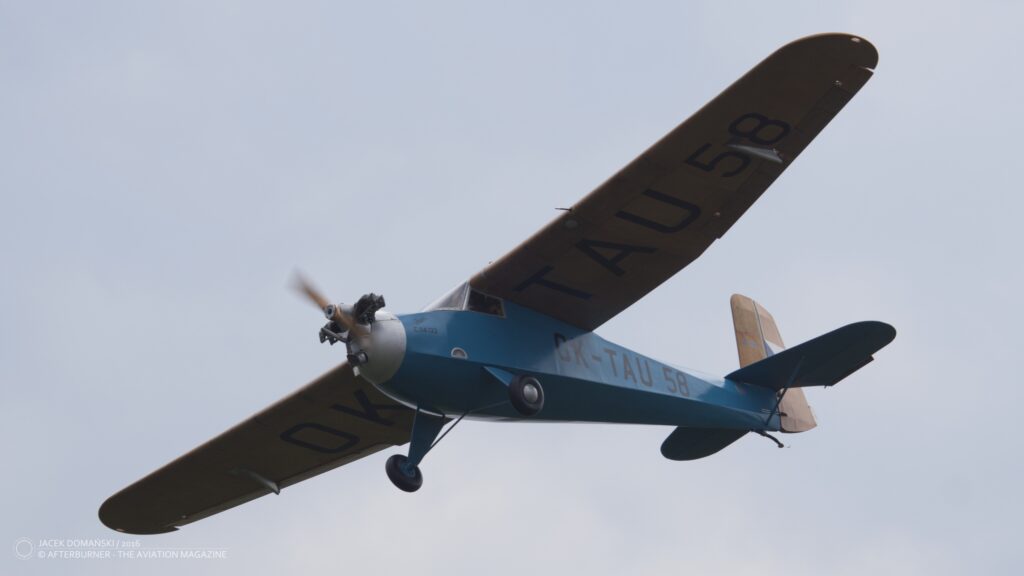 Praga E-114B ´Air Baby´ (OK-TAU 05, c/n 122), flying display at ´Den ve vzduchu´ air show, Plasy 2016.
In August of 1934, prototype of E-114 aircraft took-off for its maiden flight. This light, all-wood single engine aircraft was the second sport aeroplane developed under ´Praga´ trademark by aviation branch of Českomoravská-Kolben-Daněk company. The first one was Praga E-111 (BH-111), made intentionally for participation in 1932 edition of tourist aircraft competition Challenge International de Tourisme.
Similarly to its predecessor, the E-114 was intended for participation in an aviation competition – the first edition of Národní let RČS (National flight of the Czechoslovak Republic), that took place in September 1934. And, according to news releases from the era, the new aircraft completed the contest without any issues.
Then, in December of the same year, the E-114 prototype was presented during Aerosalon in Paris. In the beginning of 1935, the aircraft was evaluated by Czech military authorities and shortly thereafter the E-114 was exhibited at Brussels International Exposition of 1935, where it was awarded a gold medal.
After the successful reception of the prototype, serial production of the E-114 was launched in summer of 1935. Soon that small aeroplane became a quite popular tourist aircraft, being acknowledged in many domestic and international aviation competitions. The E-114 was commonly nicknamed ´Air Baby´ – that was a direct reference to a popular small car being manufactured by the same company and named ´Praga Baby´.
There were approximately 100 examples of E-114 built before the World War II in Czechoslovakia, plus another 39 aeroplanes manufactured under licence in the Great Britain (known also as Hillson Praga). A few aircraft of that type were also completed during the war and delivered to Slovakia.
Serial production of the E-114 was re-launched after the war and the first aircraft of the post-war series took-off for its maiden flight on 14th September 1946. Regrettably, a part of technical documentation was lost during bombing of ČKD factory in 1945 and as a result, the new series was a bit different in its general appearance, construction of wings was changed and there were additional upgrades made to the undercarriage and control systems. The new E-114s were powered by Walter Mikron III engine – as distinguished from the pre-war aircraft, being equipped with Praga B engine.
Most of those post-war aeroplanes were made for domestic market, but a few of them were sold to France, Finland and Italy. The serial production of ´Air Baby´ was continued until 1949, when it was ceased.
Three ´Air Baby´ aircraft survived until today, all of them representing the post-war series. One of them (E-114M, c/n 119) has been restored to airworthy condition and registered in Switzerland as HB-UAF, another one (E-114M, c/n 125) is being exhibited in aviation museum Praha-Kbely and the last one was E-114B pictured above.
That aircraft was originally manufactured in 1947 and, as most of the post-war made examples of ´Air Baby´, was powered by Walter Mikron III engine. It was initially exported to France and then sold to Switzerland, where it was in service until 1987.
In 2012, a unique and ambitious project of reconstruction of Praga E-114B was launched by Marcel Sezemský – Czech pilot and aviation enthusiast, who already successfully completed an airworthy replica of legendary Czechoslovak aircraft, Avia BH-1. The goal of the E-114 project was not only to restore the ´125´ aeroplane to airworthy condition, but also to power it by original pre-war Praga B engine. In the final effect, that reconstructed aircraft is representing one of only two post-war made E-114 aeroplanes, that were still powered by Praga B.
On 22nd June 2015, the reconstructed E-114B ´Air Baby´ successfully performed its maiden flight. That interesting aircraft was then one of highlights of many Czech air shows in the 2015 and 2016 seasons, always catching visitors´ attention.
Regrettably, on 2nd June 2017, during taking-off from Točná airfield, the engine of ´Air Baby´ stopped and its pilot was forced to perform an emergency landing at a nearby rapeseed. Fortunately, there were no injuries, but undercarriage and front section of the E-114 were significantly damaged. Currently, another reconstruction works on that aircraft are still underway, but are expected to be a long-term and expensive issue.