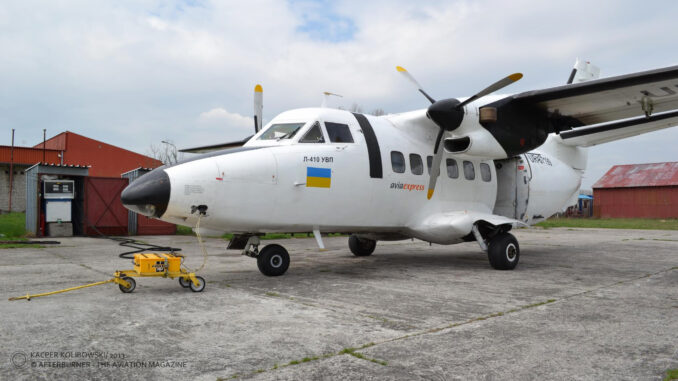 First flight of Let L 410 Turbolet.
The L 410 aircraft was developed in the 1960s, being a response to a then emerging need in the USSR for a modern, lightweight, turboprop-powered short-range passenger and transport aircraft. Such aeroplane should be able to carry 10 to 12 people and capable of operating from both paved and grass aerodromes.
The new aircraft was mainly intended for Aeroflot domestic routes and had to replace the then popular Antonov An-2 biplane. The Council for Mutual Economic Assistance of the Soviet bloc countries assigned the task of designing the aeroplane to Czechoslovak manufacturer, LET Kunovice (between 1957 and 1969 being known as Strojírny první pětiletky – Machine Works of the First Five-year-plan).
In 1967, after approximately two years of work, a team of constructors led by chief engineer Ladislav Smrček presented a concept of a high-wing, two-engine aircraft. This initial project received a L 400 designation and it was assumed to be equipped with piston engines.
Nevertheless, after some additional research, an upgraded design powered by two modern turboprop engines was created, being finally designated L 410. And just that second concept was officially approved for the new aircraft and construction of prototypes began a year later.
Eventually, the L 410 was to be powered by domestically manufactured Walter M601 engines, being specially designed for this purpose. Although, the delays in development of this engine and lack of any similar engine within the Eastern countries, resulted in use of two Pratt & Whitney Canada PT6-27 engines for the prototype. Quite probably, this was the first time in history that a Western engine was used in an aircraft developed in the Eastern Bloc.
The XL 410, as the prototype aircraft was designated, flew for the first time on 16th April 1969. More flight tests followed shortly afterwards and additionally the prototypes were also participating in domestic and foreign aviation events. Yet in 1969 the XL 410 was presented at Paris / Le Bourget Air Show, and next year in Hannover, Frankfurt, Malmö, Ängelholm and Brno during the Engineering Fair.
Serial production of Let L 410A Turbolet was launched in 1972. The first production batch of 30 aircraft was still powered by the aforementioned Canadian-made engines. CSA Czechoslovak Airlines became the first operator of the new L 410 aeroplane.
Over the years, the design has been still being developed, improved and modernised. As a result, as many as fifteen major versions of the Turbolet were created, in forty different variants. These, among others, included L 410AS with new communication and navigation systems; L 410AF and L 410FG photogrammetric versions with a glass nose, specially redesigned for this purpose; and L 410M, that was finally equipped with domestic-made M601 engines.
The L 410M, powered by Walter M601A engines, performed its maiden flight in 1974. Since then, successive versions of L 410 were equipped with Walter turboprop engine family, which included M601 in A to F versions and finally, after acquiring Walter company by GE group, GE H80-200.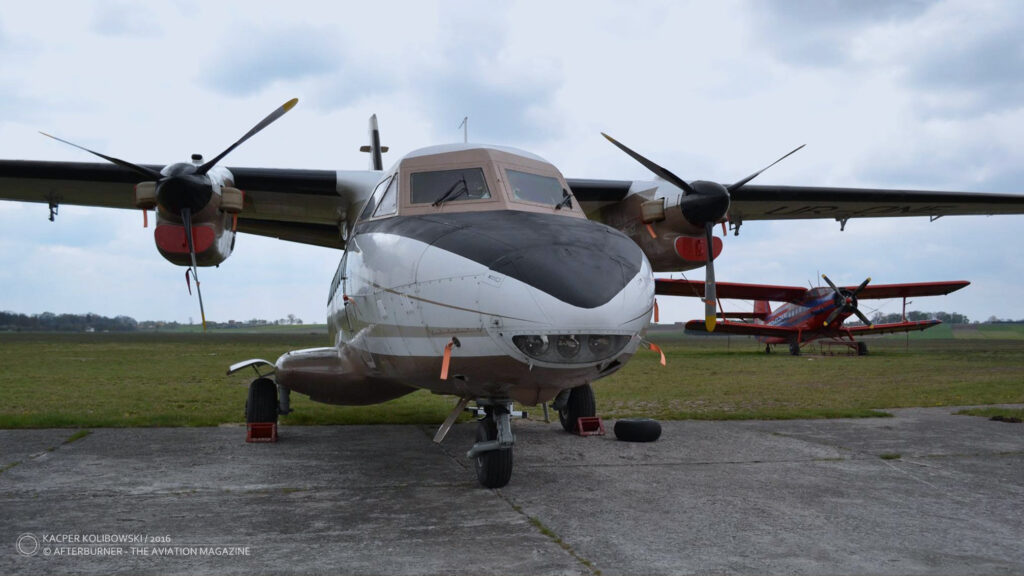 L 410 UVP is the most popular and versatile variant of the Turbolet. This version completed its maiden flight in November 1976 and more than 1,000 examples were manufactured so far. The ´UVP´ abbreviation was taken from Russian term (Самолёт) укороченного взлёта и посадки – meaning the short take-off and landing. That L 410 UVP had even better STOL characteristics than the original versions and was developed in response to overall conclusions on the current Turbolet operation in the Soviet Union.
In 1985, the upgraded L 410 UVP-E variant went into production, being further developed into UVP-E9 and UVP-E20, the latter being manufactured until today. The UVP-E20 remains also the longest-produced variant of the Turbolet, being used in more than 30 countries.
It is also worthwhile to mention an attempt to create a bigger, more capable version of the Turbolet. Let L 610, as the aircraft was called, was intended to replace An-24 on Aeroflot routes and had to carry up to 40 passengers. A few prototypes were made and the maiden flight was completed on 28th December 1988. Regrettably, and despite several trials to revive the project, it did not go beyond a prototype stage.
On 29th July 2015, the latest version of L 410 took-off for the first time. The aircraft was designated L 410 NG (new generation) and was developed from UVP-E20 variant. The L 410 NG is powered by two GE H85-200 engines, has a Garmin glass cockpit and redesigned wings. It also has a better flight characteristics, longer range and endurance, as well as an increased MTOW and payload. Nevertheless, despite receiving all necessary certifications until 2019 (EASA, FAA and FATA) and strong marketing campaign, this aircraft still remains as flying technology demonstrator. There were rumours about first serial L 410 NG to be delivered to customers at the beginning of 2021, but not officially confirmed yet.
The Let L 410 Turbolet is a twin-engine, high-wing cantilever all-metal monoplane with a retractable landing gear in nose gear configuration. Depending on version, it can carry between 15 and 19 passengers in an unpressurised passenger compartment or up to 1,800 kg of cargo in a transport variant.
Although it was the Soviet Union (and then Russia) which became the main receiver of L 410 aircraft, they can be spotted all over the world. From Algeria to Tanzania, from Nepal to Colombia, the Turbolets are being used in all conditions and environments, including the Arctic areas, deserts, high mountains and equatorial jungle. The aircraft is beging operated by various air forces, airlines, sky-diving companies, aeroclubs and other commercial companies.
In conclusion, it is also important to say that despite being a manufacturer of such commercially successful aircraft, LET Kunovice was repeatedly having a really hard time. After political changes and establishing the free market at the beginning of 1990s, the company was at risk of going bankrupt already in 1995. Then it changed the owner in 2001 but there was another threat of insolvency three years later.
Another change came in 2005, when LET was bought by Aircraft Industries. Between 2008 and 2021, all shares of Aircraft Industries were acquired by Ural Mining and Metallurgical Company (UMGK). According to official releases, the company is planning to move the L 410 manufacturing to Yekaterinburg, Russia – mostly because of sanctions against Russia, that had a negative impact on exporting there the aircraft made in the Czech Republic-located aviation plant.