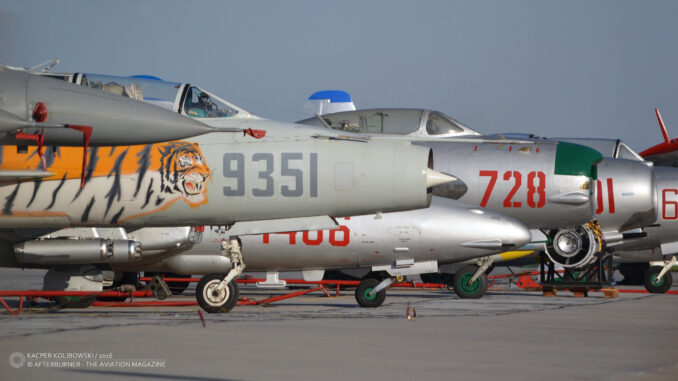 Yak-23, MiG-15 (SBLim-2), MiG-17 (Lim-5/6), MiG-19, TS-11, MiG-21, MiG-29 and F-16 aircraft on static display during the Polish Air Force Day at 31st Tactical Air Base, Poznań-Krzesiny, 2016.
Mostly, within our ´Photo of the Week´ series, we introduce you a single aircraft, together with related background story – but not this time. Today, our weekly photo shows various types of jet aeroplanes representing almost complete cross-section of Polish military aviation inventory over the past few decades.
Nowadays, most of them are preserved as only static examples (obviously, despite those that still are in active service as F-16, MiG-29 and, not included on this photo, Su-22), after renovation works done by aviation engineers of the 31st Tactical Air Base. Being a part of the air base collection, those aircraft from time to time are being displayed during various events organized there.
Nevertheless, this photo creates a great opportunity to outline in brief the history of jet aircraft operated by the Polish Air Force.
The so-called jet era in the Polish Air Force has begun in 1951, with introduction of Yak-23 and MiG-15 fighters, acquired from the USSR. Shortly thereafter, a two-seat trainer variant of the latter aircraft followed, being manufactured in both the Soviet Union (as MiG-15UTI) and Czechoslovakia (CS-102 license variant). A year later, a license production of MiG-15 was also launched in Poland, under the name SBLim-1.
And it is still worth to mention, although not featured in the photo above, the first jet bomber in the Polish Air Force – Ilyushin Il-28, that was introduced into service in 1952.
At the beginning of 1953, Poland received a few modernized MiG-15bis fighters. This aircraft also entered into serial production under licence, since 1957 and designated as SBLim-2. In the meantime, in early 1955, a licence for manufacturing another fighter was bought – MiG-17, being produced in Poland as Lim-5. The latter was then developed into a ground attack jet, called Lim-6bis and manufactured from 1961.
Between 1957 and 1959, a small number of MiG-19 fighter jets was purchased, to serve in a role of interceptor aircraft. But this was only a short episode as, starting 1963, another aeroplane designed by Mikoyan and Gurevich bureau was introduced – MiG-21 F-13. For more than four decades, it was – in several subsequent variants – the basic fighter aircraft of the Polish Air Force. And, similarly to earlier MiG jets, there was a license production planned in Poland, as Lim-7. Nevertheless, this idea fell through.
And now we should mention another aircraft that is not being pictured above. A variable-geometry fighter MiG-23, because it is the jet in question, was in small number introduced to the Polish Air Force in 1979.
A generational change came in 1989, when another aircraft of the Mikoyan and Gurevich bureau – MiG-29 began its service in Poland. The initial delivery included 9 single-seat fighters in 9-12A variant and 3 two-seat aeroplanes in 9-51A variant. In the following years, more than thirty MiG-29s were bought from the Czech Republic and Germany – and today those aircraft are still in operational service.
Another qualitative leap was made in 2006, when the first four General Dynamics F-16 C/D aircraft arrived to Poland. There were 48 aircraft of that type bought and nowadays they are the backbone fighters of the Polish Air Force.
And the next step into the future is being planned for the second part of 2020s. It is related with the latest purchase of thirty two Lockheed F-35 Lightning II jets. The first 5th generation aircraft for the Polish Air Force are expected to be delivered in 2026.
Apart from the broad range of fighter aircraft, the Polish Air Force were – and still are – operating a number of attack jets. It started in 1965, with introduction of Sukhoi Su-17 aeroplanes that were replaced by Su-20 in 1974, and finally by Su-22 ten years later. The latter variant of Sukhoi attack aircraft is still in active service, although their future is very uncertain.
The only domestically designed jet, being operated by the Polish Air Force, should be also mentioned here. It was the TS-11 Iskra (English: spark) training aircraft, introduced in 1965 and retired only in 2020, after 55 years in active service. However, the last seven TS-11 aeroplanes are still being flown by Zespół Akrobacyjny Biało-Czerwone Iskry (The White-Red Sparks Aerobatic Team) of the Polish Air Force.
In the mid-1980s, Iskra had to be replaced by another Polish jet – PZL I-22 Iryda. However, this project was abandoned in the middle of its development. Finally, the TS-11 were replaced by Alenia Aermacchi M346 Master – an Italian jet trainer, introduced in 2016.