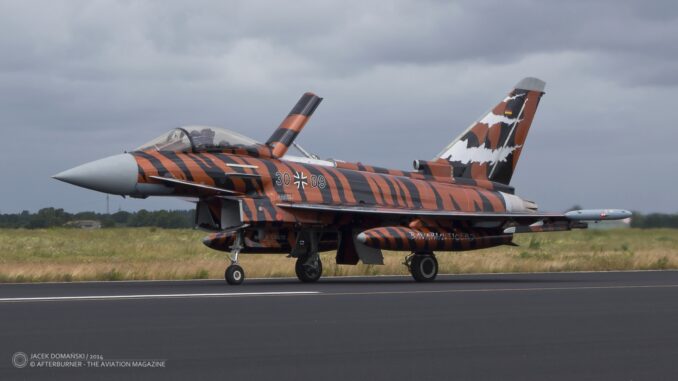 On 5th May 2021, Taktisches Luftwaffengeschwader 74 (74th Tactical Wing), commonly known as the ´Bavarian Tigers´, has celebrated its 60th anniversary. Formerly known as Jagdgeschwader 74 (74th Fighter Wing), the unit was founded in 1961, being the last formed fighter wing of the re-established German Air Forces (Luftwaffe).
After the World War II, in consequence of a decision made by Allied powers, German aviation activities were almost completely prohibited. The Luftwaffe was disbanded and the initial idea was that the country would never have any military aviation.
The following years, however, proved that this was just a short-lived intention. In 1949, due to change of political situations and tensions starting between the former Allies, Germany was split into two separate countries, commonly known as the West and East Germany. And that was the very first step towards remilitarization of the country, on either side of the border.
On the western side, armed forces of the Federal Republic of Germany were established in 1955, immediately becoming a part of the NATO. In the following year, due to increasing military threat from the Warsaw Pact countries, it was decided to recreate the German Air Force. As a result, the new Luftwaffe was born on 9th January 1956.
Although the first aircraft – Republic F-84 Thunderstreak – were handed over to Luftwaffe yet in 1956, the Air Transport Wing 61 was formed in 1957 at Erding air base and therefore officially became the first operational unit of the re-established German Air Force. Formation of fighter wings was launched in 1959 and started with JG 71 – based at RAF Ahlhorn and equipped with Canadair Sabre Mk.6 aircraft.
The fifth (of six initially planned) Luftwaffe fighter wing, Jagdgeschwader 75, was formed in October 1960. Its main operational task was to provide all-weather and night interception duties and therefore it was equipped with F-86K Sabre Dog – an upgraded variant of F-86 Sabre, equipped with APG-37 radar. Still in October 1960, the unit was transferred to Leipheim air base.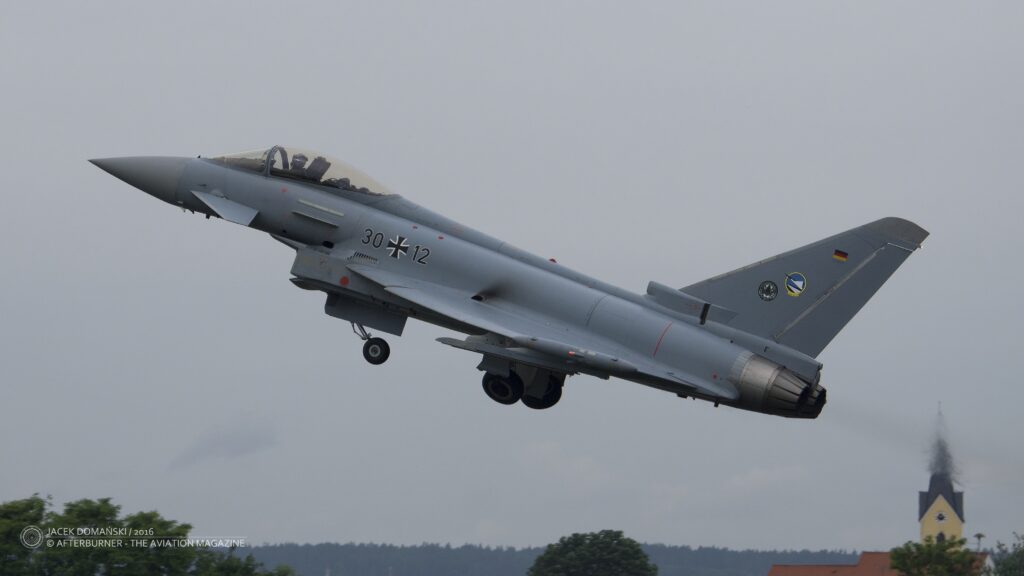 Nevertheless, it soon became clear that ambitious plans to create six fighter wings had to be abandoned due to lack of financial resources. The originally planned JG 74 was never established and, as a result, it was decided to move the already existing JG 75 to recently reconstructed air base located near Neuburg an der Donau and also to change the name of this unit to Jagdgeschwader 74.
The relocation to Neuburg was finalized on 5th May 1961 and on this day JG 74 was officially announced as active fighter unit, under command of Oberst Fritz Wegner. One year later, on 1st July 1962, Jagdgeschwader 74 was officially incorporated into the NATO aviation structure.
In 1964, JG 74 received its first Lockheed F-104G Starfighter aircraft. The new fighters progressively replaced the F-86K jets, that were finally retired in 1966. However, being initially intended as supersonic interceptor, the F-104 was mostly used by European NATO countries in a fighter-bomber role that regrettably resulted in extremely poor safety record. Just in Germany, 292 aircraft were lost and 116 pilots killed in accidents, and the Starfighter received a sad nickname of ´Widowmaker´.
The change came only in 1974, when the first F-4F Phantom II landed at Neuburg. With the arrival of the new aircraft, operational abilities of Jagdgeschwader 74, as well as scope of realized tasks, were significantly enhanced.
On 5th May 1981, on the 20th anniversary of the unit, eight F-4F Phantom II fighters of JG 74 performed a seven-hour long, non-stop flight from Neuburg to Goose Bay air base in Canada (certainly, with air-to-air refuelling on the way). It was the first flight of such kind since the re-establishment of the German Air Force in 1956. That was a beginning of a long-term international cooperation between JG 74 and other NATO units, including mutual air base visits and squadron exchanges.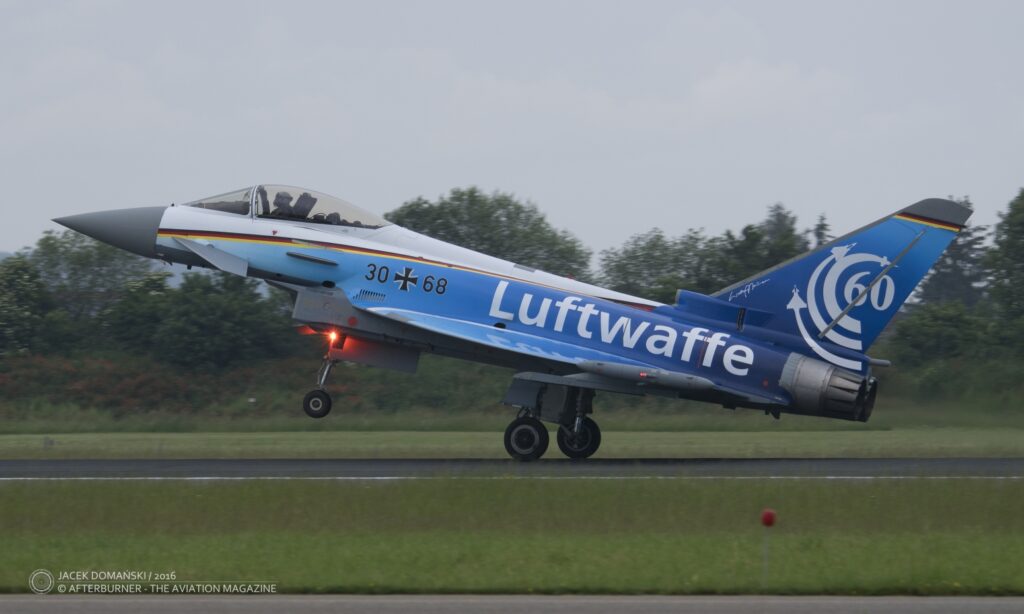 After unification of Germany, Jagdgeschwader 74 continued its usual operational duty. At the beginning of 1990s, the Phantoms from JG 74 went through Improved Combat Effectiveness programme, that significantly enhanced their combat abilities. Also in the middle of 1990s, the German air space was divided into two independent sectors, with JG 71 in Wittmund performing the air policing duties in the northern, and JG 74 in the southern part of the country.
In 2005, from July to September, Phantoms of Jagdgeschwader 74 were for the first time deployed to the Baltic states, within the NATO air policing mission there. Since that time, the JG 74 is participating in the Baltic Air Policing on regular basis.
As nothing lasts forever, a time of another generational change came in 2006 and Jagdgeschwader 74 had an honour to be the first Luftwaffe operational unit to receive new Eurofighter 2000 jets. Implementation of the 4th generation fighters took two years and in June 2008 the EF 2000s from Neuburg became ready to take over the air defence duties. At the same time, the Phantoms were retired from active service.
In October 2013, due to changes in structure of the German Air Force, JG 74 was changed into Taktisches Luftwaffengeschwader 74 (TaktLwG 74). And following the disband of JaBoG 32 – a  Tornado-equipped unit based just 60 kilometres away – the Eurofighters from Neuburg were given the possibility to use Lechfeld airfield as their second base.
In the 1970s, in order to preserve and maintain tradition, Luftwaffe aviation units were awarded honorary names of famous German pilots. Jagdgeschwader 74 received its name on 22nd November 1973, being the 32nd anniversary of Werner Mölders´ death. It was the fourth honorary name given to Luftwaffe aviation wing, after ´Richthofen´, ´Boelcke´ and ´Immelmann´. However, after a recommendation issued in 1998 by the German Bundestag, a Military History Research Office (Militärgeschichtlichen Forschungsamt) performed a study on Mölders´ service and found him dishonourable to be a patron of Luftwaffe operational unit, mostly because his service in Legion Condor. As a result, this traditional name was removed in 2005 (although usually remained in a common usage).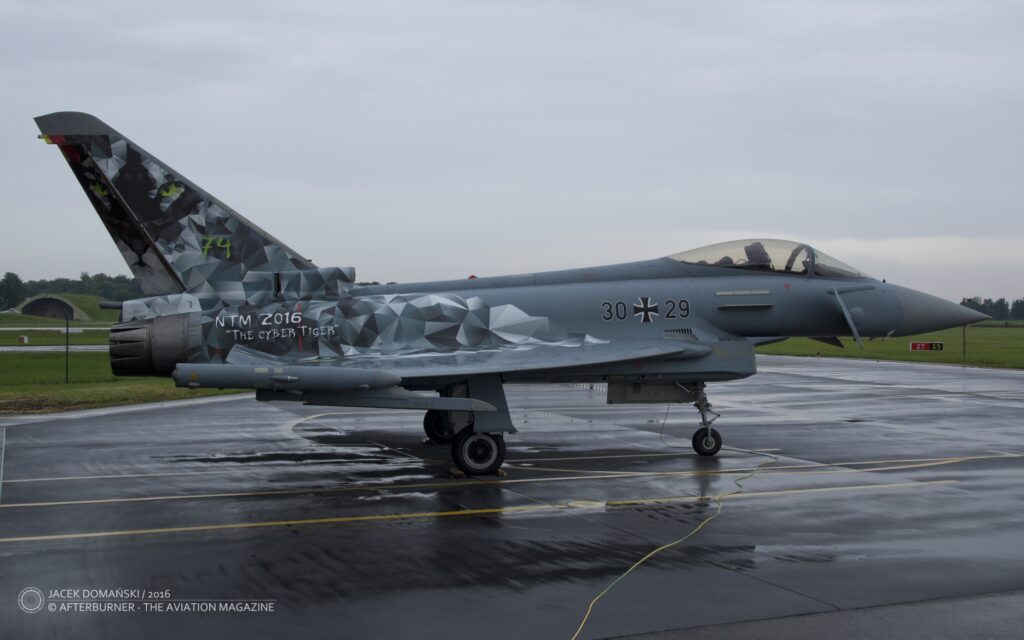 As already mentioned, the structural reform of Luftwaffe performed in 2013 resulted in disbanding of Jagdbombergeschwader 32. Apart from taking over the air base in Lechfeld, TaktLwG 74 was also assigned the Tiger traditions of JaBoG 32 (being a NATO Tigers full member since 1994).
On 18th March 2013, during a solemn ceremony organized at Neuburg, TaktLwG 74 officially took over the Tiger Spirit from Jagdbombergeschwader 32, becoming the ´Bavarian Tigers´. It should be pointed out that this was a perfect decision. Taktisches Luftwaffengeschwader 74 became a very respectable successor of the Tiger Spirit and also one of the most active members of the NATO Tigers, participating in many activities organized by the association and its members. Although initially TaktLwG 74 received status of a probationary member, it was changed into a full membership already in 2016.
Each year, a new livery of EF 2000 is eagerly awaited by aviation enthusiasts. That´s because the ´Bavarian Tigers´ have many times proved they knew how to make a special ´tiger-painting´ for the annual Tiger Meet exercise. Many of them already became a legendary as ´Bronze Tiger´ from 2014, ´Cyber Tiger´ (2016) or ´Ghost Tiger´ (2018). Also this year, the ´Bavarian Tiger´ celebrating the 60th anniversary of TaktLwG 74 and the 5th anniversary of NTA full membership is just another piece of aircraft-livery art.
The ´Bavarian Tigers´ have also an impressive record of open doors events organized in Neuburg air base – starting from the early 1980s. They are considered well-organized and interesting by both aviation enthusiast and general public, often attracting more than 100,000 visitors.
Also this year, on the opportunity of two above mentioned anniversaries, TaktLwG 74 was planning to held another public day, being a part of annual German armed forces open doors event. Regrettably, evolution of coronavirus pandemic caused cancellation of this celebration. A few months ago it was officially announced that this year´s edition of Tag der Bundeswehr is going to be organized online, for the second time in a row.