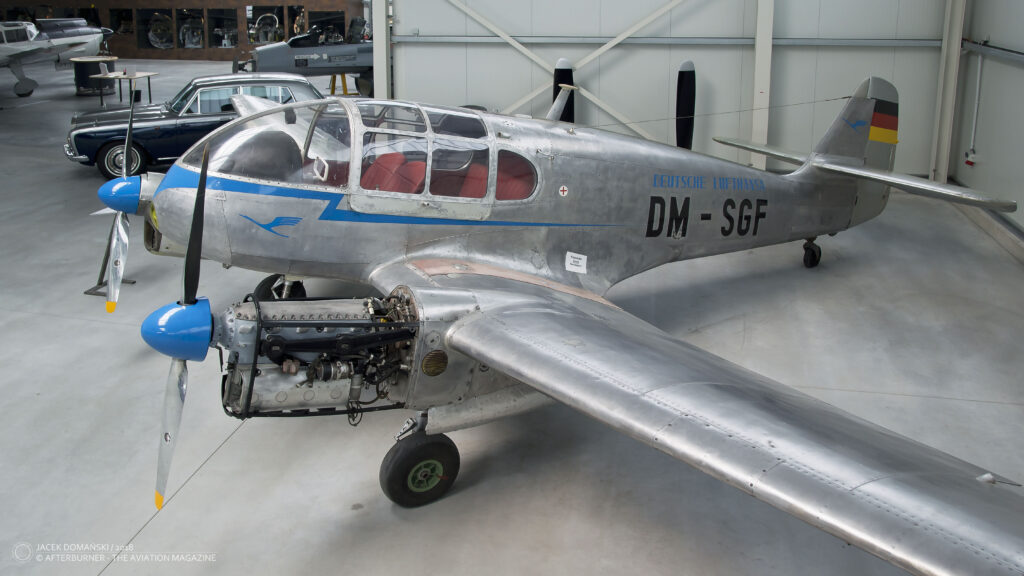 Aero Ae-45S Super (DM-SGF, formerly HA-DMD, c/n 04-013), on display at Luftfahrtmuseum Wernigerode, June 2018.
A few months ago, within this weekly series, we have already introduced the history of Ae-45 / Ae-145 light utility aircraft and its development. Therefore in this article we would like to recall you a short existence of almost forgotten airline once being established in the East Germany – which was one of the companies that operated this type of aircraft.
It all began in the middle of 1954, when the authorities of the German Democratic Republic decided that, to enhance its prestige, the country should have its own airline. After a successful negotiation with the USSR, the Soviet armed forces withdrew from Berlin Schönefeld airfield and then it was handed over to the East German state to be used by civil aviation.
On 1st July 1955, a national carrier of the GDR was officially established under the name Deutsche Lufthansa. That name was not chosen at random, as it was for many years a traditional brand of German national airline. The flag air service company of the then Weimar Republic was established yet in 1926, as Deutsche Luft Hansa (since 1933 styled as Deutsche Lufthansa) and successfully operated through the interwar years until 1945, when it was dissolved.
There was, however, an airline with the same name already existing in the West Germany, but – taking into consideration the actual political situation and tensions between both German countries – who would have cared?
As early as January 1953 a company named Aktiengesellschaft für Luftverkehrsbedarf (Luftag) was founed in Cologne by Kurt Weigelt and Kurt Knipfer, board members of the former Deutsche Lufthansa – despite the ban on civil aviation activities that was still in place in the West Germany. Although all assets of the pre-war Lufthansa airline were liquidated until 1951, its logo and brand were still officially existing and registered. Luftag managed to acquire them in 1954, for the price of 30,000 DM. As a consequence, the company changed its name to Lufthansa and continued the tradition of German official carrier. On 1st April 1955, Lufthansa received an official approval to start its regular service on domestic routes.
In the meantime, the East German carrier already started its operational service by acquiring a fleet of Ilyushin Il-14 aircraft, although initially all of them were operated by the Soviet crews. The first passenger flight of Deutsche Lufthansa was reported on 16th September 1955 and it was an official flight to Moscow, with the East German prime minister on board. Scheduled flights were launched from 4th February 1956 with opening a regular route to Warsaw, Poland.
Over the years, Deutsche Lufthansa has extended its service by offering regular connections to other capital cities of the Eastern Bloc countries (Albania, Bulgaria, Czechoslovakia, Hungary, Romania, Yugoslavia and the Soviet Union) as well as a few domestic routes (Barth, Dresden, Erfurt, Karl-Marx-Stadt /Chemnitz/ and Leipzig). In 1960, Ilyushin Il-18 turboprop airliners were introduced into service.
Nevertheless, the West German company could not tolerate another airline operating under the same name, especially being a legally recognized owner of the logo and brand. From the very beginning, Deutsche Lufthansa was repeatedly sued by Lufthansa because of unauthorized usage of its trademarks.
Although the East German authorities were fully aware of that situation, it seemed they initially did not care much about it. However, for the Deutsche Lufthansa airline it meant that abovementioned lawsuits effectively blocked its access to the International Air Transport Association (IATA). Without being a member of the United Nations, the East Germany could not either join the International Civil Aviation Organization (ICAO). As a result, operation of the national East German carrier was limited to only a few Eastern Bloc countries and domestic routes.
Only in 1958, the East German authorities have approached this issue more seriously. A new company named Interflug was established on 18th September that year and entered into international registers. It was officially announced as a charter-only airline but the real purpose was to act as a back-up company for Deutsche Lufthansa.
In 1963, it finally became obvious that Deutsche Lufthansa would soon lose the lawsuit at court in Belgrade without possibility to use the brand and logo any further. The East German authorities had no other choice than liquidate the airline, officially because of being not profitable. On 1st September of that year the Deutsche Lufthansa company ceased to exist and its personnel, aircraft and routes were taken over by Interflug.
The Aero Ae-45 being on display in Wernigerode, and recalling us the short existence of Deutsche Lufthansa, was in fact manufactured in 1958 and sold to Hungary. There, this aircraft was registered as HA-OMD and used as an air ambulance (probably until the mid-1970s). It was bought for Luftfahrtmuseum Wernigerode in 2004 and repainted, for display purposes, as DM-SGF of Deutsche Lufthansa.
The original DM-SGF was manufactured in 1957 (c/n 04-003) and was one of seven Aero Ae-45 aircraft acquired by Deutsche Lufthansa in the late 1950s. Intentionally, those aeroplanes had to extend the company offer with aerotaxi services but for the obvious reason it failed to gain enough interest in poor socialist country as the GDR was. At the beginning of the 1960s all the Ae-45 aircraft of Deutsche Lufthansa were offered for sale and soon vanished from the company inventory.
According to the Aviation Safety Network web site, the DM-SGF performed its final flight on 6th July 1960. On that day the aircraft was damaged beyond repair due to a hard landing on an unknown German airfield and then written off from active service.