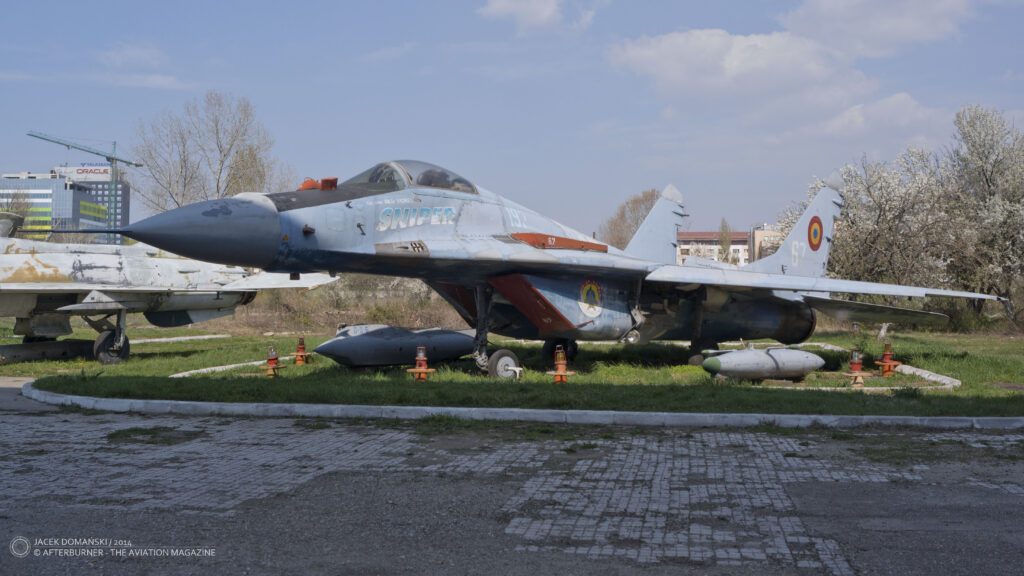 Aerostar / DASA MiG-29 Sniper (MiG-29 9.12A, c/n 4305, formerly ´67´ of the Romanian Air Force), exhibited at Muzeul Naţional al Aviaţiei Române (National Romanian Aviation Museum) in Bucharest, March 2012.
Romania, likewise other Eastern Bloc countries, received the first batch of four MiG-29 (NATO reporting name ´Fulcrum´) fighter aircraft in 1989. Although the country initially ordered 45 jets, only 21 were finally delivered until the end of 1990 (17 single-seat fighters and 4 two-seat trainers), and the remaining part of the order was cancelled.
In addition, Romania acquired another two aircraft of that type – one from Moldova in 1992 and another one from Russia in 1994.
As a consequence, in the beginning of 1990s, the Romanian Air Force operated a relatively small fleet of the MiG-29s and a huge number of MiG-21 fighters (over three hundred aircraft delivered between 1962 and 1990). Nevertheless, they aged relatively quickly and additional maintenance issues appeared.
Therefore, the Romanian authorities made the decision concerning upgrade of more than a hundred of MiG-21 fighters to a new, modern standard. It has never been a secret that, although Romania was a member country of the Warsaw Pact, political and military relationship between Romania and the Soviet Union (and then Russia) were far from perfect, especially after so-called de-satellization of Romania performed in the 1960s. As a result, there was no surprise that an independent partner was chosen to upgrade the Romanian MiGs.
In 1993, the Aerostar aviation company from Bacău signed an agreement with two Israeli companies – IAI (Israel Aerospace Industries) and Elbit – on the subject of modernization the Romanian MiG-21s. That project was successfully performed between 1997 and 2003, with 111 aircraft upgraded.
After effective implementation of the MiG-21 modernization programme, then came the time to focus on the Fulcrums. In June of 1999 an agreement was signed in Bacău between Aerostar, Elbit and Daimler Chrysler Aerospace AG (DASA) from Germany. This time, the plan was even more ambitious – to create a modern fighter aircraft, based on the MiG-29 airframe, that could be proposed to any current Fulcrum operator in the world. Specifically for the project, the Romanian Air Force assigned one of its MiG-29 aircraft.
On 5th May 2000, in Bacău, the new aircraft, officially designated MiG-29 Sniper, performed its maiden flight. It lasted 42 minutes and the jet was flown by DASA test pilot, Wolfgang Schirdewann. The aeroplane was officially presented on 12th May of the same year, and a few weeks later, the Sniper made its public debut, being exhibited at static display during the ILA fair in Berlin.
According to the official press release of Aerostar/DASA from May 2000, the Sniper upgrade allowed to create ´a MiG-29 aircraft with an increased combat capability, which is capable of responding to NATO compatibility and interoperability requirements, as well as to demonstrate an improved man-machine interface´.
In other words, the modernization included an implementation of Western avionics suite, new communication systems, navigation and identification systems compatible with the NATO standards, a new head-up display and possibility to use both Russian and Western armament systems. However, most important were equipping the aircraft with MIL-STD-1553B data bus, together with related mission computer, as well as possibility to use an Elbit-made advanced radar system.
In the course of 2000 and 2001, the MiG-29 Sniper was presented to several potential customers and participated in international aviation events. Regrettably, it did not meet with enough interest. At that time the majority of MiG-29 operators in Europe was dealing with reductions of military budgets, either retiring most of their combat aircraft or continuing to fly them without any significant modernizations. Those countries that decided to invest in their air forces, performed their own upgrades or switched to Western-made aircraft.
In addition, launching the Sniper programme caused even more tensions with Russia. The RSK MiG company, current manufacturer of the MiG-29 fighter, immediately distanced from the upgrade, declaring the MiG-29 Sniper project as not authorized. As a consequence, countries that would decide to implement that modernization had been threatened by withdrawing any technical and maintenance support from the manufacturer, as well as cutting off deliveries of spare parts.
Eventually, so was exactly the fate of Romanian MiG-29s. Without necessary maintenance and deliveries of spare parts from Russia, the aircraft were successively losing their airworthiness status and then withdrawn from active service. In 2003, the Romanian Air Force officially retired them and fully focused on modernization of its fleet of the MiG-21 fighters.
The MiG-29 Sniper programme was abandoned later in the same year. In 2009, the only existing aircraft of that type was transferred to National Aviation Museum in Bucharest, where it is exhibited until today.