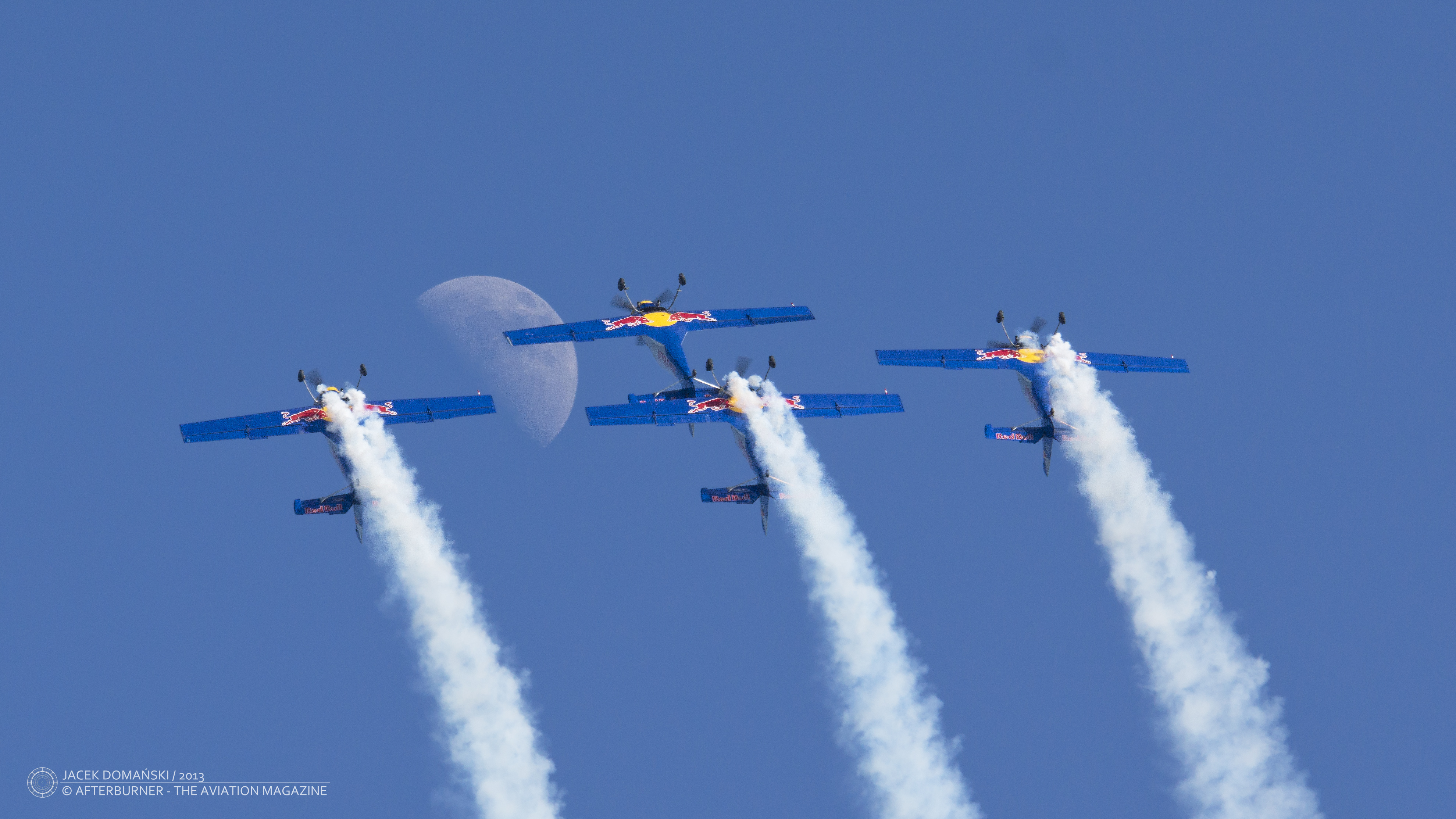 A formation of four Zlín Z-50LX aerobatic aircraft from the Flying Bulls Aerobatic Team, flying display during an open doors event at Aeroklub Jaroměř, May 2013.
Back in 1973, a development of a new single seat aerobatic aircraft was launched in Moravan Otrokovice aviation company. Among main objectives of that project was to create an aeroplane that could be flown in the FAI World Aerobatic Championship series.
A construction team, led by well-known aviation designer, Jan Mikula, was assigned a task of achieving the best possible characteristics of the new aircraft. In order to meet this demand – for the first time in Czechoslovakia – a mathematical optimalization of aeroplane design was implemented. Additionally, a survey among aerobatic pilots was carried out.
The prototype of new aircraft was ready in a relatively short time and performed its maiden flight on 18th July 1975. As there wasn´t any adequately light and powerful engine being produced in the Eastern Bloc, an American engine of Avro Lycoming AIO-540 series was used.
Zlín Z-50L, as the aircraft was designated, had its premiere at the 8th FAI World Aerobatic Championship in Kiev. And it was a successful debut, as Ivan Tuček and his new Zlín took the third place in that competition.
The championship in Kiev has opened a long and impressive record of achievements earned by that neat aeroplane. Just within the FAI World Aerobatic Championship series, pilots flying with Zlín Z-50 took 1st and 3rd place in 1978, 1st and 2nd place in 1984 and another 1st place in 1986. Over the next years, that aircraft allowed many aviators to win their medals in both European and national aerobatic championships was added.
There were five variants of the aircraft built, In addition to the initial Z-50L series, five other variants of the aircraft were further developed. They included Z-50LA (1980), Z-50LS (1982), Z-50M (1989), Z-50LE (1990) and finally the Z-50LX version from 1991. The latter used a more powerful Lycoming engine and was equipped with additional fuel tanks and smoke system. There were only nine examples of the Zlín Z-50LX built.
Between 1993 and 2014, four Zlín Z-50LX aircraft were used by one of the most famous Czech aerobatic groups – the Flying Bulls Aerobatic Team (formerly also known as ´Sky Box´).
Our photo shows captures a moment that occurred during a display flown in 2013, at the open doors event at Jaroměř, being a home airfield of the team. The Flying Bulls were then comprised of Radka Máchová (team leader), Jiří Saller, Miroslav Krejčí and Jiří Vepřek.