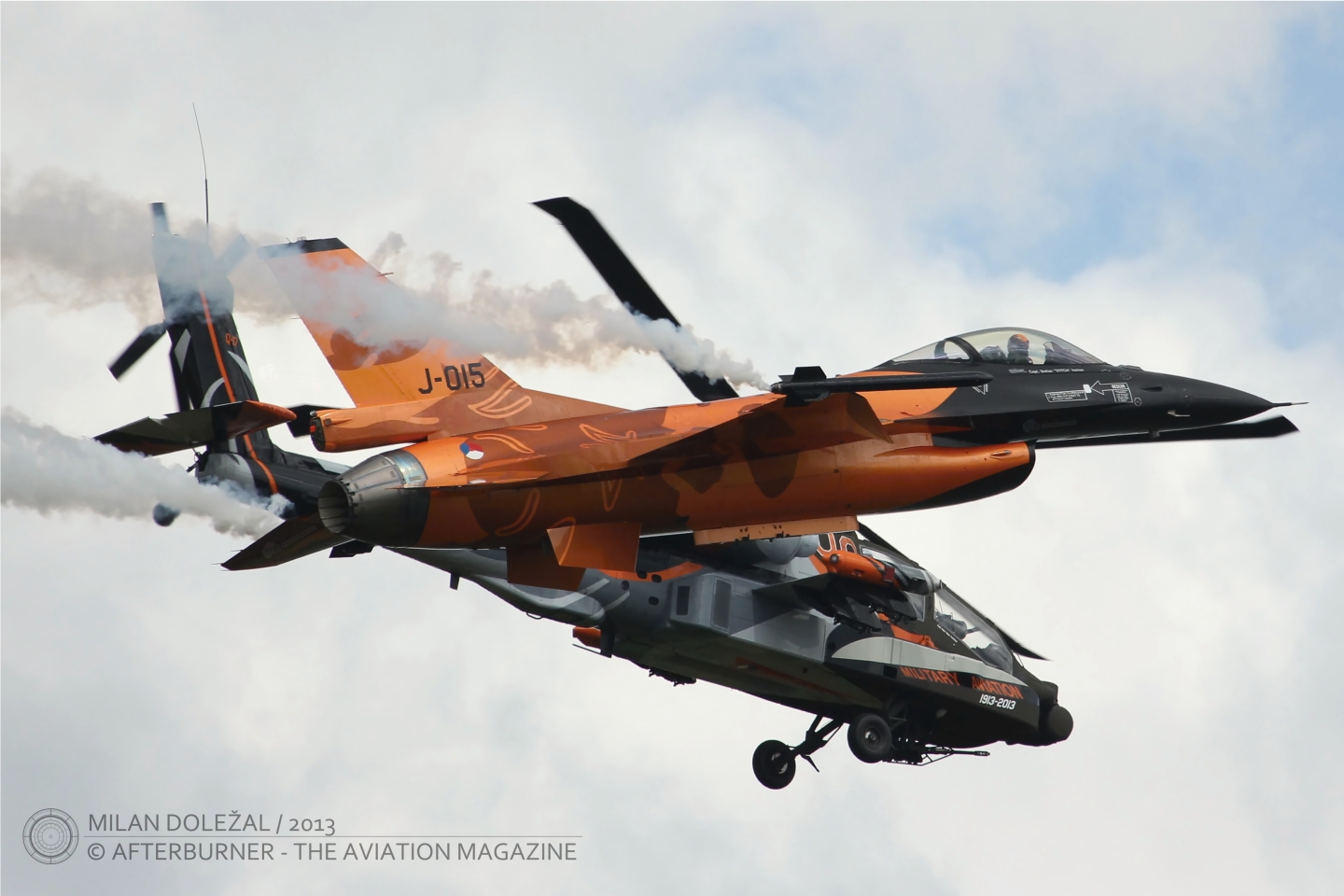 The Royal Netherlands Air Force demo teams flying the F-16AM Fighting Falcon fighter jet and the AH-64D Apache attack helicopter, during the joint display performer at Volkel Luchtmachtdagen 2013.
The F-16 Solo Demo Team was established in 1979 and since then actively participated in the air show across Europe and in the United States (in 2006). The team was initially based at Leeuwarden Air Base in Friesland, and then, usually, moved to another base/squadron every two years. During the active operation of the demo team approximately 30 different Vipers were flown, both in the special painting schemes and the original camouflage colours. The F-16 Solo Demo Team was very welcomed at the air shows, both because of the very dynamic display and the attractive ´Orange´ livery used in the 2010s.
Regrettably due to the shortage of the material and personnel, as well as the implementation of the new fighter jet for the RNLAF – the Lockheed Martin F-35 Lightning II, the F-16 Solo Demo Team was inactive since 2015. On 17th December 2018 it was announced that the team had been permanently disbanded.
The Apache Solo Display Team was established in 2002 at Gilze-Rijen Air Base, previously just for the single display during the air show organized at Gilze-Rijen. However, the idea was continued, and the team was participating in several air show during the following years. Thanks to creating this demo team the RNLAF became the first air force in the world performing displays with the Apache helicopter. The Apache Solo Display Team was flying the operational Apache, with the easy-removable demo printings. And for this reason – using the fully operational helicopter – the team was inactive between 2005 and 2009, when the Dutch AH-64s were deployed to Afghanistan.
The team and their marvellous displays returned in 2010 and were also performed during the next seasons, just skipping the year 2012. The last Apache display was performed in 2016 and since the next season the team was inactive – in the official RNLAF announcement it was said that ´the personnel need time to rest and train after being deployed to crisis situations for 20 years in a row´. Currently, the RNLAF is considering upgrading the AH-64 fleet to the ´E´ version, as the limitations of the AH-64D Block I became clear. The upgrade is planned for years 2020-22 and therefore the return of the Apache Solo Display Team in the nearest future is highly unlikely.